West Ham's European adventure leaves them with a David Moyes dilemma | David Moyes
The message coming out of West Ham at the start of the week was there would be no decision on David Moyes's future until the end of the season. Yet by the time Pablo Fornals was beating two AZ Alkmaar defenders and running through to score in the 94th minute at the AFAS Stadion on Thursday night, it seemed absurd that anyone could possibly want to replace Moyes.
They were all off the bench when Fornals drove his low shot into the net, their reward for not treating the Europa Conference League as an inconvenience being a place in the final against Fiorentina. In those moments it was worth remembering that West Ham have put up with a lot of rubbish for much of their existence. This is the good stuff and, even if the standard of the Conference League has not been high, nobody who cares about West Ham was going to be sniffy about reaching a European final for the first time since 1976.
The post-match scenes in the away dressing room summed it up. There was pure emotion from Moyes as he saluted his team and joined in the chants of "West Ham are massive". The Scot has managed more than 1,000 games and never won a major trophy, so who could begrudge him for letting loose? Moyes has had to fight. He has needed resolve to recover from his struggles at Manchester United and Sunderland, and he has done an outstanding job for West Ham.
Away from the European adventure, though, this has been a trying campaign. West Ham, who expected far more after spending close to £160m last summer, are only six points above the bottom three with two games left. Things could get nervy if Leeds, who are 18th, win at the London Stadium on Sunday. Moyes must be grateful that West Ham have a superior goal difference to Leeds.
However, staying up would not provide cause for celebration. There have been complaints about the team's cautious football, both from inside and outside the dressing room, and Moyes has come close to the sack more than once. A lot of fans turned a while ago and the dissatisfaction was clear when a few held up a "Moyes Out" banner even after West Ham won at Fulham last month.
Added to those grumbles is the fact the board has been sounding out potential replacements for Moyes for a while. Intermediaries are on notice. There is interest in Graham Potter, Marco Silva, Brendan Rodgers and Ange Postecoglou. There are other candidates in the background and there was a lot of noise about Paulo Fonseca a few weeks ago, though it now seems likely he will stay at Lille for another year.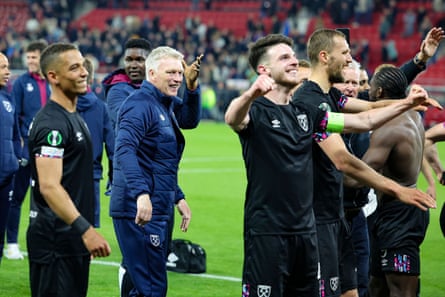 Either way, the issue remains live, albeit complicated by Moyes reaching the final. There is a yearning for a manager capable of playing a more exciting style. The feeling is that West Ham, who are at their most comfortable sitting deep and playing on the break, could focus more on developing attacking patterns in training.
There is potential for more, even if Moyes was right to point to the importance of clean sheets after the victory over AZ Alkmaar. West Ham have money, play in a big stadium and will be in the Europa League if they beat Fiorentina. Yet they would be there thanks to Moyes. He has steadied them since returning in 2019. Once so dysfunctional, they have finished sixth and seventh under Moyes. Now they are a game from winning their first trophy since 1980.
West Ham have a dilemma. Only two managers, Ron Greenwood and John Lyall, have lifted trophies in the club's history. Only one player, Bobby Moore, has captained them to a European trophy. Declan Rice, who wears the armband these days, is following in some illustrious footsteps.
This is history in the making. There is an argument that Moyes should leave on a high if he wins, cementing his status as a club legend. But would he want to walk away and would West Ham's largest shareholder, David Sullivan, be brave enough to push for change?
Both scenarios come with risks. Part company with Moyes, who offers a wealth of experience and stability, and West Ham would be accused of ingratitude. This summer will be hard. Rice is going, probably to Arsenal, and will leave a hole in midfield. Perhaps West Ham need the knowhow Moyes possesses.
However, if they let him see out the final year of his contract they risk the same problems flaring up next season. Looking at the wider picture, West Ham's league form has been poor for 18 months. Several expensive signings have not worked out and Moyes, who works closely with the head of recruitment, Rob Newman, will have not as much control over transfers if he stays.
The impending appointment of a director of football is a clear sign that West Ham are preparing for a different approach. The question nobody has the answer to is whether Moyes will be joining them on the journey.