'The Goal Is No 1': Gauff At Crossroads After Hitting First Speed Bumps | Coco Gauff
Halfway through her third-round tussle with Paula Badosa in Madrid this month, Coco Gauff's mind was elsewhere. Errors sprayed from her racket and she could barely land a forehand inside the court. Gauff haemorrhaged game after game, sharing grim expressions with her team. She was dismantled 6-3, 6-0.
"I mentally wasn't engaged in that second set. I let something happen in the first, maybe one or two bad points. I just stayed down," said Gauff this week in Rome.
Last year, the clay court season was the site of the most meaningful result of her career: her first grand slam final at the French Open. It was a moment. Gauff has shouldered so much hype and attention since arriving on the tour aged 15 years old at Wimbledon in 2019. Reaching a major final was validation that she remained on the right path.
During her still short career, Gauff's progression has been continuous and deeply impressive. She is ranked fifth, 49 places above the second-best of her age group, Linda Noskova. She is still so far ahead of the curve that until last summer when she faced Robin Montgomery, a 294-ranked wildcard, and Noskova this year, Gauff had never played against a younger opponent.
This year, however, the 19-year-old seems to have reached a notable intersection. Recent weeks have not been easy – she lost consecutive matches to Anastasia Potapova, striking more than 50 unforced errors during her straight-sets defeat to the Russian in Stuttgart. Then came Madrid.
These difficulties have coincided with off-court turbulence. Last month, her coach, Diego Moyano, ended their collaboration due to personal reasons, meaning she has been travelling with her father as her coach. While decisions were previously made for her, she is now embracing her role as an employer and interviewing prospective coaches.
"It's a different process," said Gauff, smiling. "I don't know if I like it or not. It's something you have to do. I just hope who the next person is, I get to keep them for a while because I don't like interviewing people. It's so awkward."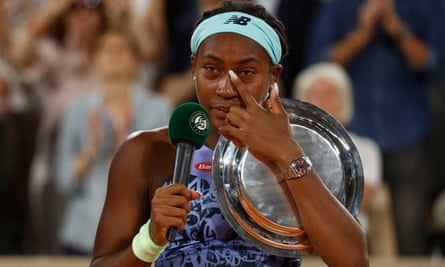 For Gauff, these first speed bumps in an otherwise smooth progression have highlighted the need for her to make meaningful changes to her game and approach. "This year we can really change the way I play. It's a crucial year for me. So I want to relearn and retrain myself to be aggressive," she said.
As things stand, Gauff is one of the best athletes on tour. She is armed with an enormous first serve, her backhand is faultless and she is an intelligent player with ample variety. But her forehand is one of the more obvious weaknesses inside the top 10 and now every player looks to break it down.
Much of Gauff's senior career has additionally been spent playing the role of a counterpuncher, as she uses her supreme defence and intelligence to provoke errors from opponents while waiting patiently to attack. She has performed extremely well against lower-ranked opponents but when she has been forced to step up and impose her game in high-quality, high-stakes matches, she has often lacked the tools to execute.
Frequent meetings with top-ranked players have underlined that. Gauff has not won a set against Iga Swiatek in their six meetings, including in last year's French Open final, with Swiatek invariably trapping Gauff in forehand exchanges and picking it apart. Gauff is 3-14 against the top 10 since the start of 2022 and in her most recent top-10 encounter, a solid quarter-final run in Indian Wells ended with a brutal 6-4, 6-0 loss to Aryna Sabalenka.
While some may shy away from public self-evaluation, Gauff's maturity remains one of her most impressive traits. She initiated discussion of her enormous goals and perceived shortcomings without hesitation. She believes her current counterpunching game style is linked to her precocity and that she needs to be more attacking in order to be successful.
"I wouldn't say I was weak for a 15-year-old, I was pretty strong in general, but [I lacked] certain things. Transferring from the juniors to pros, the balls come a lot faster. I just resorted to being behind the baseline and running everywhere and being aggressive when I can, whereas in juniors I was pretty much running people off the court," she said.
The progression of Gauff's forehand is likely to play a large role in the level she can reach. Gauff says she is working on shortening her elaborate motion, but the challenge is also mental. While it can be difficult for players to make changes while trying to maintain their form, Gauff's dreams are far greater than her already considerable achievements. She understands that, at such a young age, this is the period of her career when her game is most malleable, where possibilities are still endless, and that she should do everything she can in service of those goals.
"I've been pretty successful playing the way I've been playing," she said. "But the goal isn't to be top 10 for ever. The goal is to be No 1 and win grand slams. To get to that next level, I feel like that's the decision I have to make, so it's almost retraining my mind to make those decisions."