The end of a Liverpool Big Cup era, and history beckons for West Ham | Soccer
HOT AIR AND IRON WILL
According to the BBC's occasionally staffed sport department – solidarity, sisters and brothers – Liverpool travelled to Spain this week for the completion of their annual humiliation at the hands of Real Madrid in a Boeing 737. But when Real Madrid made the opposite journey three weeks earlier, they did so in an Airbus A359. Short end is, Real generate twice the carbon footprint when tooling around Europe, so hats off to Liverpool for that at least. Hats also off to the sustainability reporters at the Beeb, whose task must feel positively Sisyphean given the significant amount of hot air and bullsh!t regularly released into the ether by its management classes.
But it wasn't a perfect night for Liverpool, environmentally or otherwise. For a start, the 5,000 megatonnes of steam that parped out of Jürgen Klopp's cranial apertures as he impotently witnessed his team's abject performance can't have helped the old climate crisis one jot. That aforementioned tepid display will have infused everyone associated with the club with a profound sadness, a sense of fin de siècle, the realisation that it's the end of the line for one of the great Liverpool sides. At one point, Alex Oxlade-Chamberlain, under no pressure whatsoever, passed the ball to nobody [the Renato! – Football Daily Ed]. As it trundled through acres of empty space and out for a throw, he gesticulated an embarrassed apology to Klopp, who responded with a resigned and knowing nod. Anyone still in denial over the jig being up had their head given a good wobble, right there, right then.
With Liverpool next expected to play European football in 2037, it's over to Manchester City and Chelsea in Big Cup, and Manchester United in Euro Vase. All three eagerly await the draw for the quarter-finals on Friday – because let's face it, United aren't going to let their 4-1 lead slip at Real Betis this evening – and hopefully they'll be joined at the business end of the European season by Arsenal, favourites tonight against Sporting Lisbon, and West Ham, who go into their home Tin Pot tie against AEK Larnaca 2-0 up. Good luck to all English representatives, then – though if Football Daily was forced to pick just one for glory this season, we'd have to plump for the Hammers. No one has ever won a European trophy and been relegated in the same season, you see, so it'd be nice to witness history unfold in front of our very eyes. Come on you Irons!
LIVE ON BIG WEBSITE
Join our writers for hot Big Vase action! Scott Murray is on duty for Real Betis 2-1 Manchester United (3-5 on aggregate) at 5.45pm, with Daniel Gallan your guide for Arsenal 1-0 Sporting Lisbon (3-2 on aggregate) at 8pm – all times GMT.
QUOTE OF THE DAY
"I can clarify that there were discussions with Visit Saudi … [it] didn't lead into a contract. How do you say it? It was a storm in a teacup" – Gianni Infantino plays down anger at Fifa's hastily-squashed Women's World Cup sponsorship deal with Saudi Arabia, which had been condemned by *checks notes* Alex Morgan, Vivianne Miedema, Emma Hayes, Football Australia, Amnesty International, and others. And this wasn't even the worst thing he said at Fifa's latest big buffet in Kigali.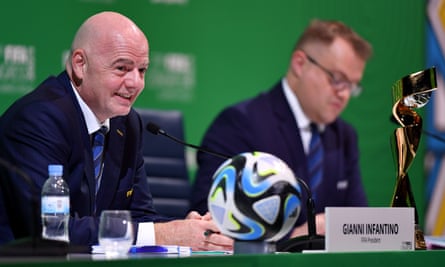 Crystal Palace failed to take heed of the warning to beware the Ides of March as Brighton's Solly March scored the only goal in the 15th minute, on 15 March – John Myles.
Re: Memory Lane [Wednesday's Football Daily]: I'm not sure Sir Alf Ramsey would have liked managing England in Chile for the 1962 World Cup. It was Walter Winterbottom who had the privilege of overseeing another underachieving England side being put out of their misery by Garrincha. But Sir Alf did get it right eventually, unlike Football Daily – Charles Tedesco [and others].
Did Pep Guardiola not see what happened to Liverpool after they won a game 7-0? Some people never learn – Krishna Moorthy.
Poor Pep. He may be a tactical genius whose coaching has won titles across Europe, but he's also just a boy standing in front of a girl, asking Julia Roberts to love him – Mark McFadden.
What is the quote at the end of each Football Daily referring to? Is the idea that we work it out? – Dean Cooper.
When reading Michael Van Portfliet's letter yesterday, I was amazed at just how complicated rounders had become since I was at school – Andrew Want.
Send your letters to the.boss@theguardian.com. Today's winner of our prizeless letter o' the day is … Andrew Want.