Ten things you need to know about Manchester United's Marc Skinner | Manchester United Women
1) The 40-year-old began his working life as a teacher at Solihull College and joined Birmingham initially on a part-time basis in 2006. In the course of a 10-year footballing apprenticeship, Skinner gained the Uefa A licence and served, variously, as Birmingham's technical director, reserve-team coach and goalkeeping coach before finally becoming manager in 2016. During his time in charge he led the Blues to seventh and fifth-placed league finishes and an FA Cup final.
2) His partner is the former England defender Laura Bassett. The pair met when they shared under-14 coaching duties at Birmingham; their daughter, Saede, was born in December 2018. In the spring of 2017, Bassett was preparing to represent the Lionesses in the European Championship in the Netherlands when her club, Notts County, folded. It was suggested that she join Birmingham but Skinner had become manager there the previous year and she did not want to complicate his life by returning to a former team. "Marc's at the start of a new project and, as much as I'd love to go back, it wouldn't be right," said Bassett. "I'd just be giving him more problems. Also, I have to live with him so, if I want to shout at him about his untidiness at home, I don't want to be taking that to work! It wouldn't be healthy."
3) Skinner does not believe managers should embark on relationships with their players. "It's ethics," he says. "I'm not here to judge anyone else but, from my perspective, and I was a teacher before I became a coach, I don't think it should happen. In football, lines become blurred. How do you keep your objectivity if you attach an emotional state to a manager-coach relationship? But I know these relationships have happened in the past – and they still happen. Personally, I'd never work with my partner in football because I feel it would cross the divide."
4) He headed across the Atlantic to take charge at Orlando Pride in 2019 and failed to win any of his first nine games. At the end of his first campaign the Florida club finished bottom, trailing a record National Women's Soccer League low of 16 points. With his time in the United States blighted by the Covid pandemic and a consequent nine-month long separation from Bassett and their daughter, he was delighted to accept Manchester United's offer to succeed Casey Stoney in July 2021. By then, though, a renascent Orlando Pride had just completed a seven-match unbeaten run and Skinner had become a confirmed admirer of the North American culture in which players are routinely unafraid to confront controversial issues such as equal pay and bullying. "One of the things I absolutely loved about the NWSL is that the players were willing to stand up for what they believe in," he says.
5) His high-pressing, possession-based gameplan has guided Manchester United to their first Women's FA Cup final. "It's a massive, massive moment for us, but we haven't won anything yet," says Skinner as he eyes a league and cup double. Bolstered by the presence of the Euro 2022 winners Mary Earps, Ella Toone and Alessia Russo, United for now sit top of the Women's Super League. They are a point ahead of Chelsea, although Emma Hayes's side have a game in hand.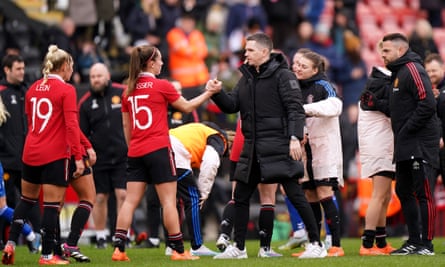 Yet regardless of whether they win the title or not, simply qualifying for the Champions League would represent a significant achievement. After all, since Liverpool won the WSL in 2014, no team other than Chelsea, Arsenal and Manchester City have finished in the top three. United, meanwhile, did not have a women's team until 2018.
6) The Basildon-born manager believes he is only just beginning at United. "I feel we've jumped a level this season but we want to improve again next year," says Skinner. Given that United have 13 players out of contract this summer – including England's Russo and Earps as well as Spain's Ona Batlle – there could be a changing of the playing guard at Leigh Sports Village, where he is overseeing an improvement in the training-ground infrastructure that left Stoney disillusioned. Skinner has said he will fight to keep Russo, Earps and Batlle – but it will not be easy.
7) He loves watching videos of Marcelo Bielsa's teams and is fascinated by the Argentinian's tactics and coaching methods but believes in granting players more free time than the former Leeds manager. "We do a lot of work as a club in allowing players extra days off in order to give them the mental breaks they need," says Skinner. "I'm a big believer in mental recuperation. I feel it's helping me deal with the pressure a lot better than previously."
8) Skinner is determined not to repeat the mistakes he made when his Birmingham side surrendered 4-1 to Manchester City in the 2017 FA Cup final. "What we got wrong is that we made it a massive event," he says. "We made it bigger than it should have been. Everyone knows it's a big deal, but we put quotes on the wall from players and their families. We made naive mistakes. It became an emotional event rather than a clear business-like event."
9) He cares about his players, past and present. When, back in 2017, the forward Ellie Brazil swapped Birmingham for Italy's Fiorentina, her old boss maintained regular contact with the then 18-year-old. Skinner helped ensure that Brazil – now at Tottenham – was coping with the language barrier and culture shock.
10) Skinner is an ardent fan of Freddie Mercury and Queen. But his eclectic musical taste also embraces a passion for the Italian pianist-composer Ludovico Einaudi.