Sevilla dragged back into La Liga's Sarlacc pit after Atlético annihilation | La Liga
The first to leave was a kitman carrying a bag of equipment and a haunted look. At the top of the stairs, Sevilla dressing room to the right, Atlético's to the left, a familiar face from better times was waiting to give him a hug. There were a few quiet words but no comfort. One by one the rest followed: Sevilla's players entered the tunnel alone, lost in dark thoughts, each more broken than the last. The coach moved faster than any of them, just wanting out. Directors appeared who could do nothing. The captain's jaw clenched so hard teeth could have crumbled. There were internal monologues, external ones too, but mostly silence, tape unravelled and thrown to the floor.
"I have no words to explain what we feel," Lucas Ocampos said, when at last he was able to say something. "It hurts, a lot." The day before, Jorge Sampaoli, the Sevilla coach, had insisted his side needed to "escape the desperation", but there was no way out. Instead, the desperation deepened. Sevilla had just been hammered 6-1 by Atlético Madrid. "This goes beyond the limits," Marcos Acuña said. When Sampaoli appeared in the press conference, he was barely intelligible. "Negativity" had surrounded his team, he said. And now? Somewhere in the words that fell almost at random was an "impotence", a "tremendously complicated", and an admission: Osasuna had been a blow and this was even bigger.
Last week, Sevilla had been defeated 3-2 by Osasuna at the Sánchez Pizjuán, falling to an Ez Abde goal with five minutes to go. This week, they had gifted the first chance inside two minutes and, by the end, Atlético's six made more sense than their one. Last week there had been an own goal and a red card This week a missed penalty and a red card, yet they were mere details in a display so irredeemably awful all it invited was the fear that their fall, already far enough, hasn't finished. These teams should be rivals, third and fourth for the last three seasons. This time last year, Sevilla were second, four points off the top; now they are 37 away and zero off relegation. Around the Metropolitano, a chant went up: going down.
It wasn't supposed to be like this. Not at the start and not since either. Sevilla are level with Almería in 18th, who they meet this weekend; when they met earlier this season, Sevilla suffered one of 11 defeats. They won just twice before the World Cup, the crisis claiming Julen Lopetegui and lots of his players. Of the XI that started against Atlético last time, in October, three started this time. Only six are even still at the club. At the Sánchez Pizjuán, the ground with the best facade and some of the best fans too, somehow they had not won at all.
In January, against Getafe, they finally did. The next game there, they beat Cádiz, Ivan Rakitic's last-minute penalty a release. The week after, they put three past Elche. And then two beyond Mallorca. Four home games in a row, four wins, and Sevilla seemed safe, panic gone. Youssef En-Nesyri, who had not scored, now had five in six games. Except you're never really safe here. The Sarlacc pit keeps pulling and you're not the only one fighting or frightened. It's so tight that everything changes over a day and nothing does over a month, huge wins wiped out again. Pause to breathe and you're dragged back in, fatalism returning.
Over the last 10 weeks, nine teams have finished the round in a relegation position: Almería, Valencia, Cádiz, Getafe, Valladolid, Sevilla, Espanyol, Elche, Celta. Four points currently separate 19th from 12th. Espanyol, Celta, Valladolid, Cádiz, Getafe and Sevilla are within two points of Almería, the first in the relegation zone. Getafe and Sevilla are level with them, a single point above Valencia. Eleven teams could conceivably still go down.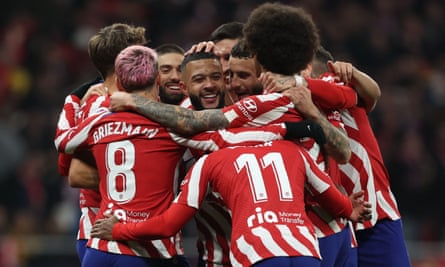 Sevilla are certainly among them, perhaps in part because they shouldn't be. "We had lifted ourselves up and now we've fallen again," Sampaoli said. Last week, he had sent on instructions with five minutes left, less ordinary small note and more ordinance survey map. As two teammates tried to work it out, Acuña tore it out of their hands, screwed it into a ball and threw it on to the grass. This week he said: "We played very badly. We're given the tools but either we don't understand them or … I don't know." Ocampos admitted that he would be "lying if I said I had the solution."
With a court battle due over ownership and the possibility of an administrator being appointed, Sampaoli talks about needing calm, the negative influence of the noise, but has been sent off twice. He speaks of applying "patched-up solutions", a team with one actual centre-back playing with three. The Europa League, their competition, feels like something they could do without. Pape Gueye, the signing that brought much-needed energy, will be suspended next week. Fernando Reges is serving a four-game ban: they have won two of the 14 he has missed. Next up is Almería, then Getafe, Cádiz, Celta and Valencia, direct rivals in the fight against relegation. An opportunity, sure, but an obligation too.
An obligation that Sevilla – like Valencia – are not used to. If they supposedly have better players, this is not their place. "It's a new situation for many of us," Rakitic admitted. The looks on Sevilla players' faces as they headed up the tunnel spoke volumes in the silence. "It's hard for fans to believe us right now but we won't give up," Ocampos said but it could be that trying too hard is as bad as not trying at all. It's one thing to want, another to know.
If others are more used to it, that doesn't make it easy. After the 3-2 win over Girona which lifted them out of the relegation zone, Portu. the Getafe winger, said the players were aware of their responsibility and the thought occurred that it would be better if they weren't. His coach, Quique Sánchez Flores, talks eloquently about the fear that makes footballers fail, a debilitating weight. Even more eloquent was their recent meeting with Valencia in which good players genuinely could not string three passes together and Getafe won with a fittingly ugly goal. A week later it took an own goal for Valencia to finally win 107 days after their last league victory.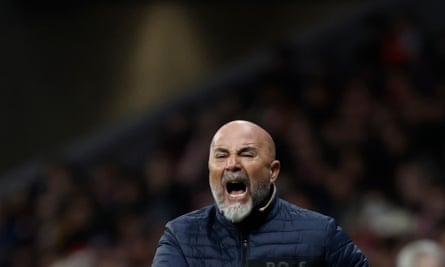 Back then, at the final whistle, Hugo Duro collapsed to the floor and sobbed. "That shows what we were going through. We were weighed down mentally," his teammate, Samuel Lino, said. Seven days on they're back in the relegation zone and Sevilla have slipped back to the edge too. "It'll be like this until the end," Sampaoli said.
Sevilla have won four in eight but this was so crushing, so, well, crap, as to eclipse that. Almería have won two in six, Getafe two of their last three, Cádiz three in six. Their winter signings have made an immediate impact. Valladolid have won three in six. Celta, improving under Carlos Carvahal, have won four in eight and have a game in hand. Espanyol have won two in four. Even Elche have won two of five.
Safety always looks just within touching distance and just out of reach too. This time last season, the relegation threshold was 20 points, the year before 21. It is 25 now, with the next team down, Valencia, on 23, the abyss always right behind you. "We have to be ready, there is no time," Rakitic said.
Diego Martínez, the Espanyol manager, talked this weekend about handling the "emotional hangover" of pulling to safety one minute and finding yourself in danger again the next. In the end it's about people, a point about to be made powerfully. Espanyol won two in a row but on Sunday lost 2-1 to Valladolid, whose coach, Pacheta, dedicated victory to Pelayo Novo, the 32-year-old footballer and "exceptional human being" who tragically died last week. He then described the relegation battle as "like a slide".
"Last week was a disaster because we lost and the rest won. This week we won and only some won. So now what?" Pacheta said. "If you focus on others you're liquidated. I tell the payers: do your work. No one else's. Yours. If you wonder how they'll do, then bish, bosh, bash you're done. We have 27 points. Very good. My message is continuity, we're doing great work. But bloody hell, we're in there, we're in the fight. We've been in the relegation zone for a few weeks. Now we're not."
Victory had seen Valladolid climb out and all the way to 14th, above Sevilla. They had done it without Javi Sánchez, the central defender, a virtual ever present who had instead attended the birth of his son. "He was doubting what to do," Pacheta said. "I said: 'Go. You have to be there.' This is a human question, something that only happens to you once, maybe twice. You never know what could happen and there's nothing like seeing your child born. Here we win, we lose, but there's no discussion: go. It's a football game, someone else plays. We won, he's with his wife and child, everyone's happy. It's life."