Roberto Firmino admits tears will flow after emotional Anfield farewell | Liverpool
The master of the no-look goal is looking back once more and sadly, for the legions who cherish the joy that Roberto Firmino has brought to Liverpool over the past eight years, for one final time. "I am trying to focus on the game," Firmino says of his Anfield farewell against Aston Villa on Saturday. "But after it I will cry 100%."
Firmino has avoided media interviews as artfully as opposition defenders throughout his Liverpool career, and also with a beaming smile whenever politely declining another request. But today he makes an exception. He should not, and will not, go quietly. One of the most important and popular figures in Liverpool's recent history and success under Jürgen Klopp is bowing out with, thus far, 360 appearances and 109 goals, and after seven winners' medals and countless moments of audacious skill and selflessness. The parting will be painful.
"I will miss everything," says Firmino, who is fit to face Villa after a muscle problem. "My teammates, the club, the fans, especially the fans. I love the fans – they've supported me a lot through these eight years. I am so proud of what we achieved here together. For everything that the club did for me and for my family, I'm so happy."
So why go now, when a contract extension was on the table? Firmino, who does not want to discuss his next move, says: "It is time, unfortunately. The cycle here is ended and I understand it is time to go. I am very proud for everything that I have done here with the team, what we achieved together and the beautiful history we made together. I am very proud. Maybe one day I could come back, I don't know, but it's time to go."
The farewell to Firmino started on Monday at Leicester, where Liverpool fans spent much of the 3-0 win singing his Si Señor song. In stark contrast to his on-field persona, the 31-year-old is a reserved, almost bashful character off it, constantly checking his English with an interpreter and blushing whenever words such as legend are thrown his way. Being serenaded constantly at the King Power Stadium meant a lot.
"I was surprised because the game was away," he says. "The fans know I'm not on the bench but behind it. I was very surprised but I was very emotional and happy as well. I loved it and I want to say thank you to all of them for the support and the love and affection they've shown me.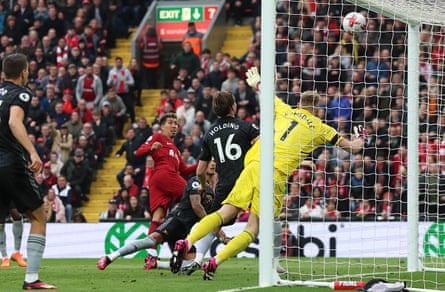 "I don't remember the first time I heard it but when I knew the fans had created a song for me I was very happy because it's symbolic. It means they love me and always when I heard my song it gave me the courage and the motivation to work harder, to do more for the team and to do my best."
Si Señor did not end in Leicester, either. "I sang it two days ago in the car with my family," Firmino reveals. "My children asked if I could put the song on so we could sing together." He intends to learn to play it on the piano. "I play but not that song yet. It's hard. But I'll learn."
Firmino learned to master the art of the false 9 under Klopp, his creativity and intelligence central to the phenomenal success of Liverpool's three-pronged attack with Mohamed Salah and Sadio Mané. The impact was far removed from his early days at Anfield when, after a £29m arrival from Hoffenheim, the Brazilian was played out wide or sometimes left on the bench by Brendan Rodgers.
"In the first week I was here, even I didn't know where I would be playing," the forward says. "I can play everywhere, but me and Brendan Rodgers didn't understand each other about my position on the pitch. When the current manager arrived, we created a position, the false 9. After that I just enjoyed the position. Before, the whole time in my career I was a No 10. And then I came here and became a 9, a striker. I tried my best, and thank God it was very good."
Firmino is even selfless when asked who came up with the idea of the false 9. "I say we created it together but he [Klopp] would say it was me. I tell him it was together. I'm very flexible, I can play anywhere in the attack. I try always to help the team."
He says he enjoys creating goals more than scoring them, sometimes, and looks embarrassed when it is put to him that, to many people, he is the player who will be synonymous with the Klopp era.
"That makes me happy," he replies, those white teeth beaming. "It is a privilege. It is an honour. I worked very hard to be where I am now and this is the result of my hard work every day, and with the club and my teammates as well. I'm very happy to hear they would choose me as their favourite player."
Firmino is asked how he would wish to be remembered by his adoring Liverpool fans. "Difficult," he says before adding, after a long pause: "My generosity and my heart."