Rapid Reaction: 3 thoughts on Carmelo Anthony's retirement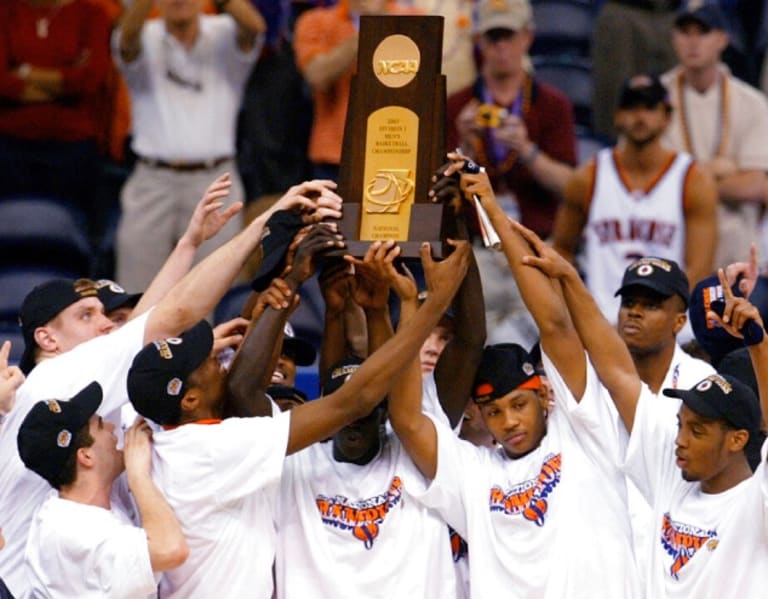 The Syracuse player with the longest NBA career officially announced his retirement Monday via social media.
Carmelo Anthony had been hoping to play one more season in 2022-23 to make it an even 20 years in the league and to further climb up the all-time scoring list where he resides as the ninth leading point producer in NBA history.
But the call never came for a team looking for an experienced scorer off the bench, leading to Monday's pronouncement from Anthony that his playing days have come to an end.
RAPID REACTION
Anthony is the greatest one-year player in Orange basketball history leading Jim Boeheim to the promised land with the 2003 national championship, and his legacy may continue one day if his son Kiyan Carmelo Anthony decides to accept a 'Cuse scholarship offer as a member of the class of 2025.
Until then, here are three takeaways regarding the collegiate and NBA career of the incomparable Anthony:
He bookended his one SU season with fantastic performances.
'Melo's debut at Madison Square Garden against Memphis resulted in an emphatic dunk for his first Syracuse points, on route to scoring 21 of the team's 34 first half points and finishing with 27 points and 11 rebounds playing all 40 minutes in a 70-63 defeat to the Tigers. At the Final Four playing with a painful back injury, 'Melo exploded for a college-high 33 points and 14 rebounds against Texas in the national semifinals, upset over finishing behind Longhorns guard T.J. Ford for national player of the year honors. He followed that up with a near triple-double performance of 20 points, 10 rebounds and 7 assists in the thrilling championship victory over Kansas.
He missed joining an exclusive club by not winning an NBA title.
With the 2003 NCAA championship, and as a member of the USA basketball team winning Olympic gold medals in 2008, 2012, and 2016, Anthony fell short of joining Clyde Lovellette, Bill Russell, K.C. Jones, Jerry Lucas, Quinn Buckner, Magic Johnson, Michael Jordan, and Anthony Davis as the only players to win the NCAA title, Olympic gold, and an NBA championship. The closest Anthony came was in 2009 when the Denver Nuggets fell to the eventual champion Los Angeles Lakers in the Western Conference final.
He will be the fourth person with Syracuse ties to be elected to the Naismith Basketball Hall of Fame.
In the summer of 2026, his first season of eligibility, Anthony should be celebrating his induction to the Hall in Springfield, Mass. When that occurs, Anthony will join Vic Hanson (1960), Dave Bing (1990) and Boeheim (2005) as the fourth Syracuse University player/coach to achieve basketball immortality.
—-
Chat about this story and all things Syracuse and Syracuse recruiting on our premium message board, Cuse Classified!
Follow us on Twitter @TheJuiceOnline, like us on Facebook, follow us on Instagram @SUJuiceOnline and listen to our podcast.
Tips/questions/concerns? E-mail Recruiting Analyst Charles Kang here.
Not a subscriber to The Juice Online? Join today for access to all our premium content and message board community.