Pep Guardiola has all the answers for critics but none for Julia Roberts snub | Manchester City
For Pep Guardiola, it can often feel that there are more questions than answers, whirling and pounding inside his head; the critics lining up their pot shots, his best efforts never enough.
Can the Manchester City manager seriously start with four centre-halves? What about Bernardo Silva on the right wing rather than Riyad Mahrez or Phil Foden? How can he blend a subtle possession game with the imperative to involve Erling Haaland as much as possible and spring him forward quickly? And why did Julia Roberts visit José Mourinho and Manchester United in November 2016 rather than him and City?
Guardiola still does not understand the last one, as he made clear after the 7-0 evisceration of RB Leipzig in the Champions League last 16 second leg on Tuesday night. Describing the Hollywood actor as one of his three idols in life – the others are Michael Jordan and Tiger Woods – he wondered why she had taken in United's home game against West Ham, where she was given the full A-list treatment, a walk on the pitch and so on, and snubbed him.
"Julia Roberts came to Manchester and not in the 1990s when Sir Alex Ferguson won titles and titles and titles," Guardiola said. "She came in a period when we were better than United. And she went to visit United. She didn't come to see us."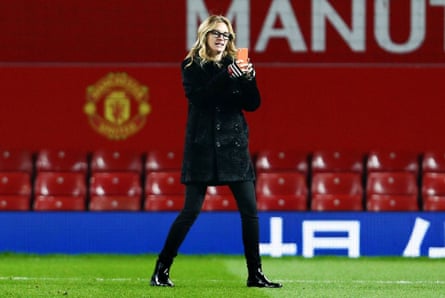 Guardiola had described himself as a "failure in the Champions League". He could win it this season, he added, and he would still be cast as such in some quarters. And it would not make up for the disappointment of being ignored by Roberts. Maybe he was trying to say that there were more important things in life. Or was he just overthinking this? What was the ratio of sincerity to sarcasm? Because let's face it, Guardiola does not think of himself as a failure – and with good reason.
Guardiola was on safer ground when he discussed another sensitive area – his team selections for the big Champions League ties. Because here he knows that he has more insight than anyone else; more than the fans, more than the Twitter sages, more than the media.
To rake over his analysis of the gameplan for the Leipzig return, after the 1-1 first-leg draw in Germany, was to see the magic eye image rise from the picture; the plan behind the frenzied touchline arm movements. It was particularly interesting with regard to Silva.
When the teamsheet dropped, the feeling inside the Etihad Stadium was that Silva was in to help control the ball and the tempo. City would play in a measured way to guard against Leipzig's dangerous transitions. It was not the case.
Guardiola wanted Silva for the intelligence of his counter-pressing, to block off the link between the left-sided central defender, Josko Gvardiol, and the left-back, David Raum. And their connection further up the pitch with the left-sided midfielder, normally Dominik Szoboszlai. He wanted Silva to pen Leipzig back. Which was also his demand of Jack Grealish on the left wing.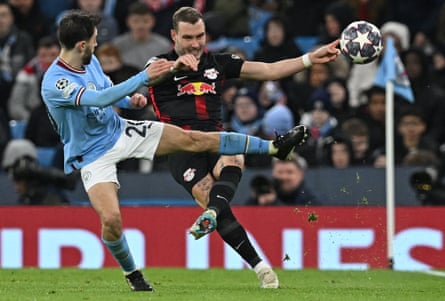 "We struggled [in the first leg] with the contact [between] the central defenders and the full-backs … they dropped us [back]," Guardiola said. "Today Bernardo and Jack defended that passage incredibly well. That's why Raum and [the right-back Benjamin] Henrichs could not contact and drop us. Sometimes you have to play one game to realise the things.
"You have to close that pass and Bernardo is intuitive. I played Bernardo because the left side from Leipzig is amazing with Gvardiol and Raum. Bernardo had the ability to know exactly how to press three players in two movements. There is not one player in the world who can do that. Not one. It's not the physicality. It's so intelligent and that's why he played. I have more info, my friends … the Twitter guys or all of the people. I have more info. I'm sorry. Today I'm right."
What has enraged Guardiola in the majority of City's Champions League exits has been the defensive errors, how they have given away goals. This has generally been the reason for the heartbreak, he said, not problems at the other end.
Even in such a comprehensive victory as against Leipzig, there were a couple of wobbles. The goalkeeper, Ederson, was fortunate to escape censure for a challenge on Konrad Laimer after leaving his area and Rodri, played into trouble by Ederson, gave away the ball and City were grateful that Leipzig missed the key pass.
Guardiola wants his team to play out but mistakes cannot be tolerated. Against Leipzig, he felt that his back four of (from right to left) John Stones, Manuel Akanji, Rúben Dias and Nathan Aké could build the team's moves but above all he prized their stability.
"They are so solid, Nathan is so focused for 90 minutes," Guardiola said. "Rúben, Manu … John, as well … they are so stable. That's what we need in this competition because the chances Leipzig had, we gave them."
Back to the midfield. Guardiola described Ilkay Gündogan as "the best midfielder that we have this season". In other words, he had to start. Ditto Silva. And also the prime version of Kevin De Bruyne, the dynamic one, pressing high, aggressive with the ball; not pondering and giving it away. Add in Rodri and Grealish and there was no room for Mahrez or Foden.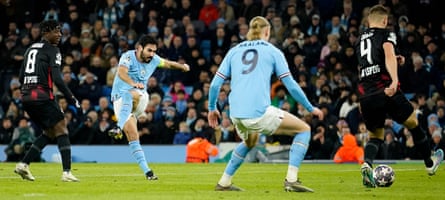 "For the people, it's difficult to understand," Guardiola said. "You put in some lineups, [they] say: 'No. You are going to play in this way?' The selection of the team … 'Why don't play Riyad, why don't play Phil, why don't play [Aymeric] Laporte [in defence]? You win, I'm right. Lose, I'm wrong. It's not about that. I have a lot of info that all of you, the fans included, don't have."
Haaland's five-goal haul was the showstopper against Leipzig, Guardiola seeing the correlation between the centre-forward's higher-than-normal number of touches (30) and his precision with the chances.
"Sometimes it's his fault [that he doesn't touch the ball] because sometimes he doesn't move," Guardiola said. "But in other games it's our fault. We are talking about it and we are working because we try to make the process sometimes quicker. I wouldn't say things have to be slower but once we break the holding midfielder, we have to be quicker."
For Guardiola, the Champions League continues to tantalise. For the sixth time in his seven seasons at City, he is into the quarter-finals, dreaming of a first triumph with them. The pieces appear to be in place. Maybe Roberts could yet drop by.