Nottingham Forest secure safety and hand title to Manchester City | Premier League
And with that it was done. A title race that had promised so much came to its formal and premature end in bright spring sunshine as Arsenal's failure to defeat Nottingham Forest ensured that, for the fifth time in six seasons, the Premier League was won by Manchester City, who have three games still to play. But if that side of the equation was ultimately anti-climactic, for Forest there was ecstasy: they will be playing Premier League football again next season.
For others, next week's trip to Crystal Palace, blithely mid-table, might seem the perfect final-day fixture for a team in need of points. Palace's job is already done, their suitcases are already packed; they have no need for a dogfight. But Forest's away form is so poor – just seven points gathered in 18 games on the road this season – there was an awareness they could do with securing survival before then. Offered the opportunity by Everton's draw at Wolves earlier in the day, they seized it eagerly.
Whether you define what has happened to Arsenal as a choke or the inevitable consequence of chasing an almost indestructible opponent with a squad clearly lacking depth in certain key areas, or some combination of the two, what is undeniable is that Arsenal's season has dwindled miserably. Since throwing away that 2-0 lead at Anfield, they have won just two of eight games.
Arsenal, their pursuit of the implacable excellence of Manchester City no more than perfunctory, their place in next season's Champions League already secure, gave the sense of playing without a great deal of purpose. It wasn't that they were at half-pace or that a lot of players had been rested, but the lack of intensity was discernible. Everybody knew the title race was done, the mood of resignation so absolute that Forest fans' taunts that Arsenal were "top of the league and fucked it up" seemed oddly out of place, almost distasteful, and were soon discontinued.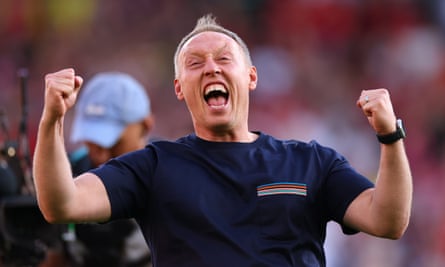 Certainly there was a casualness about the Martin Ødegaard pass that gifted Forest an opener. Morgan Gibbs-White, the outstanding success of the past year's transfer dealings, gladly seized possession, advanced and then released Taiwo Awoniyi with a perfectly weighted ball.
After a middling start to life at Forest following his move from Union Berlin, Awoniyi has ignited this month with doubles against Southampton and Chelsea. However sharp he may be, though, his finish here was fortunate, Gabriel's sliding challenge hooking the ball into his lower shin, from where it scooted over the sliding Aaron Ramsdale – a goal made by the precision of the pass.
Having apparently dragged themselves to safety once, Forest are having to do it again. This has been a season in four distinct phases: four points from the first eight games, 20 from the next 13, three from the next 11 and now seven from the four before this game. Is it over-simplistic to say that the seven January signings disrupted the patterns Steve Cooper had created having finally sifted through the 22 signings of the summer?
Probably not, but Danilo, bought from Palmeiras for £17.4m, is a clear asset and repeatedly troubled Thomas Partey, who was forced to fill in at right-back in a defensive reshuffle in which Ben White was redeployed to the centre and Jakub Kiwior on the left.
Whether it was those changes at the back or despondency at the fizzling out of the title challenge, Arsenal struggled for rhythm. This was reminiscent of the defeat at Everton earlier in the season as they toiled in front of a noisy home support against aggressive and deep-lying opponents. Nothing quite came off. There was a lot of shrugging. Bukayo Saka looked sad a lot. Ødegaard seemed constantly to be making compensatory runs, as though by overt effort he could find redemption for his error. Gabriel Jesus has a face that always seems to be mid-complaint about something, but here that was accompanied by waving arms until he was eventually booked after appealing for one penalty too many shortly after half-time.
There were a few corners, a few snap shots from distance, but the clearer chances were Forest's. Felipe and Gibbs-White both had opportunities to seal the win in the second half, but in truth they were never clinging on. The final quarter largely involved Arsenal passing the ball fruitlessly around and Forest players receiving treatment to a backdrop of red celebration. What was striking was the lack of jeopardy for a side that had gone 15 games without a clean sheet. For Arsenal, that meant further frustration; for Forest, a triumphant march to the final whistle and survival.