Nketiah doubles up as Arsenal run away from Oxford in second half | FA Cup
This was not an occasion for the history books but everybody came out with something to grasp. A mid-strength Arsenal were too good for Oxford in the second half, having slogged through a turgid first, and prevailed via Mohamed Elneny and a brace from Eddie Nketiah. Much good may it do them, given a visit to Manchester City is up next, but a banana skin was avoided and their third-tier opponents can claim to have given them a good contest for the majority. Less palatable for Mikel Arteta was the sight of Bukayo Saka hobbling off before the third goal with the north London derby six days away.
Arteta has formed a habit of going strong in the cups, regardless of opposition, and this occasion was no different. While he shuffled the pack there were still starts for Saka, Nketiah and Gabriel Martinelli, the front three nailed on to face Spurs on Sunday. Among a healthy raft of contingencies on the bench was Emile Smith Rowe, whose return after four months laid low with injury will be a huge boost for the season's second half if it is sustained.
Oxford, a slightly deceptive 15th in League One, had promised to honour their manager Karl Robinson's philosophy and come out to play. Shooting towards the three-sided Kassam Stadium's notorious car park, they signalled that intention early on and did their best to dominate the ball. A Josh Murphy run down the right held promise but Matt Turner grabbed his cross; there were smart touches in midfield from Cameron Brannagan and Marcus McGuane.
While Arsenal soon gained a solid foothold, Takehiro Tomiyasu and Kieran Tierney both overlapping threateningly, they had not provoked any major concern by the 20-minute mark. Brannagan barged Tierney off the ball, reminding them Oxford would not be shrinking violets for all their footballing principles; soon afterwards he saw a shot blocked after a dozy Fabio Vieira was robbed and then the rangy left-back Ciaron Brown, hard but fair, left a briefly pained Saka in a heap.
Out in the car park, two fans strained to watch proceedings from atop a van. They may just about have made out Albert Sambi Lokonga taking aim with the first real opening of the game, Arsenal protesting furiously for handball as Elliott Moore blocked. Nketiah jabbed a long throw-in over the bar before the interval, just after Djavan Anderson had halted Martinelli with a challenge that needed to be impeccably timed, but Arteta's players could hardly say they had posed enough threat. Tierney prevented Murphy reaching Billy Bodin's cross at the other end and Oxford were well worth parity.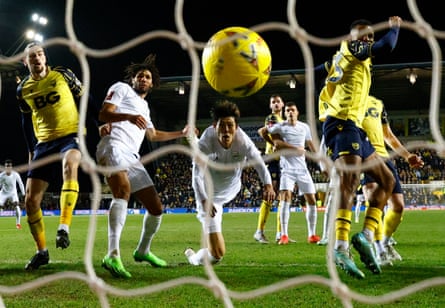 Four minutes after the restart Oxford's centre-forward Matty Taylor glimpsed his big opportunity after running on to a long pass from Brown but, having to stretch, could not prod beyond an advancing Turner. If nothing else it was confirmation that Arsenal would be walking a tightrope if they did not step things up. Saka is usually a reliable vehicle for the required intensity and mustered the closest call yet when, after twisting inside, he shot past Eddie McGinty only for Lewis Bate to hack away from near the line.
But the hosts responded with a squall of their own and, as the hour mark passed, Arteta saw the spectre of a replay looming ever larger. He deployed Granit Xhaka and Oleksandr Zinchenko from the bench in an effort to assume the kind of control they had lacked all night. In the event Arsenal broke through immediately without the need for significant involvement from either.
Martinelli was fouled to the left of the box and Vieira, hitherto a disappointment, sized up the free-kick. He whipped across a delivery that begged to be attacked and the diving Elneny, a stalwart who is entirely comfortable with his role as a reserve, powered in his first goal since May 2021 from six yards.
Before long it was two. Vieira continued the rehabilitation of his performance with a slide-rule pass for Nketiah, who had acres of space and skipped beyond McGinty before finishing. Six minutes later the pair combined again, Nketiah this time converting with a delicate dink. While the latter move was in progress Saka was walking gingerly around the perimeter: he had departed after going down in clear discomfort. It was Arteta's greatest concern of the evening.