Milan flinch in the shadow of the Curva as moment of destiny awaits | Milan
Defeat was a disaster, but it was the aftermath that made international headlines: Milan's players and manager silently facing their supporters in the away section of Spezia's Stadio Alberto Picco while one fan addressed them with a monologue. There were no TV microphones close enough to listen in but bowed heads and solemn expressions made it appear as an act of submission: disobedient students being scolded by a master.
Those present told it differently. "What happened beneath the Curva was something positive," said Stefano Pioli. "They were only motivating us, pushing us to give our all." The defender Simon Kjær echoed that sentiment, adding: "Our fans have surprised me in lots of good ways since we won the league. They have always been close to us."
Even so, interpretations varied of what went down after Spezia's 2-0 win. Writing in La Gazzetta dello Sport, the columnist Luigi Garlando asked whether the likes of Paolo Maldini would ever have tolerated being spoken down to. The former Milan and Italy defender, now a director at the club, famously berated a supporter who sought to lecture players on their attitude after they blew a 3-0 lead in the 2005 Champions League final.
Milan's players – like those of many clubs in Italy – go under the Curva to acknowledge fans after every game, win or lose. It is uncommon for individual supporters to be given an opportunity to address the team directly, as happened on Saturday, but not unprecedented. Whether it should happen is a grey area.
The Italian Football Federation's Code of Sporting Justice has specific clauses to prohibit "public stockades" in which players are obliged to attend and endure abuse. The governing body is understood to be gathering further information about what happened in La Spezia to determine whether any action needs to be taken – though it seems unlikely in this instance.
Raised tensions could come as no surprise. Milan were still reeling from defeat by an identical scoreline in the home leg of their Champions League semi-final against Inter on Wednesday night. Fans had hoped to see a reaction against Spezia. Instead, there was a distinct sense of deja vu to a game in which Sandro Tonali produced Milan's best chance with a shot against the post from outside the box.
Spezia were full of motivation, seeking to lever themselves back out of the relegation zone after they were overtaken by Verona the previous weekend. Their manager, Leonardo Semplici, has pulled off escape acts before, twice keeping Spal in the top flight before rescuing Cagliari in 2020-21. Yet his team were winless in eight games leading up to this clash with Milan.
The gameplan was predictable, Spezia mostly sitting deep, aiming to keep the game alive long enough that their moment could arrive. Arkadiusz Reca offered occasional adventure from the left wing-back position, but scoring chances from open play were rare. Spezia's first goal arrived instead from a corner in the 75th minute, Kelvin Amian heading Salvatore Esposito's cross against the bar before Przemyslaw Wisniewski forced home the rebound.
Milan conceded for a second time as they pushed to equalise. This time Esposito whipped a free kick over the wall and direct into the top corner of the net, Mike Maignan barely able to brush the ball with his fingertips.
While all energies have, understandably, been focused on the Champions League semi-final, this loss could have more long-lasting consequences for Milan than the result of Tuesday's return leg. The Rossoneri are fifth in Serie A, but a win here would have taken them to within a point of fourth-placed Lazio, who they beat the previous weekend.
Neither side is ending the season strongly. Lazio have taken only four points from their last five matches and needed a 93rd-minute equaliser at home to Lecce on Friday. But Milan have won only three out of 11 league games since the start of March.
Last week, Gerry Cardinale, founder and managing partner of Redbird Capital, the owners of Milan, acknowledged that for all his emotional investment in the Champions League semi-final, qualifying for next season's edition was still essential. The club recorded losses of more than €66m on last season's accounts but football finance website calcioefinanza.it has reported that revenues from this season's competition could help push the club into the black for the first time since 2006.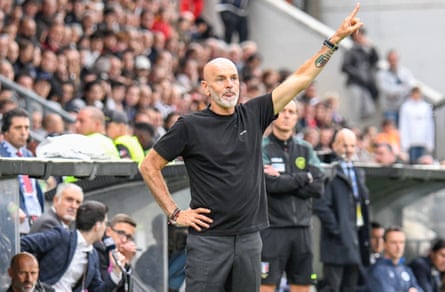 There is more to the story than that. Milan have steadily reduced their wage bill in recent years, bringing costs to a more sustainable level, one of several reasons to believe their medium-term future remains bright. The club is expected to confirm the commitment of their biggest star, Rafael Leão, to a new five-year contract in the coming days.
More pressing, though, is the question of whether he might be fit to play against Inter on Tuesday night. After missing the first leg with a thigh strain, Leão resumed training with teammates on Sunday. Pioli struck a cautiously optimistic tone when asked about the forward but said Monday's practice would be decisive.
Even after leading Milan to a Serie A title last season, the manager knows his job could be at risk if this campaign ends poorly. Perhaps it is for that reason, too, that he is willing to prioritise the voice of supporters. Ultras from the Curva Sud have thus far continued to back his leadership. The chant of "Pioli is on fire" before the semi-final first leg kicked off at San Siro was deafening.
On Sunday, several hundred supporters came to the Milanello training ground, where they were met at the gate by Pioli and his team. This time there was no monologue, only 10 minutes of chants, flags, and flares. As usual, the simplest song cut through the clearest. "Noi vogliamo questa vittoria" – "We want this win."