Mikel Arteta must improve Arsenal's strength in depth in summer revamp | Arsenal
It felt like a throwback to darker days when Mikel Arteta, wan and downcast, faced the media after his side's destruction by Brighton. There have been few reasons for dejection this season and, even after draws or defeats, he has generally emphasised the sunny aspects of Arsenal's revival. This time, though, there was the clear sense a title dream had died and the note Arteta struck was bleak.
"If a team is capable of doing that when it comes to the biggest stage, there's a lot of things to analyse and think about because it cannot happen," he said ominously, subsequently reiterating they were short of the level needed to compete for honours domestically and in the Champions League.
To an extent that is nothing new: Arsenal were always going to require a revamp this summer and there is little question they have over-performed according to their playing resources. The manner of their drop-off is best observed by chopping their season in two. During the first 19 games, up to and including the dramatic win against Manchester United in January, they won 50 points at an average of 2.63 per match; the following 17 have brought 31 points at an average of 1.82. Arsenal spent the first half of the campaign in the vein of runaway champions and the second in form befitting a side that would usually finish somewhere between third and sixth.
The difference is stark, although some degree of tail-off might have been expected from a young team in that position for the first time. It will make frustrating reading for Arteta, who could bemoan injuries but knows they cannot account for everything. Gabriel Jesus and William Saliba have been missed at different points of the campaign, and Takehiro Tomiyasu's versatility would have come in useful this spring, yet the treatment room has never been overflowing and the squad must be better stocked if they are to see the job through in future.
Numbers have been less of a problem than quality. Saliba required a higher-grade deputy than Rob Holding or Jakub Kiwior, although the latter's showings in recent weeks have shown genuine promise; out wide there is no semblance of serious competition for Bukayo Saka, who has been muted of late; Fabio Vieira is not ready to swap in regularly for Martin Ødegaard if required; up front there appears a vacancy for a striker of real stature who can present an alternative to Jesus; and at left-back Kieran Tierney, a fine player but incomparable to Oleksandr Zinchenko in Arteta's preferred buildup, has seen the team evolve beyond him.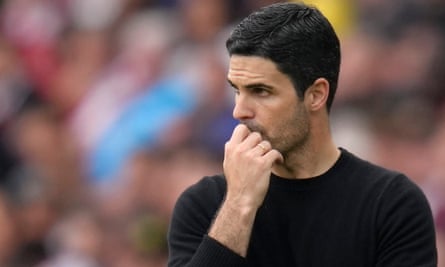 To keep up the pace in 2023-24, Arteta will need better alternatives: individuals whose rotation into the side will not diminish the effectiveness. That will mean more established players and, in order to attract them, a greater willingness from the manager to chop and change. He wants Saka to be capable of playing more than 60 games a season but it would surely do no harm if someone of comparable gifts, maybe Bayer Leverkusen's Moussa Diaby, were ready to start at least a third of them. Perhaps Jesus would take less of a buffeting if a first-rate centre-forward were available to soften up defences when deemed necessary. Saliba, who is yet to agree a new contract, could do with cover of equivalent virtuosity.
The area of greatest interest may, in fact, be the one in which Arsenal are laden with experience. Jorginho, Thomas Partey and Granit Xhaka will be 31, 30 and 30 respectively when next season starts; Mohamed Elneny, around for another year as backup when fit, also turns 31 soon. It is little secret that Arsenal would like to sign Declan Rice; arguably there would be room too for another long-term target, Moisés Caicedo, to restore the age balance if funds permit. That would surely mean a senior figure moving on. Arteta paid tribute to Xhaka last Friday, hailing "probably the best season he has had at the club", but there is a feeling that both parties may see sense in ending on a high.
Arsenal should bring in north of £80m if Tierney, Holding, Xhaka and the unfortunate Emile Smith Rowe depart along with well-regarded younger players such as Folarin Balogun and Charlie Patino. Their transfer window pot is expected to be substantial and Arteta will search for additions who hit the sweet spot between ready-made talent and a higher ceiling.
Perhaps he will also wonder whether opponents figured out elements of Arsenal's approach at the halfway mark. They have been vulnerable to an aggressive press in recent weeks and, with that, sloppy in building from the back: goals conceded against Southampton and Brighton, along with what may have been a season-changing penalty award for West Ham a month ago, were directly linked to errors in first-phase buildup. Further forward Jesus has spent much of his time marshalled into less dangerous areas and Saka, while a huge threat going inside or out, has more often been ushered to the byline on his weaker right foot than permitted to cut inside and let rip with his left.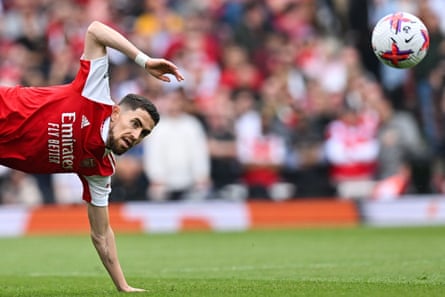 In a league of few secrets, Arteta must conjure up fresh surprises. Next year they can expect an enhanced threat from Newcastle and it is impossible to imagine at least one of Manchester United, Liverpool, Tottenham and Chelsea not straightening up.
"You have to do a lot of good things, incredible things, to be second in this league, and we've done that," Arteta said before returning to problem-solving mode. History will agree with him but it may also judge Arsenal's long-term viability as contenders by their response to the near miss that so dispirited the manager.