Middlesbrough's Chuba Akpom fails to punish Coventry as first leg ends level | Championship
Michael Carrick, the Middlesbrough manager, was able to laugh off the firework display that took place outside his team's hotel in the middle of Saturday night but there were precious few sparks in a damp squib of a playoff semi-final first leg.
Some Coventry fans allegedly responded to social media images of their opponents arriving at their base on the eve of the game by trying to disrupt the visitors.
Carrick, whose team appear to have the upper hand as they head into the home leg on Wednesday, said: "It didn't really bother me too much. I woke up, had a little chuckle to myself, and then went back to sleep.
"I didn't watch them. Apparently it was fireworks but I didn't see them, I just heard them. I looked at the clock, saw it was one o'clock, and then shut my eyes again. I don't think the players were too bothered by it."
Perhaps the sense of what was at stake for two teams who started the season so wretchedly contributed to a game of so few chances.
Not even the presence of the Championship's top two goalscorers, Viktor Gyokeres and Chuba Akpom, could give either of these renascent teams the breakthrough. While Middlesbrough may feel the more optimistic as they approach the decisive game at the Riverside, Akpom should have added to his 28 league goals to gain an edge on the scoresheet as well as in the possession statistics.
Coventry by contrast could not conjure a single effort on target in the opening 90 minutes, Gyokeres starved of service. If Sir Alex Ferguson is expecting calls from two of his Manchester United alumni, it may be that Mark Robins needs more help than Carrick.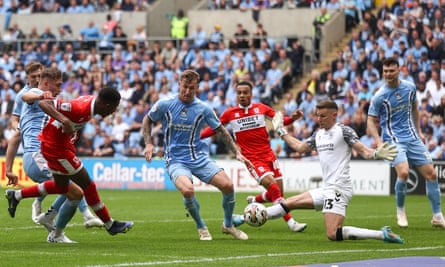 The Coventry manager, whose team started the season having to play six of their first seven games away from a pitch made unplayable by the Commonwealth Games' rugby action, makes Middlesbrough firm favourites. The winners will face either Sunderland or Luton at Wembley on 27 May for the right to play in the Premier League next season.
Robins said: "I said to the players, 'We are in it and we've still got a chance', and this is how you've got to work to get to a Wembley final anyway. They are the favourites now and rightly so. I think they are favourites to win it anyway. We know it's tough but we are in there shouting. It's a big thing for us to recover right, and we will endeavour to do that and go again on Wednesday."
After their nomadic existence over recent years, traipsing from Northampton to Birmingham and even Burton, Coventry certainly felt like home at kick-off. It was a sky‑blue morning for the Sky Blues, the CBS Arena sold out, all but the 2,000 visiting fans twisting and shouting. But red lights were soon flashing once the game got under way as Middlesbrough dominated the ball.
Carrick's team have topped the Championship's form table since his arrival in October, even if they have not won in four games since securing their playoff place. Coventry have not been far behind them, losing only one of 18 games on their climb from the bottom of the table to the fifth place they booked with the 1-1 draw at the Riverside last Monday.
The manner in which Middlesbrough kept the ball and played their way out from the back was befitting of a neutral's preconceptions of a Carrick team. They could have been ahead in the 13th minute. Riley McGree, all bustle and deft touch, played in Akpom but his dinked shot deflected off Ben Wilson's back and on to the crossbar.
Isaiah Jones, finding space in the right corridor between Coventry's centre-back Callum Doyle and wing‑back Jake Bidwell, twice came close to giving the visitors a first-half lead as he penetrated that gap.
Coventry struggled to create clear chances but remain in the tie. The talented Gustavo Hamer went on a solo dribble down the middle, raising the crowd, and on losing the ball triggered an intense press. Carrick's defenders calmly played their way out of trouble.
Akpom spurned a great chance 70 seconds into the second half, heading just wide from McGree's left-wing cross. But while the hosts enjoyed a greater share of possession as the second half wore on, Middlesbrough were quite content with a goalless outcome with the home leg to come. They have scored in every home game since Carrick's arrival.