Mbeumo and Wissa guide Brentford to victory against distracted West Ham | Premier League
If this is what life without Ivan Toney is to look like, would it be so bad? Thomas Frank suggested last week that his leading scorer would command a nine-figure sum, but he was absent here with a minor hamstring ailment. That gave Brentford – fans, Frank and players alike – a Sunday portal to peek into a potential future.
What they saw brought plenty of sunshine and smiles: they strolled past West Ham, with Bryan Mbeumo and Yoane Wissa on the scoresheet. Being hypercritical, both should have scored more than one apiece.
"It was a very dynamic front three today," Frank said when speaking of the pair and Kevin Schade. "It looked very exciting, they complemented each other. The only disappointing thing is we didn't score at least two more goals."
No matter. For only the second time this season Brentford were victorious having dominated possession. A side so used to success through pressing is evolving. Should the unthinkable happen and Toney depart, or should any of the 262 alleged breaches of Football Association betting rules result in a lengthy absence, an alternative way can be found.
"It was the most convincing 2-0 win we've witnessed for a very long time," Frank said. "Clear dominance on big chances, and just the flow of the game, how we controlled it. Very, very happy with that."
While they have lost just twice here in the league this season, Brentford's reputation for last-gasp winners is one they would love to shift. So most pleasing in these parts was perhaps the regularity of the victory. Brentford would love it to become the rule rather than the exception.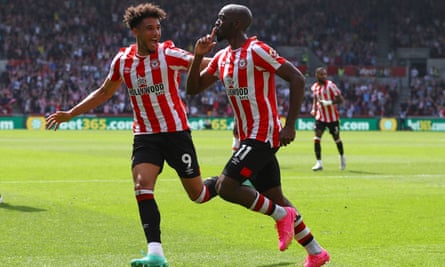 Brentford's stadium was not quite at its fortress‑like loudest but it did not need to be. It was an afternoon for acoustic over electric, accompanied by a half-time rendition of Hey Jude by Alex Vargas of Ted Lasso fame. Apparently.
With these three points, European football remains a mathematical possibility, if not one with much chance of realisation. That Brentford have not been glancing worriedly at the teams below them for some time now, though, should be considered remarkable. A top‑10 finish has been secured. "I don't think people understand how big an achievement that is for us," Frank said.
Brentford's opening goal was simple, West Ham seemingly content with shadow defending. Nayef Aguerd's half‑baked pass put Flynn Downes in trouble, and Mikkel Damsgaard won possession. A pair of one-touch passes later, Mbeumo was rolling the ball calmly into the net. Frank simply stroked his chin. The second goal came from a long throw. David Moyes had been gesticulating furiously towards his defenders but his warnings were ignored: Ben Mee flicked on, and Wissa glanced in. "We'd done a little bit of work defending long throws but you wouldn't have thought so by watching today," Moyes said.
After the break Brentford had several opportunities to extend their lead. The best came when Tomas Soucek – one of two players, alongside Aguerd, to retain their West Ham places from the Conference League semi-final first leg last Thursday – was sloppy in possession. Wissa's right foot, though, was not quite educated enough. Damsgaard, too, was guilty of a glaring miss when unmarked from a corner.
Brentford's success here must be tempered by their opposition. West Ham's attention was clearly focused elsewhere. Moyes said as much, and his pre-match claim that they had just "one eye" on Thursday night in Alkmaar felt a little economical with the truth. There is no criticism there: league safety is all but secured, and priority therefore is the 90-minute shift required to bring a first European final in 47 years.
"I didn't enjoy the first half performance. I thought we were soft. I thought we were easy to play against," Moyes said, in what was about all there was to say on the matter.
Later the introduction of Declan Rice, Saïd Benrahma and Divin Mubama brought an uptick, and arguably should have brought a nervy finish when Danny Ings stooped to head in. Michael Oliver, though, was invited to consult the VAR screen. While Mubama's hands were up to prevent him colliding with the post, Oliver determined that the ball had hit his fingers.
"Very strange," Moyes said. "I think the Premier League have come out and called it deliberate handball. I think everybody would need to get an explanation on that … I'm amazed it was chalked off."
Still, while this was one to forget for West Ham, that could happen this week should an early June trip to Prague be confirmed.