Max Wöber helps shut out Brentford on first start but Leeds cannot find winner | Premier League
Jesse Marsch has insisted in recent weeks that Leeds are very close to clicking, and they almost proved him right against Brentford but were unable to come up with a winner.
Anyone who watched the first 45 minutes could have been forgiven for not returning for the second half. Yet that was when Leeds showed what they were capable of through quick passing, relentless pressing and getting into dangerous positions but without creating enough chances. Improvement means very little when they fail to do the most important thing in football: score goals.
"The group is coming together, there is momentum," Marsch said, despite them collecting three points in their past five league games. "I know it does not feel necessarily so strong because we are not having a bunch of wins lined up in a row, but this is a bit what the league is and where we are at.
"We have to earn everything right now, we are not afraid of it and the best bit is that when I look all of our men in the eye, they know it is coming together, they know we are getting better and they know we are going to be a good team."
The centre-back Max Wöber was brought in for his first Premier League start since joining Leeds from Marsch's former club RB Salzburg. It was an opportunity to show he could be the answer to Leeds's defensive woes, especially in the absence of their injured captain, Liam Cooper. He brought calmness to the defence to help earn a much-needed clean sheet after they had conceded two goals in each of their past four matches.
A sign of the issues at the back were indicated within 10 seconds when David Raya launched a ball into the opposition box which Robin Koch failed to deal with. That allowed Ivan Toney to take it down and shoot, but his effort was off target. That was arguably the high point of a dour first half; it was even, with neither team able to control the patterns of play. The ball went from one end to the other but chances to test the goalkeepers were as low as the temperature.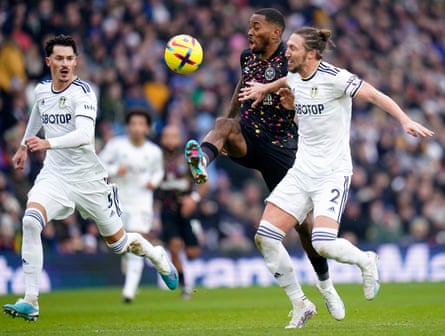 Leeds's new record signing, Georginio Rutter, was captured by cameras covered in a blanket while yawning on the bench. Everyone at a freezing Elland Road could sympathise as the first half ended with a solitary shot on target when Raya fell on a Rodrigo shot from the edge of the box.
When Leeds did make it into the final third after the break, there was impressive one-touch play, and whenever Willy Gnonto gained possession the excitement grew in the stands, but chances remained absent. Raya was eventually grateful for a zipping hand-warmer from Rodrigo in the 57th minute, the first real test for either goalkeeper, but he was alert to palm it away. Raya would later repel a Gnonto shot to ensure parity was maintained and prove why he is one of the most sought-after goalkeepers in Europe.
"David is one of the best keepers in the league, I think he is in really good form," said Thomas Frank, the Brentford head coach. "He has everything a modern goalkeeper needs to have. The good news is he is still ours for the next one and a half years at least, and the other good news is we decide if we want to do anything in the next one and a half years, and the third thing is they need to pay a lot of money if they want to get him."
Brentford often went direct to test out the new Leeds back four. Toney, a man who has mastered the art of the flick-on, was the main threat. The striker would outjump Koch in an attempt to find Bryan Mbeumo but Leeds's hustle and bustle ensured he was unable to muster a chance from the offcuts he was presented with, leaving Wöber and company pleased with their day's work.
Leeds were only missing a striker to cause further problems in the box but Marsch left Patrick Bamford on the bench until the 79th minute, despite him scoring three goals in his past two outings, while Rutter was left unused. The home fans responded with chants of Bamford's name when he replaced Rodrigo but he was unable to make the difference, leaving Leeds a point above the relegation zone. Marsch is getting elements right, but he needs his players to join the dots in a single match to avoid a battle for survival.