Marta Kostyuk Snubs Victoria Azarenka Handshake After Loss To Belarusian | US Open Tennis 2022
Ukraine's Marta Kostyuk declined to shake hands with Victoria Azarenka, opting only for a racket tap, after she was defeated 6-2, 6-3 by the Belarusian in the second round of the US Open.
"It was just my choice," she said. "I don't know any single person who condemned the war publicly, and the actions of their government, so I don't feel like I can support this. We had a great match, don't get me wrong. She's a great competitor, I respect her as an athlete but that has nothing to do with her as a human being."
The match marked the first time that the two players have faced off since Russia's invasion of Ukraine, which has been supported by Belarus. Kostyuk texted Azarenka before they played as she wanted to warn her but they were unable to speak in person.
Kostyuk has been one of the most vocal Ukrainian players since Russia began its invasion of Ukraine and she has been particularly critical of her colleagues, who she believes have not sufficiently spoken up against the war. In March, Azarenka released a statement on social media wishing for an end to war but she and most other Russian and Belarusian players have not publicly criticised the actions of their authorities.
"With some of them, I had personal relationships and they didn't come up to me and some of them have such big fanbases, they have people supporting and looking out for them from all over the world," said Kostyuk.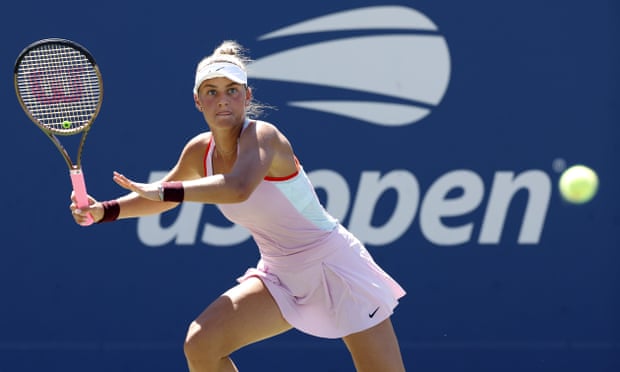 She continued: "And in such an important topic, that is not political, that is a very important topic that's happening in the world, having the fanbase that they have, and don't use it in the right way, and to spread the good message: that they don't support the murders, the rapes, the genocide that is happening."
Azarenka, a former No 1 and two-time grand slam champion, is the most prominent active women's tennis player from either Belarus or Russia, and one of the biggest athletes in her country. While Kostyuk believes Azarenka's position on the WTA player council should come with greater responsibility, Azarenka says she has taken action behind the scenes. "I feel like I've had a very clear message from the beginning, that I'm here to try to help, which I have done a lot. Maybe [it's] not something that people see," she said.
The match came in the wake of last Wednesday's Tennis Plays for Peace Ukrainian fundraiser exhibition match, in which Azarenka had been due to participate. However, she was later removed by the US Tennis Association after Ukrainian players objected. "I thought that this was a gesture that really shows commitment," said Azarenka. "I'm not sure why it wasn't taken that way."
Kostyuk said: "Imagine there is World War II and there is a fundraiser for Jewish people and a German player wants to play? During the war, not 70 years after the war. I don't think Jewish people would understand."
Despite receiving criticism for not reaching out to Ukrainian players, Azarenka said that she has done so through the WTA, but the 33-year-old was told that it was not a good time for them to speak.
"If Marta wants to speak with me, like she texted me yesterday, I replied," she said. "I'm open to any time to listen, to try to understand, to sympathise. I believe that empathy in the moment like this is really important, which has, again, been my clear message."
Kostyuk also said that she is open to speaking with Azarenka, but will not seek her out again after they were unable to talk before their match.
"I don't think I would want to chase her. If she wants to talk to me, I'm pretty open to it, but I had my things to tell her before the match. I genuinely wanted to warn her that I'm not gonna shake her hand, because she never came up to me, at least personally, and didn't tell me her opinion and what she thinks, so … it didn't happen."