Mark Robins rouses reconstructed Coventry to brink of Premier League | Coventry City
On Coventry City's last visit to Wembley five years ago, the air conditioning on the team coach conked out en route, hardly ideal preparation for players and staff suited and booted in 33C heat for the biggest game of the season, if not longer. Most removed their ties and opened the collar on their shirts. Mark Robins debated taking his team off the bus but thankfully the iconic arch was on the horizon. For Robins, it represented just another hurdle to overcome, but small fry compared with the events that would follow. Regardless, it is the sort of hiccup Coventry could do without when they take on Luton Town on Saturday for a place in the Premier League.
Robins has grown accustomed to contending with adversity, be it groundshares, pitch problems or protracted takeovers since returning to the club six years ago, though a takeover by Doug King in January finally abated the sense of never-ending uncertainty. Coventry have played home games at Northampton, Birmingham and Burton over the past 10 years, at Burton last August because 65 rugby sevens matches across three days of Commonwealth Games action put paid to their pitch. Coventry were bottom of the Championship in October but ended the regular season fifth, their best finish since dropping out of the Premier League in 2001.
Robins has proved a master in coping with chaos and a miracle-worker of a manager. When he was reappointed by Coventry in March 2017, they were bottom of League One, 13 points adrift of safety. A month later an EFL Trophy final victory at Wembley, in front of more than 43,000 Coventry supporters, offered a reminder of the club's appeal, a glimpse into the future. At the start of that summer Coventry were without a chief executive and recruitment department but earned an immediate return to the third tier, defeating Exeter City in the playoff final. Since then, they have finished every season higher than they did the last.
Michael Doyle, whom Robins made his first signing and named captain, recalls a conversation on his first day back at Coventry. "I vividly remember him saying: 'I'm getting a chief exec in, I'm getting the recruitment sorted,'" says Doyle, who retired last year. Robins also set about improving the gym facilities and making sure there was a dryer in the kit room, in between trying to shield his squad from mounting outside noise. "He was putting things in place on a weekly basis. He has built Coventry from the bottom up. For all he's done at the club, he's 90 minutes away from a statue of him going up outside the ground, and there are not many of those. He is just a brilliant manager."
Robins, who last week signed a new four-year contract, quickly acknowledged Coventry's need to build bridges with an apathetic fan base. "Mark felt that after relegation and with all the ownership and ground issues that the gap had widened quite a lot," says the former Coventry defender Jack Grimmer, now of Wycombe. "The fans had become very despondent and attendances were down. He said: 'Make no mistake, if we have a good season and get things rolling in the right direction, the fans will come back because they are wanting to support the club.' The fans seemed to just be yearning for that positive vibe."
Robins introduced rules such as banning mobile phones in the changing room to encourage his players to foster relationships. He also wanted his players to be immersed in the community. Doyle cites building bonds with supporters' clubs. More than 1,500 fans travelled to Grimsby Town for their first away game in the fourth tier since 1959, a 2-0 win in which Grimmer scored, but it was not all plain sailing. A trip to Yeovil Town's Huish Park a fortnight later ended in defeat and with disgruntled fans shouting through the windows of the away dressing room.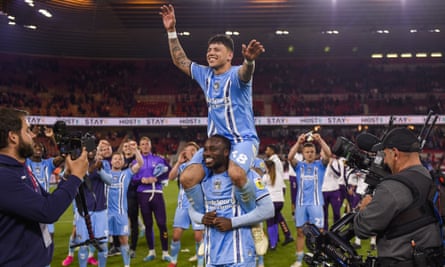 Six months later almost 8,000 supporters went to MK Dons for an FA Cup fourth-round victory. Four months later Coventry were toasting promotion in Leamington. "Mark said: 'Listen, we are going to take this club back to the Premier League,'" Doyle says. "I was like: 'Bloody hell, brilliant.' It was a big statement. A lot of people would have laughed at him at the time. We had just been promoted into League One and we were a million miles from the Premier League."
Those who have worked with Robins, the striker who played for Manchester United under Sir Alex Ferguson, speak of a focused character who exudes calm, commands respect and keeps his cards close to his chest. "If you had a good game on a Saturday, you came in on Monday morning and it was almost forgotten about," Grimmer says. "I remember speaking to him during the season. I had been playing well and about halfway through I just said: 'How do you think I'm doing, is there anything you think I can work on?' He said: 'Well, if you want me to blow smoke up your ass you've come to the wrong person – just keep doing what you're doing.'" Grimmer chuckles.
Robins walked into relegation battles at his previous clubs – Rotherham United, Barnsley, Huddersfield Town and Scunthorpe United – but his perception as a firefighter does him a disservice. Players improve on his watch and he has turned Gus Hamer and Viktor Gyökeres into two of the most coveted prospects outside of the top flight. Another of their best players, Callum O'Hare, ruptured an anterior cruciate knee ligament in December. The influence of the assistant manager Adi Viveash, who spent nine years coaching in Chelsea's academy, should also not be overlooked. "Mark didn't just manage players, he managed the whole club," Doyle says. "He was on top of everything."
Robins says that when he returned to Coventry everybody had given up. He has since breathed life and belief into a club unrecognisable to the one he walked into. Robins recalls the former England manager Graham Taylor telling him how stomaching a 17-point deduction at Rotherham in his first managerial job, which left the club fretting about relegation to non-league in 2008-09, would stand him in good stead for the rest of his career – even if it was difficult to compute at the time. "Looking back, he was spot on," Robins says.