Manchester United v Reading: Women's Super League – live | Women's Super League
Key events
30 min: Reading deal with this corner this time although it takes a couple more passages of play and United crosses before Moloney finally gets her hands on the ball.
29 min: Sunny day, three early goals, good crowd: all good for United. And now they have another corner.
27 min: She's not scored yet but Toone, who got England's opener in the Euro final against Germany, has been a lively presence so far. She drives into the box but slightly overruns the ball and Reading mop up.
GOAL! Manchester United 3-0 Reading (Le Tissier 25)
And that's why United should continue to launch corners straight into the box! Zelem's delivery is again on point and Le Tissier heads home her second of the game from about 12 yards out. This is turning into a bit of a rout and Reading will do well to not give away any cheap set-pieces.
24 min: United currently trying to take advantage of Reading being down to 10. Toone's cross is cleared and Hayley Ladd's thumped drive from 20 yards is headed behind for a corner.
23 min: It looks like Deanne Rose can't go on so Reading will have to bring on a substitute.
21 min: Millie Turner puts the ball out of play so another Reading player can receive treatment. It's a chance for both managers to have a few words.
20 min: Again they go short and, again, the cross never comes in. You'd have though they'd just send one in having scored their first goal that way.
19 min: United controlling the middle of the park here and finding space down the flanks too. They win another corner.
18 min: Reading's Deanna Cooper is back on her feet and fine to continue.
17 min: A break in play as a Reading defender receives treatment after taking a knock.
15 min: A dream first quarter-of-an-hour for United. Two goals: one for a debutant and one for the skipper. But Toone and Russo will fancy getting in on the act too. They combined superbly for the penalty and wait… here goes Toone and her shot from a narrow angle is beaten away by the goalkeeper.
GOAL! Manchester United 2-0 Reading (Zelem 13 pen)
Zelem steps up and puts it high and to the goalkeeper's right. A nice way to mark her 100th appearance. Moloney probably right to feel hard done by as she may have taken a bit of the ball as well when challenging Russo.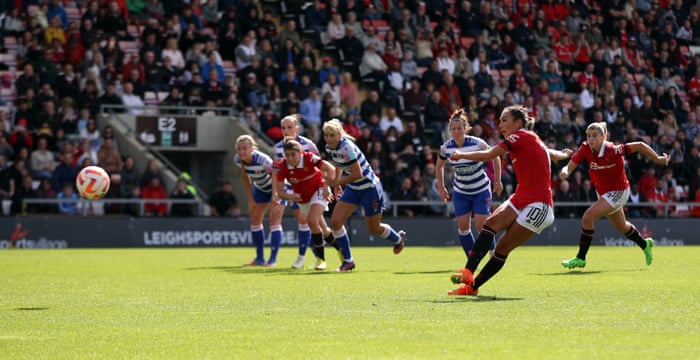 Toone slips a lovely through ball to Russo, who is brought down by the goalkeeper. A touch harsh?
10 min: United win another corner and we know what happened with the last one. Zelem takes it short this time and, frustratingly, United lose possession before the cross comes in. Reading break but a ball across the six-yard box doesn't threaten with no Royals player in sight.
8 min: United pushing forward again as they dominate possession.
6 min: Reading have their first attack of the game and it almost produces something. There are half appeals for a penalty (handball) but the ball eventually ends up in the hands of Earps as a deflection drops kindly for the United and England goalkeeper.
GOAL! Manchester United 1-0 Reading (Le Tissier 4)
Well that didn't take long! What a start for the summer recruit. Le Tissier only scored one goal for Brighton last season but she's matched that tally here already. The corner is floated into the area, Le Tissier spins and gets a boot to it and the ball loops over the rather confused Moloney, who presumably though it was drifting over the bar. A slightly odd goal but United will take it!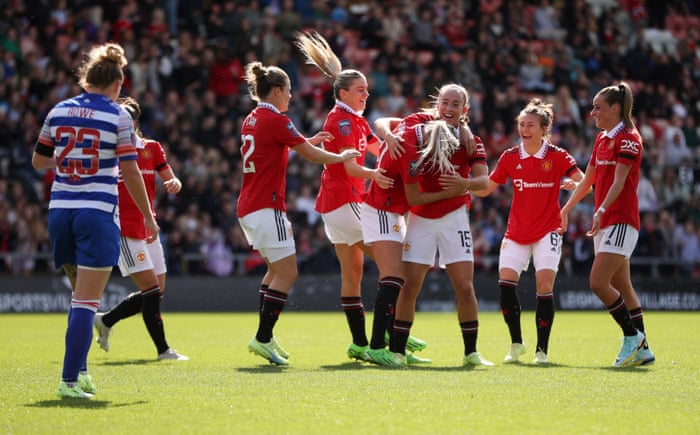 3 min: Quick feet from another new United signing, Lucia Garcia, in the area. The ball falls to Toone but again Reading block. The pattern seems set though and United win their first corner.
2 mins: Russo puts in an early cross but Reading block it and win a goalkick. No rush from the visitors as goalkeeper Grace Moloney plays a short one.
1 min: Two classic outfits on display. United in their red shirts and Reading in blue and white hoops. An early touch for new United signing Maya Le Tissier.
1 min: All impeccably done. United go into a huddle before Reading get us in play after both sides take a knee.
Now it's the National Anthem with its new lyrics.
As usual, the Stone Roses' 'This Is The One' blares out ahead of kick-off.
Looks like a sunny day at Leigh. United skipper Katie Zelem runs over to have her picture taken in front of a sign acknowledging her 100th appearance.
Then it's back to the edge of the centre circle for a minute's silence for The Queen.
Erm, still no live pictures. Wait. Here we go!! I can see the two teams!
Still waiting for coverage to start. My window cleaner, Tony, just knocked at the door and we've had a quick chat about women's football. He watched the Arsenal v Brighton game last night and has just given me the full rundown on United's team. He's predicting a Russo brace in this one.
If you're flicking through the Sky channels to find the game, let me stop you as this one can only be seen on the FA Player. Or MUTV.
It's a quick and easy sign-up for the FA Player although we've still got the "stream starting soon" message on display and what seems to be a Jean-Michel Jarre b-side being played on a loop.
A milestone for the Man Utd skipper.
Some pre-match reading. More from Jonathan Liew.
The new WSL season kicked off last night. A strong start from Arsenal and Jonathan Liew was there to see it.
On Twitter…
Man Utd: Earps, Batlle, Blundell, Toone, Zelem, Galton, Ladd, Le Tissier, Garcia, Turner, Russo.
Subs: Baggaley, Thorisdottir, Tounkara, Boe Risa, Moore, Staniforth, Leon, Parris, Thomas.
Reading: Moloney, Mukandi, Evans, Rose, Wellings, Eikeland, Wade, Cooper, Rowe, Woodham, Troelsgaard.
Subs: Burns, Poulter, Dowie, Caldwell, Primmer, Meadows Tuson, Perry.
After finishes of fourth, fourth, fourth in their three seasons since promotion, Manchester United are still the cab waiting at the rank. Is this the campaign when they finally bank the top-three finish that will secure passage to the Champions League?
The signs look good. Manager Marc Skinner now has a full season under his belt and some eye-catching summer recruits have added further optimism. They include Nikita Parris, boosting United's contingent of triumphant Lionesses to four.
Forwards Alessia Russo and Ella Toone made a huge impact in England's golden summer, as did goalkeeper Mary Earps, and United will hope that feelgood factor gives them an early slingshot into the new season.
United should have kicked off with a trip to Spurs but the cancellation of last week's fixtures due to the death of The Queen means they have home advantage at what will be a packed Leigh Sports Village.
Visitors Reading finished eighth last season – 17 points behind United – after a miserable finish to the campaign. Losing skipper Natasha Harding was a major blow but manager Kelly Chambers has refreshed the squad by bringing in six new faces, including Northern Ireland goalkeeper Jacqueline Burns. Reading will hope the shake-up arrests a concerning slide as their league position over the last five seasons has shown a gradual decline: 4-5-5-7-8.