Lotte Wubben-Moy: 'Adversity made us feel like we could do anything' | Arsenal Women
In Lotte Wubben-Moy's words, this season has been "emotionally draining". In many respects, Wednesday summed up the toll the campaign has taken. Wubben-Moy scored Arsenal's fourth as they cantered to a 4-0 half-time lead at Everton. Then, the Gunners had another player taken off on a stretcher with an oxygen mask clutched to her face, Lia Wälti's season ended after Aggie Beever-Jones's late challenge.
Beever-Jones received a few shoves and angry words were said by the remaining Arsenal players, who have already seen Beth Mead, Vivianne Miedema, Laura Wienroither and Leah Williamson sidelined with ACL injuries, the captain, Kim Little, ruled out for the last chunk of the campaign with a knee injury and Steph Catley and Caitlin Foord miss long stretches through injury.
Emotions were running high. What was said in that team huddle as Wälti was treated? "It's less about what's said and more about what we're feeling," says Wubben-Moy. "The energy that we have within that circle, within that squad, is strong. Obviously the tempo dropped off when she got injured and there were a lot of changes. So, as expected, there was a big break in play. But I think even to continue playing after something like that and to continue to play with pride for the team and play in a way that does a team justice is huge."
Arsenal won 4-1 but faces looked despondent at full-time, and Wubben-Moy had the added blow of her cyclist partner, Tao Geoghegan Hart, having crashed out of the Giro d'Italia and requiring surgery on a fractured hip.
All this, just over two weeks after Arsenal had come agonisingly close to a first Champions League final since 2007, with Wubben-Moy starring but then being dispossessed by Jule Brand, who squared for Pauline Bremer to slot in the winner at a sold-out Emirates Stadium.
"I say it to everyone who consoled me about that game: I've never had more fun playing football in my life," she says. "Obviously, there is heartbreak in the way it happened but, to be honest, I look back and I don't think I would have done anything differently. Every single player, every single staff member, put their all into it, and after all the hardships, all the setbacks, all the adversity, it just felt like we could do anything. What next?"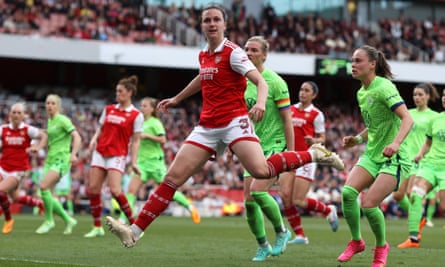 After an intense few weeks, the defender could be forgiven for wanting to switch off and rest before Sunday's crucial game against the league leaders, Chelsea. Instead, she is at the annual showcase of Football Beyond Borders, an education and social inclusion charity that uses football to captivate the most disengaged and disenfranchised young people. Wubben-Moy has been working with FBB and its partner Venus on the 'Validate It' module of their girls' schools programme, which has worked with more than 200 girls in London after a study found that more than one third of women aged 18 to 45 do not want to participate in sport because they worry about the way their skin looks.
When Wubben-Moy is on stage in a panel alongside two young participants, one of them, 14-year-old Zanara, reads out a poem she has written that spills out her insecurities with her body to the 600-plus attendees.
"I am grateful to my body because even though to some people it is seen as ugly, to me the ugliness makes it perfect," her poem finishes. Later, Kingston speaks about taking eight years to understand his ADHD diagnosis. It is brave, moving, humbling and comfortingly disarming to see young people so in tune with themselves.
"Days like today, maybe I should be in bed resting, falling asleep at 8pm, but this gives me energy," Wubben-Moy says. "We tread a fine line as footballers and it's all about where you can gain the incremental marginal gains. To me, this is one of them."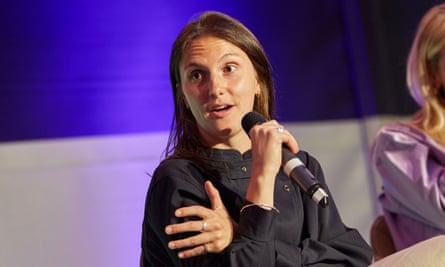 Wubben-Moy is not the only football icon to sit through the more than three-and-a-half-hour showcase where reengaged young people talk about the journeys they have been on to find their place in society. The England men's manager, Gareth Southgate, is in the front row of the conference room in the Totthenham Hotspur Stadium, as is Ian Wright, a passionate advocate for FBB.
Wubben-Moy is full of praise for the participants – "If this is what the future is, happy days" – and says days such as these help her to contextualise football.
"There's this constant rhetoric about footballers or athletes being activists, and whether it's a responsibility or whether it's something that they don't have to do or they choose to do," she says. "To me, the two go hand in hand. It doesn't really feel like a balancing act. I'm speaking to you now coming off the back of some hard days, but it doesn't feel difficult because there's so much more to what we do. You gain so much perspective from not just focusing completely on football and not just focusing completely on the impact you can have on other people. I think it's a beautiful harmony that is created in my life, and that can be underestimated.
"It's difficult to put into words what doing stuff like this does for me, because it's the feeling I get from it. Being around young people that you can see have been so heavily impacted by sport, by football, by the work of so many people, gives you a perspective and a feeling that spreads through your whole body. It has a huge impact on the way I see my life, my life as a footballer, but more importantly, as a human."
Back to the football. Given Arsenal's injuries and the hardships from that, would she have believed they are where they are, with a Continental League Cup win, an impressive Champions League run and still able to qualify for the Champions League? "I'd like to say I wouldn't have believed it," she says. "But this team, beyond just football, this group of human beings, the togetherness we have, the trust, the connection we have, means it's no surprise that when our backs are against the wall that we can do anything.
"You never want to have to come into a situation like this but when you do hit adversity you want to know you're around people that you trust and the fact that I'm doing it with this group of girls, I feel lucky."
Next season? "It's scary. Scary because we're going to be one hell of a team – we already are one hell of a team. Who knows where we can go with what we've built already this season. The hardships have only made us stronger."