Lille are doing everything right in Ligue 1 – apart from winning games | Ligue 1
Nine Ligue 1 managers were sacked between 9 October and 9 January. When Lille failed to beat Reims in January and fans jeered the team, it looked like Paulo Fonseca was going to be the next to go. Despite the shaky results, Lille stuck with Fonseca and they won three of their next four matches – the only blip coming in a wacky 4-3 defeat at PSG. Their league position has not improved substantially – a 1-1 draw with Lens on Saturday leaves them sixth in the table, 10 points behind second-placed Marseille – but results do not tell the whole story of Fonseca's impact. A look at the underlying numbers suggests that Lille are ready to fly.
Lille have won the xG battle in their last 19 league matches, including their defeat at PSG. When it comes to expected goals, only PSG have done better this season. Lille also rank second for expected points and in FiveThirtyEight's SPI ratings, a cousin of expected points.
Even though they have conceded 33 league goals so far this season, an underwhelming record for a team in the top half, Lille have conceded the fewest completed passes within 20 yards of their goal; and only PSG have managed more passes in the attacking third. Fonseca's team are top for Field Tilt, which measures territorial dominance, and they are also leading the way in some more traditional metrics – enjoying the second highest possession share, while taking the most shots and conceding the fewest.
They pass the eye test too. Striker Jonathan David is back to his best and has scored 16 goals so far this season – only Kylian Mbappé has more. Their summer signings have also proved astute. Rémy Cabella looks like one of the best playmakers in France again; Adam Ounas has rekindled some of the devastating form he showed at Bordeaux; former Shakhtar Donetsk defender Ismaily is a positive and experienced presence at left-back; and André Gomes has proven a smooth midfield operator when fit.
Fonseca is also improving individuals, including former Manchester United player Angel Gomes. Often playing in central midfield, the skilful Gomes seems to be realising his potential. Young defender Bafodé Diakité, signed from Toulouse, is becoming more assured by the week and USA striker Timothy Weah has even done a solid job at full-back when called upon. Even frustrating forward Jonathan Bamba is finding consistency, with nine goals and assists. Lucas Chevalier, a 21-year-old in his first season in Ligue 1, looks like the best goalkeeping prospect in France. And raw talents, such as highly regarded 17-year-old centre-back Leny Yoro and 19-year-old striding midfielder Carlos Baleba, have adapted well to Ligue 1.
So, why are Lille not further up the table? Luck is a big problem. Lille are the only top-nine side who are underperforming their expected points and expected goals against. That statistical anomaly is most evident when Lille go a goal up. They have struggled to capitalise on leads, underperforming their xG by 3.25 goals in that situation. Lille scored first in frustrating 1-1 home draws with Rennes and Reims, and potentially season-altering defeats to Marseille and Nice. Fonseca will be hoping that results start to mirror performances during the run-in, which is promising. They play six of the bottom eight and only have to visit one of their direct rivals in Monaco.
Lille also need to get the best from striker Mohamed Bayo. He can be clinical in front of goal, as he showed last season while scoring 14 goals for struggling Clermont, but he has only started four games since some off-field misdemeanours in August. The €14m signing put in some promising displays alongside David and is Fonseca's best route to improving results.
Individual errors are also a concern, despite their strong defence. Midfielder Benjamin André has made the most tackles in Ligue 1 this season, and the centre-back pairing of José Fonte and promising youngster Tiago Djalo is more than useful. However, the team is making too many mistakes. Djalo and Chevalier have both made multiple major errors that have led to goals and, predictably given Lille's luck, most of their mistakes have affected results.
Despite some poor results, the impact Fonseca has had on the squad after their directionless spell under Jocyln Gourvennec – who led them to a 10th-placed finish in their title defence last season – is overwhelmingly positive. Of course, the numbers have to be understood in context. Lille's bad luck, individual errors and inability to hold on to leads means they are forced to attack more doggedly than their rivals, perhaps inflating their xG, possession share and number of shots.
Their style of play also plays a part. Lille try to control games more than Marseille and Lens, who are more functional sides, so it's natural that they command more possession and territory, for example. However, Lille's numbers remain compelling and show that their decision to stick with Fonseca was a wise one. FiveThirtyEight still only gives them a 23% chance of making the Champions League, but Fonseca and his players will be hoping luck really does "even out over the course of a season."
Talking points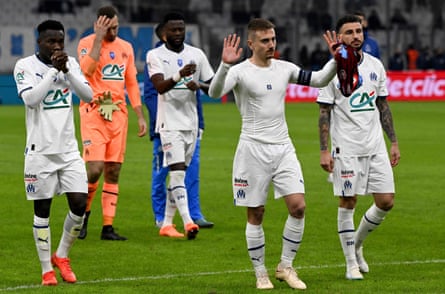 A dramatic week of Coupe de France quarter-finals significantly altered the narrative in Ligue 1. After ousting PSG in the previous round, Marseille suffered a shock defeat at home to Ligue 2 side Annecy in their quarter-final. Given that they have not won a trophy since 2012, had been drawn against a side from the second tier and were playing at the Vélodrome, their defeat on penalties was infuriating for the board and fans. The results in the cup – midtable Lyon, Nantes and Toulouse progressed along with Annecy – mean that sixth place in the league is now unlikely to offer European football.
Reims' 1-0 win over Ajaccio extends Will Still's unbeaten run to 16 league games since he took over in October. A Ligue 1 table since Still moved from assistant to manager following Oscar Garcia's sacking puts Reims second behind PSG, with eight wins, eight draws and just seven goals conceded in that time. Reims are now up to eighth in the table, just six points below the European places.