Lifeless Liverpool offer throwback to Hodgson era with tame European exit | Champions League
With around 12 minutes remaining in this runny, undercooked omelette of a game, Eduardo Camavinga received the ball in Real Madrid's half with enough time to look up and pick a pass. Truth be told, he probably had time for plenty else besides: crack his knuckles, adjust his socks, clean up his camera roll, check his internet bank balance. But he contented himself with just the pass, rolled into the feet of Karim Benzema.
At which point the farce began in earnest. Benzema, who had been pretty poor all night, collided painfully with Virgil van Dijk. The loose ball ran to Vinícius Júnior, who swung lustily at thin air. The ball was flicked back over to Benzema, who finished into an empty net with Alisson nowhere to be seen. A grimacing Benzema, still limping from the earlier challenge, hobbled over to the corner flag to accept his plaudits.
And as a souvenir of the night, perhaps even the tie as a whole, you could do a lot worse. An event that began with such promise eventually dissolved into a carousel of errors and mishaps, and yet still ended in a decisive, unassailable outcome. There were fleeting moments when this game still felt alive, still felt like a last-16 second leg between two of the giants of world football. But they lasted no longer than a few minutes, sometimes just a few seconds: a mirage of competitiveness thrown into cold relief by Benzema's late goal.
Liverpool acquitted themselves respectably enough here. There would be no comeback, but there would be no collapse either. And when the moment comes to debrief this tie, they will probably reflect that it was won and lost in that pivotal passage at Anfield when they let in five goals. This is a sport of such fine margins, and ultimately those five goals in 46 minutes really are going to cost you at this level.
Even so, there was something important missing here: the energy and vigour and focus and basic sporting pride that Jürgen Klopp's side have come to regard as a bare minimum. Some of the passing felt like a throwback to the Roy Hodgson era. The off-the-ball movement was entirely predictable, entirely one-dimensional, all boring straight lines with barely an angle to work with. Trent Alexander-Arnold is currently in the stage of acute bafflement that an elite athlete undergoes when their body is simply no longer doing what they tell it to do.
On the touchline Klopp waved his arms, pointed and gestured, a man pushing all the buttons at his disposal but with a dwindling trust that any of them were still working. He had picked a bold and expansive line-up here, four forwards with four contrasting threats, the sort of team you pick when you still smell the faint possibility of an ambush. He made early substitutions and late substitutions. The midfield was hollowed out and then gradually repopulated. Klopp can be accused of many things but an absence of ideas is not one of them. And yet in a game that demanded an attacking blitz, Liverpool did not generate a single shot between the 37th and 83rd minutes.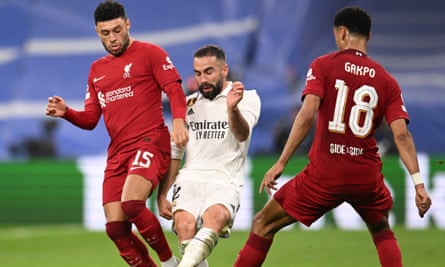 Perhaps there is only so much you can read into a game of such uniquely low stakes. And yet many of the problems here were not new problems or individual problems. Too many promising moves were derailed by a poor final ball. The finishing early on was poor and somehow Liverpool seemed to lose heart as a result. There is a kind of late-Wenger inefficiency to them at the moment: a team searching in real time for something that has been lost, trying to salvage not simply a game or a tempo but an idea.
You can see it most clearly in the reluctance to shoot. Cody Gakpo, Mohamed Salah, Diogo Jota, Darwin Núñez: these are super finishers, instinctive finishers, players who in their best moments conjure goals that have no right to exist. Yet here there was a curious obsession with taking the extra touch, playing the extra pass, waiting for the perfect opening. Madrid, by contrast, shoot often and shoot from everywhere. This is a machine that has been drilled and honed over the seasons, a big squad that has somehow never lost sight of their best team.
Does Klopp know what Liverpool's best team is right now? Injuries have of course been a recurring theme, to the point where it is legitimate to start asking questions of the medical department. But there remains a basic absurdity in the fact that Klopp has tried 11 different players in central midfield this season and is yet to establish any kind of hierarchy. Is Naby Keita in or out? Is Jordan Henderson still a first choice? What is Alex Oxlade-Chamberlain still doing there? Is this a midfield designed to build pressure or relieve it? And just who was meant to be picking up Camavinga for the goal?
Perhaps this explains why Liverpool are such an imperfect team now: a squad of players all operating at different speeds, on different wavelengths, at different levels of fitness and confidence. The hope for Liverpool fans will be that a two-week break will allow them to catch their breath and regroup before a long unimpeded tilt at the top four. And yet their next three fixtures read: Manchester City away, Chelsea away, Arsenal home. Things might just have to get worse before they get better.