Leeds show fight under Allardyce but fear is that this all comes too late | Leeds United
Welcome to Elland Road, abandon hope of a quiet afternoon all ye who enter. Sam Allardyce had called on his Leeds players to channel the spirit of Marcelo Bielsa on Saturday lunchtime and, in terms of the chaotic and nerve‑shredding brand of football for which the Argentinian's reign was often notable, he got the response he wanted.
It was unlike an afternoon anyone would have anticipated with Allardyce in the dugout. The polar opposite of Bielsa in so many ways, Allardyce's first home game in the dugout had all the hallmarks of the manager who guided the club back to the Premier League. Allardyce was supposed to make Leeds more resolute and tougher to break down. In a nutshell: make them boring enough to get over the line and get the job done. Boring, though, was the last word you would use to describe his home debut.
The margins can so often be razor-thin, arriving in May and the business end of the season, but even by the Premier League's standards, the 203 seconds of mayhem that engulfed Elland Road around the half-hour mark were ludicrous.
They could yet be season-defining for both Leeds and Newcastle, with Patrick Bamford's penalty miss that would have put Leeds 2-0 up quickly followed by Callum Wilson showing him how it should be done at the other end to level the scores barely three minutes later.
A two-goal lead against a Newcastle side with so much on the line could have been significant enough to decide the game. Instead, Newcastle were level within minutes of Bamford's miss and had this been pre-Allardyce, a Leeds collapse at this point would have been entirely feasible.
That also felt possible in the second half when Wilson scored a second penalty after a baffling piece of defending from Junior Firpo. The Leeds of even just a few weeks ago, shorn of any real confidence, could have easily gone on to lose, as their defeats by Crystal Palace, Liverpool and Bournemouth showed. Of late, go in front against Leeds and the opposition tend to win and win well.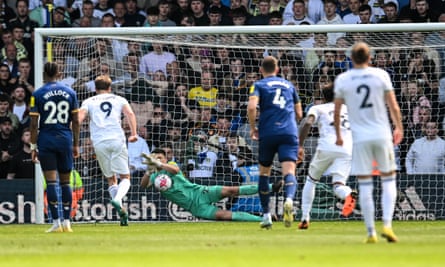 But this display was in essence the very reason Leeds turned to Allardyce. They flirted with the idea in February before Victor Orta opted for Javi Gracia but, if nothing else, Allardyce has now at least given Leeds a whiff of salvaging a situation that is entirely of their making. Both Gracia and Orta are now out of the door and all hope pinned squarely on the shoulders of Allardyce.
A glance at the table underlines the distinctly lingering feeling that this has all come a little bit too late, though. Individuals have improved along with performances. Weston McKennie's arrival in January was lauded but the American midfielder has flattered to deceive; he at least played a positive role here though. Bamford, penalty miss aside, held the ball up well and caused Newcastle problems.
Correcting Firpo's often kamikaze defending may well be beyond Allardyce's talents, however. He has no time to introduce wholesale tactical changes but what the former Newcastle manager can shift is the mentality of a squad showing harrowing frailties. This is at least a positive step forward.
But the problem is that time is not on Leeds's side. That they do not play until next Sunday means when they take to the field against West Ham, they could find themselves even further adrift than they were at full time against Newcastle.
They could even be at a stage where, as Allardyce has pointed out, maximum points from their final two games may not be enough. His goal is to take it to the final day when Leeds host Tottenham but results elsewhere could take that out of the manager's hands, no matter how much improvement he is able to make at the club.
And that is the issue that could define Leeds's season. Yes, had Bamford scored his penalty, they could – maybe even would – have gone on to win. Gracia, by all accounts a well-liked individual, feels increasingly like the wrong appointment at the wrong time. Leeds supporters, having seen some semblance of a fighting spirit, are perhaps now clinging to the hope that Allardyce's arrival hasn't come too late to save them.