La Liga president apologises for saying Vinícius Júnior was 'manipulated' | Vinícius Júnior
The La Liga president, Javier Tebas, has apologised for suggesting Vinícius Júnior was being "manipulated" when the Real Madrid winger called out racism he has suffered in Spain.
The Brazil international took to social media to speak out after being abused in Sunday's game at Valencia, saying it was a problem he had endured throughout the league.
Tebas's response on Twitter, in which he said "before you criticise and insult La Liga, you need to inform yourself well, Vini Jr. Don't let yourself be manipulated", was roundly criticised for not addressing the issue and the La Liga boss has now said sorry.
"I think that the message, and the intention I had, was not understood by a significant number [of people], especially in Brazil," he told ESPN Brazil. "I did not want to attack Vinícius, but if most people understood it that way, I need to apologise. It was not my intention, I expressed myself badly, at a bad time.
"But I had no intention of attacking Vinícius, but rather clarifying a situation, because Vinicius had recorded a video supporting La Liga's actions."
Tebas, in defending the league's approach – especially in relation to Vinícius – added: "If I hurt someone, they thought I was racist, it's far from reality. I feel sorry for what happened, and that's why we denounced it. And we didn't just denounce it, we took special actions at his games.
"We spoke to the clubs, so that they could provide more security, identify fans. La Liga takes care of Vinícius. And, if they misunderstood what happened I have to apologise."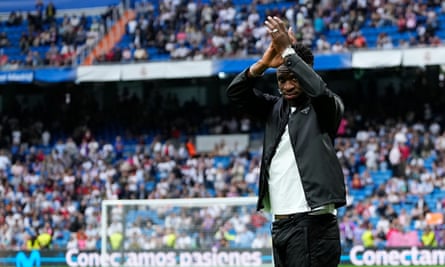 Vinicius threatened to leave the pitch in the second half at the Mestalla after being subjected to monkey chants and Real, who said the incident constituted a "hate crime", filed a complaint with the Spanish State Attorney General's Office.
Valencia were given a partial stadium ban for five matches and fined €45,000 (£39,000) – a punishment the club called "totally disproportionate" as they confirmed they would lodge an appeal, while the head coach, Ruben Baraja, vowed to fight back against "smears".
The England manager, Gareth Southgate, has led calls for stricter punishment since his side came close to walking off the field after players were subjected to racial abuse during a match in Bulgaria in 2019.
"It is a disgusting situation. I think it is so bad that it looks like it is going to force change. I am hoping there will be something positive to come from it," Southgate said on Wednesday. "If anyone suggests to me we don't have a problem in society with racism then there is another example of what we are dealing with, and more examples of people burying their heads in the sand, quite frankly.
"Hopefully it is a story that doesn't just disappear in 24-48 hours without there being some significant change."
Vinicius, whose red card against Valencia on Sunday was rescinded, missed Real's game at home to Rayo Vallecano with a minor knee complaint but was at the ground to see his teammates wear shirts with his number and name on the back before kick-off.