Iga Swiatek Holds Off Ons Jabeur Rally To Win US Open Women's Singles | US Open Tennis 2022
Iga Swiatek and Ons Jabeur entered Arthur Ashe Stadium as the two best players in the world, the ones who have outperformed the rest of the field this year. Yet by the end of the match, the landscape of women's was even clearer. Jabeur gave all she could, she forced her way back into the match from the verge of a crushing defeat, but Swiatek is the singular dominant force in the sport.
After navigating her various struggles through the summer and the tournament, the 21-year-old played with total freedom with the title on the line and then held off a late surge from Jabeur, holding on to win the US Open for the first time in her career with a tense 6-2, 7-6(5) win.
With her victory, Swiatek has become the first woman to win two grand slam titles in a year since Angelique Kerber in 2016, after winning the French Open earlier in the season. The Pole is now joint fourth among active players for total grand slams, with three in total. She has now also earned 10,365 ranking points, a distinction only Serena Williams has achieved since 2013.
"I'm proud that I have much more solutions and options on court than I had before tennis-wise, but also mentally," said Swiatek. "I'm using these skills pretty well. I'm really proud of that because I just know how it feels to not have ideas on court, not have anything you can change to make the match better. Right now it's been a long time since I didn't have any idea."
Since her 37-match, six-tournament winning streak came to an end in the third round of Wimbledon, it has taken some effort for Swiatek to re‑establish her hold over the tour. She had arrived in New York with a 6-4 record over the summer and she made it clear that she did not like the lighter US Open balls used by the women. "I'm just not expecting a lot, especially before this tournament. It was such a challenging time and coming back after winning a grand slam is always tricky," she said.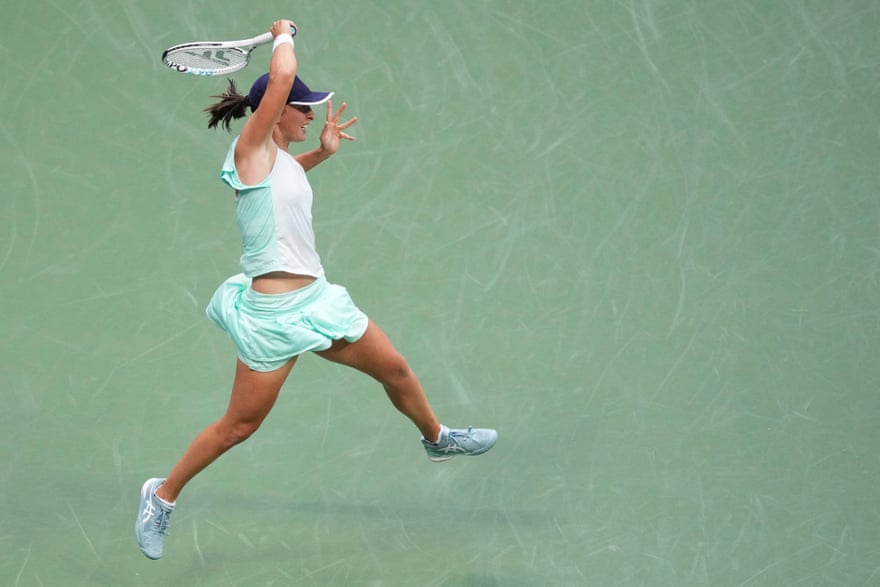 But when it mattered in New York, she was ready. Swiatek twice recovered from a set down and trailed 4-2 against Aryna Sabalenka in the deciding set of her semi-final. As Swiatek usually does in finals, she initially played with freedom despite the title on the line.
"I finally accepted that I'm going to make those mistakes. It's not going to be like on slow surface where I can, I don't know, build a rally, then be really calm and just finish. It's going to be more risk and less control, for sure. So I accepted that," she said.
As Swiatek countered so much of Jabeur's attack with depth, the court seemed so narrow for the Tunisian whenever she had the upper hand, yet she was also under constant pressure. Swiatek attacked with her destructive weapons from both wings and all parts of the court.
She forced her 28-year-old opponent to play at her limit and do so consistently, and the Tunisian began to spray errors as she tried to force her best level. But Jabeur never stopped fighting. Her forehand began to land its blows and push Swiatek back, and from 2-6, 0-3 and double break point on her serve, Jabeur eventually generated two break points at 4-4 as the Arthur Ashe Stadium roared in approval.
Jabeur eventually forced a tiebreak, drawing a standing ovation from Ashe after saving a match point, but Jabeur's growing error count late in the tiebreak was enough for her to relinquish the match.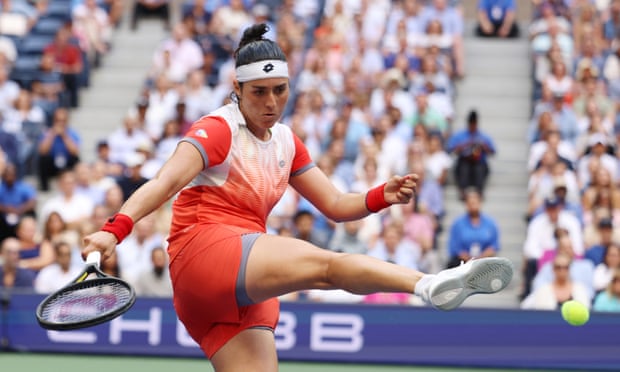 Despite her frustration, Jabeur was, as ever, positive as she digested her second straight grand slam final defeat after losing the Wimbledon final to Elena Rybakina. Jabeur has continued her steady, gradual growth, taking her losses as lessons.
"Fortunately it is me. I struggled to win my first WTA title. It took me time. So I believe this will take me time. The most important thing is accepting it, learning from the finals that I lost. But yeah, definitely I'm not someone that going to give up. I am sure I'm going to be in the final again. I will try my best to win it. I'm not sure, but I know I will do my best." said Jabeur.
Swiatek started the season ranked ninth in the world, one of the many faces in the top 10, and the manner in which she has separated herself from the pack has been astounding. Her win-loss record 55-7 this season now, 8-1 against top 10 players, and her only defeat to her predecessor at No 1, Ash Barty.
The defining quality of Swiatek's young career so far, however, is her killer instinct when titles are on the line. She has won 10 finals in a row, after losing her first ever final, winning all 20 sets and smothering all opponents as she averaged 3.6 games conceded in her previous nine. Jabeur pushed her far more than any player has in a title match since her rise to prominence, yet Swiatek still had the composure to see it through.
"Now. I've got to settle with what's happening right now. I'm going to see how I'm going to react. Because also winning US Open is different than winning a slam in Europe or in Australia because I don't know how the popularity thing is going to change, if it's going to change. For now I'm kind of going to observe and learn."