Haaland hat-trick sees off Wolves as Manchester City keep Arsenal in sights | Premier League
The hat-trick man is back – if he was ever away. Erling Haaland's fourth Premier League treble swept him to 25 competition goals, 31 in all, and may signal Manchester City are again the slick winning machine Pep Guardiola wants them to be.
The victory took the champions to two points behind Arsenal before Manchester United's arrival for Sunday afternoon's late match. Haaland, as he does, made scoring appear child's play – his goals all came in a 17-minute exhibition – and so Guardiola, for today at least, was pleased with the response to the scattergun call to arms that came after Thursday's victory over Tottenham.
Then, Guardiola had branded City a "happy flowers team" so he was asked if they remained so. "Still is just one game," he said. "It is just one game, we will see in the future. The way we played was quite similar to the first half where we were losing 2-0 to Spurs, our football was really really good but it was 2-0 today: we improve but we will see what happens in the next games, I will see."
Of Haaland, Guardiola said: "He has to get the balls being delivered into him as much as possible, we have fantastic players around him but the first goal is because he is there and the ball from Kevin [De Bruyne] is fantastic. He lives 24 hours for his job, his profession, his love. He does not stress much when it is going good or bad. The numbers are incredible but the reality is still we are a bit behind Arsenal."
Julen Lopetegui had instructed his players to flood the champions near Ederson's goal when in possession. The problem was City are the ball-hoggers supreme so the other tactic was more rudimentary: strong-arm them, as when Max Kilman crashed into Ilkay Gündogan (earning the defender a yellow card) and Hwang Hee-chan shoved aside Rico Lewis, after which Mario Lemina entered David Coote's book for protesting the free-kick. Next, to make it three cautions in 13 minutes, Lopetegui's name was written down by the referee for his furious reaction.
This all began at the opening corner when two Nélson Semedo tussles with John Stones had the latter down and meant City's love of fluidity had to overcome a disruptor. Lopetegui is the former Spain and Real Madrid head coach who is adapting to the more modest talents of those in gold, so could be happy at City's toothlessness so far.
A 20-yard effort from Jack Grealish that warmed José Sá's hands troubled him as much as Gündogan's loose header after Lewis teed him up. When Haaland rampaged through there was relief at a Nathan Collins touch which thwarted the striker.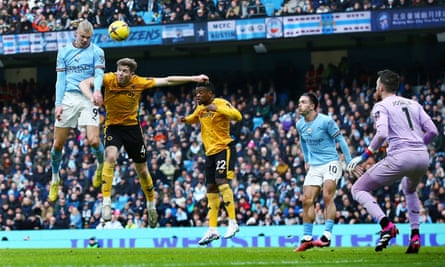 A Guardiola mantra is the managerial standby that all encounters in the division are tough but Wolves arrived as the league's lowest scorers (with 12) and boasting only two wins over City in 20 years, yet the hosts still searched for the vital percentage their manager identified. Six minutes before the break the search ended. Riyad Mahrez danced along the right, De Bruyne received and flipped over the ball, and Haaland headed past Sá.
Moments later Collins caught Grealish's leg but after the winger went down and the VAR scanned replays, no penalty was the verdict. Two-nil would have been the score at the break if Collins's forehead had not cleared a Grealish attempt, followed by a Gündogan cross-shot from the line. Wolves were grateful when Coote blew for the tea and oranges.
Guardiola swapped Nathan Aké for Lewis, and Lopetegui exchanged João Moutinho, Matheus Cunha and Pablo Sarabia (making his debut) for Adama Traoré, Hwang and Raúl Jiménez. Sarabia might have instantly levelled with a header, but City soon scored again to kill the contest.
Rúben Neves pulled down Gündogan, Coote awarded the spot-kick, and Haaland rolled it in. "Two-nil at the library," quipped the travelling support (a dig at Guardiola's dig at the home fans on Thursday), but noise did ensue when City broke, Grealish lobbed to Mahrez, and he missed at close range.
Sá gifted Haaland his third via a horrible howler. The goalkeeper's lazy pass was mopped up by Mahrez and he tapped to the Norwegian who was never going to miss from yards out. Towards the end, Gündogan missed a header that had Guardiola clutching his head. It was immaterial to the result but not to the manager, just one more illustration of how driven he is.
Watching on was Phil Foden and Guardiola offered a bulletin on why. "He has a problem with his feet and he is struggling. We will see if he is fit for Arsenal [on Friday]."
Haaland's last hat-trick was in the 6-3 hammering of Manchester United in October. At the final whistle all of a City persuasion were next to do what is anathema: cheer on their city rivals to beat the Gunners.