Glimpse behind the VAR curtain was not enough: we need the full reality show | Video assistant referees (VARs)
There are some modern innovations so discomfiting, so problematic, so straightforwardly up-and-down wrong, that no amount of exposure, elucidation or soft lighting can make them acceptable. This week football fans were forced to confront one such example. Apologies for beginning in such a strident manner but: Michael Owen as a TV presenter? That's a straight no from me.
Anyway, VAR. The digital refereeing supplement has generated no end of ire since it was introduced to England in 2019. Only now, however, have the officials who oversee it sought properly to engage with the public on the matter. And so, on Monday, we had Sky and BT Sport welcome the Professional Game Match Officials Limited technical director, Howard Webb, to their studios where Jamie Carragher and Gary Neville gave him a gentle grilling and Owen did his best to deliver a series of uncomplicated VT cues.
On the touchscreen were a series of incidents from the current Premier League season that had, in some way, been affected by VAR. Perhaps a goal had been belatedly awarded, as it was to Joelinton against West Ham, or overturned, as with Kai Havertz against Liverpool. Maybe a penalty decision had been revisited – such as Jacob Kiwior's handball against Newcastle – or maybe it hadn't but should have been, as with Marco Senesi's foul against Ivan Toney, where it turned out Toney had fouled the Bournemouth defender first.
Webb was on hand to explain these decisions and, in the language PGMOL prefers to use when it has flubbed something up, "acknowledge" certain mistakes. For the first time, however, we were also able to hear officials as they made their mistakes in real time. Recorded audio between on-field referees, their assistants, and the VAR team in Stockley Park walked us through the harum-scarum nature of officiating. It revealed people scrambling to enact a complicated process, to make the right calls and to do so as quickly as possible, all the while having to listen to the referee, on his open mic, wrangling gaggles of furious players.
The solidarity and teamwork between on- and off-field officials was one of the most striking aspects of the footage. Gianni Infantino likes to call his referees "Team One", to signify their importance to the smooth running of a tournament. Like most things that plop out of the Fifa president's mouth the phrase doesn't immediately project sincerity, but here you could see what he meant. Not only were people working constructively together under intense pressure, they were constantly offering each other support and reinforcement. Create a word cloud of the VAR exchanges and the most prominent term would be "pal".
As an exercise in humanising the most commonly demonised figures in sport, playing the VAR Basement Tapes (Vol 1) surely did an effective job. Webb, having already established the practice as a regular feature in the MLS during his time as chief referee in the USA, will now look to do the same over here. Broadcasting the footage live, which might revolutionise the perception of officials among TV fans entirely, remains something only for the long term, though, with little appetite shown for such a change from within Fifa.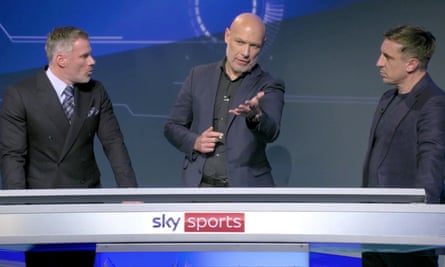 Watching the shows, and particularly Match Officials Mic'd Up – the Owen-fronted programme that cleverly heightened a sense of on-field drama by contrasting it with utter tedium in the studio – you were left thinking that other opportunities may yet be possible for the VAR group chat too.
Take the Joelinton goal in Newcastle's 5-1 drubbing of the Hammers. It begins with an urgent broadcast: "I'm delaying, I'm delaying, I'm delaying," says the assistant referee Scott Ledger as he watches what he believes to be an offside incident but refuses to put his flag up, in the way that assistant referees do.
Joelinton then scores, Ledger calls offside, only for the VAR, David Coote, to find the Brazilian onside by a heel (side note: throughout all this the referee, Craig Pawson, is shouting: "Dec! Dec! Dec!" in an update of that Alan Partridge bit, as he tries to let the West Ham captain, Declan Rice, know that there may yet be more ignominy heaped on his team that day). Finally, with the issue resolved, Ledger can be heard apologising to his colleagues. "Wow, that was tighter than I thought, thanks boys, sorry team," he says over his lightweight headpiece. Ledger's colleague on the other side of the pitch, the assistant referee Marc Perry, then responds: "Well done mate, good process. That's why we delayed pal, they needed lines, well done."
Am I alone in wanting to find out what happened next? Was Ledger able to shrug off his error, or did it cut him more deeply? Was Perry straight off home afterwards, shaking his head, or did he extend the offer of a steadying drink in the bar of the Hyatt Place, London Heathrow? I don't mean to be intrusive, but now I've met these people and know something of the bond that exists between them, it might be nice to know a little more.
Turning the actions and interactions of PGMOL officials into a running reality strand, which could follow Monday Night Football or give Michael Owen something to do, is not a gimme. You'd need a few decent scriptwriters to sharpen the character definition – Graham Scott has got a secret, Michael Oliver's opening a themed restaurant, Darren England hasn't spoken to Neil Swarbrick since the incident at the Christmas party, that sort of thing. But put the storylines in place, keep the format short and snappy and the audience would take care of itself. We're always hearing about the need for content to pad out those aching, hours-long gaps between matches. The Real Match Officials Of Stockley Park might just be it.