Germany fans seek new 'summer fairytale' but need a team to believe in | Germany
"Bring on the new Sommermärchen," read a banner that was unfurled at the Rhein-Energie Stadion just before kick-off on Tuesday night. Almost two decades on, it's hard to overstate what a cherished place the 2006 World Cup still holds in Germany's collective memory. The "summer fairytale", they call it: a summer of golden memories and national euphoria, of street parties on scorching evenings, a summer that has spawned films and books and songs, despite ending in the semi-finals for the hosts.
"All the streets were full, everything with German flags, public viewing was practically invented," remembered Matthias Ginter last week. Ginter was a 12-year-old boy in the summer of 2006 and is now a 29-year-old defender in the squad that will be expected to recreate the Sommermärchen in 2024. And ever since Germany was awarded the right to host next year's European Championship the tournament has been imbued with an almost alchemic power: a chance to unite and dream and make magic again.
For the players, still bruised after last year's Qatar World Cup and its road of many miseries, a Euros on home soil offers a clear redemptive arc. Twelve fixtures separate Hansi Flick's side from the opening game in Munich in June 2024. All are friendlies, which is less than ideal. No host nation has won a World Cup or European Championship on home soil since France in 1998, and perhaps the lack of competitive practice is one reason. The indeterminate 2-0 win over Peru last Saturday was one example: friendlies may show you how bad you are, but they won't necessarily show how good you are.
Nine minutes into their game against Belgium in Cologne, Germany were discovering exactly how bad. They were 2-0 down, Yannick Carrasco and Romelu Lukaku with the goals. Kevin De Bruyne, as well as collecting two assists, was taking Joshua Kimmich and Leon Goretzka for a joyride in central midfield. Virtually every Belgian attack seemed to generate a shot. Dodi Lukebakio missed a one-on-one chance. Lukaku hit the bar with a header. Belgium could quite conceivably have been 4-0 or 5-0 up within 20 minutes.
"The first 35 minutes were the worst I've seen in my long career," grumbled the never-knowingly-understated Lothar Matthäus on RTL afterwards, and for all the comical pratfalling it already felt like an early point of crisis for Flick, who had by no means been guaranteed to keep his job after the Qatar shambles. And again it was the habit of conceding unbelievably soft goals that had undone them: an incontinent pressing system that somehow left them overcommitted up the pitch but without adequate pressure on the ball. "This has to be a one-off," Flick warned.
But it was what happened next that arguably made even less sense. Half an hour in, Flick had seen enough. Florian Wirtz, the teenage prodigy from Bayer Leverkusen, was hooked along with the injured Goretzka. Emre Can came on in midfield and began to lock things down. On the stroke of half-time the totemic Bremen striker Niclas Füllkrug – a man who always looks as though he's going to hoist you off the ground for no reason – won and scored a penalty to pull a goal back. Gradually the crowd, who had greeted the opening period more with bemusement than genuine anger, began to swing behind them.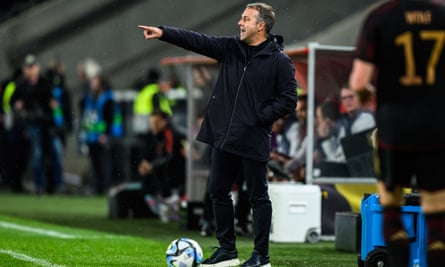 This is the fragile connection Germany are also trying to build: a challenge as important and intractable as any they face on the pitch. Reconnecting this team to its public – particularly a younger public with strong allegiances to their Bundesliga clubs but only a passing interest in the national side – is one of the Deutscher Fussball-Bund's central missions before next summer.
And yet in a country riven by public sector strikes, forced in the wake of the war in Ukraine and the end of the Angela Merkel era to reconsider its identity and place in the world, the prevailing note is scepticism rather than optimism. "Woodstock cannot be repeated," the veteran television commentator Bela Rethy said recently. "In 2006 Germany was a different country, more relaxed, more tolerant. Not so dogmatic. Not so demagogic."
Not so shoddy in defence, either. On 78 minutes De Bruyne made it 3-1 with another simple counterattack. But even now Germany refused to lie down. The outstanding Serge Gnabry hit the post after an electrifying run that took him past four players. With three minutes remaining he converted from close range after another rapid raid down the left by Kevin Schade of Brentford, setting up a rousing finale and about as heroic a 3-2 defeat as it is possible to conceive.
And as they left the stadium, everyone seemed satisfied enough. There was broad acknowledgement that this is a transitional team, a team with many of its stars (Thomas Müller, Manuel Neuer, Antonio Rüdiger, Ilkay Gündogan) rested or injured. Flick bemoaned the lack of training time afforded him, which he said contributed to the scruffiness of his team's attempted pressing.
Twelve more experiments. Twelve more games to get this right, against a backdrop of apathy, a leaky defence, an increasingly divided nation and a distinct lack of full-backs. And yet if the Sommermärchen taught us anything, it is that the German public do not demand victory as a non-negotiable. They will forgive their team even the bitter pill of ultimate failure if it can make them dream. Flick's hardest task over the next 15 months is not to win, but to give Germany a team they can believe in.