Gary Lineker accepts human rights award with call to show refugees more compassion | Gary Lineker
Gary Lineker said people need to show "more compassion, empathy and kindness" towards refugees as the Match of the Day presenter collected an award in Rome on Wednesday.
Lineker was in the Italian capital to receive a "Sport and Human Rights" award from Amnesty International for "his strong commitment towards immigration and human rights issues" following his criticism in March of the language used by UK government ministers when discussing asylum policy.
The former England and Tottenham Hotspur striker has in turn come under fire from Conservative MPs for accepting the award, including Craig Mackinlay who described it as "another self-congratulatory fest of one woke group to another woke activist".
Lineker, 62, was temporarily suspended by the BBC over a controversial tweet in which he compared the language used to launch a government asylum seeker policy with that used in 1930s Germany.
He described the experience as "strange and surreal". "I'm still surprised now about what happened, I wasn't expecting any of it," Lineker said during the award ceremony at the Italian national press federation. "It was caused by one of our newspapers which put a headline that was disproportionate to what I actually tweeted.
"What I was trying to say was that I think we need to be careful with the language we use towards people who have to flee their countries, because of persecution, because of war and possibly climate change, and I think we need to show them compassion, empathy and kindness."
In response to the backlash over the award from the Conservative MPs, Lineker said: "I am for freedom of speech – but in my experience of freedom of speech, particularly the people who campaign for freedom of speech, they're all for it until they disagree with what you're saying, and I think that's always important to remember."
Lineker received an award alongside Natali Shaheen, the former Palestine captain who currently plays futsal in Sardinia.
Shaheen wrote a book called Un calcio ai pregiudizi (A kick to prejudices), the proceeds for which she donated towards associations focused on the training of young female footballers in Palestine and Sardinia.
Shaheen, who was the first Palestinian footballer to play at professional level in Europe, said sport, and especially football, had the power to "change many things, and many mentalities".
Lineker, who is well remembered in Italy for his performance with England during the 1990 World Cup, also spoke about his experience hosting refugees.
"It came about because whenever I tweeted pro-refugee tweets someone would say 'stick to football' or 'why don't you have these people in your house'," he said, adding that he hosted two refugees via a charity. "It was a hugely positive experience, not just for me but my four sons – they have an entitled life and are very fortunate, and I think it gave them a real perspective and they became friends with both the refugees that I housed."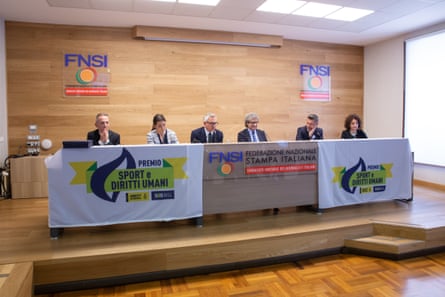 Lineker said: "Sometimes we forget that we're all the same, we're all human beings." "In our country we talk about 'we've got to stop the boats'," he added. "But there are people on those boats who have had to flee under incredible difficulty."
Zvonimir Boban, the former Milan and Croatia midfielder, presented Lineker with his award. "The award has gone to the right person," Boban said. "Lineker has always defended freedom and he doesn't do it falsely. I have a lot of respect and esteem for him, even more so today."