Gareth Southgate fears successor will face shortage of English players | England
Gareth Southgate fears his successors as England manager will face a selection crisis if the number of Premier League players eligible for the national team continues to diminish.
Southgate's immediate concern is the opening Euro 2024 qualifying fixtures against Italy in Naples next Thursday and Ukraine at Wembley three days later. He has recalled Ivan Toney, despite the in-form striker facing a lengthy ban after accepting multiple charges of breaching the Football Association's betting rules.
The manager has also brought back Reece James, Ben Chilwell and Marc Guéhi and has stood by Kyle Walker, who is under police investigation after allegedly exposing himself in a bar. There is no room in the 25-man group for Trent Alexander-Arnold, Ben White, Conor Coady and Callum Wilson, while it was stressed that Raheem Sterling was not fit.
Southgate is confident that England have a chance to win the European Championship, suggesting it was a part of his motivation for staying on in the job after the disappointment of the World Cup quarter-final loss to France last December. But when he looked further ahead in terms of the picture around the setup his mood darkened.
Southgate said he was short on depth in certain positions, namely specialist left-backs and defensive midfielders. He noted there were only "four left-footed left-backs playing in the Premier League" who were eligible for England, meaning he would have to "start looking in the Championship". Kalvin Phillips, the midfield pivot, has remained in the squad despite having not started a league game for Manchester City.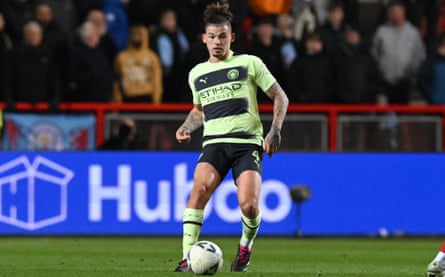 Southgate said it was irrefutable that the number of English players in the league was "deteriorating rapidly" and he is worried about the future if the trend continues. "It's not a concern for me in the next 18 months," he said, with a nod towards the remaining term of his contract. "But in the next four or five years' time we have got to be really careful."
On more than one Premier League weekend of late, only 28% of starting players have been eligible for England – the lowest ever number. More generally it has been about 32%.
"I can only speak about fact – 28% has happened on a couple of weekends in the last few weeks," said Southgate, who became England manager in 2016. "It has been around 32% but that's down from 35% when I took over and 38% in the years before, so the graph is clear. If nobody takes a position of trying to protect young English players and their chances then the numbers will continue in the same way."
According to studies, there is no relationship between the volume of Premier League minutes and national-team success. The key factor is having enough quality players that feature regularly at the highest level who are part of the 40 or so that a national team pick from each year.
England were ranked outside Fifa's top 20 between 1994 and 1996 when the league had about 65% English players. Since 2018, when England have been consistently in the top five, English player time has been about 34%. Southgate said there were more Brazilian and Portuguese players getting minutes in the Champions League than English ones – and many more French and Spanish.
"The concern would be the most recent trend in January: 55 deals and 44 that were either new foreign players coming in [to the Premier League] or two that were already here – Jorginho and [Albert] Sambi Lokonga, who moved inside," Southgate said. "Of the English deals, a couple were second- or third-choice goalkeepers and three were youth transfers – one was Romeo Beckham. So that's 80% of the deals coming in through January that were non-English. That impact of January has played out in the last couple of weeks.
"Also, somebody has to think about the 10,000 kids that are in our academies and whether or not there is a realistic chance of them having a career at the end. There is an ethical question, as well."
Southgate is well-versed on those, the cases of Toney and Walker the most pressing examples. With Toney, Southgate said there was no basis not to pick him given Toney was "playing for his club and there hasn't been a trial or any judgment".
He took a similar line on Walker, although he suggested it could change if charges were brought against the player. "As we sit here today there was no conclusive reason not to select him," Southgate said. "If that changes then we've got to review the situation. And he would understand that.
"It's a complicated situation. I've spoken at length with him. When you are an England international there is an even higher bar on how you conduct yourself. I don't think we are taking those decisions lightly."
England squad: J Pickford, N Pope, A Ramsdale; B Chilwell, E Dier, M Guéhi, R James, H Maguire, L Shaw, J Stones, K Trippier, K Walker; J Bellingham, C Gallagher, J Henderson, J Maddison, M Mount, K Phillips, D Rice; P Foden, J Grealish; H Kane, M Rashford, B Saka, I Toney