Gabriel Martinelli sinks Aston Villa to maintain Arsenal's perfect start | Premier League
If the season were a few months older, and if Arsenal did not have a decade and a half of underachievement to nag at them, this might be called the stuff of champions. Make no mistake, the league leaders mauled Aston Villa here: for most of the night it was barely a contest but a nasty surprise was never out of the question while they led by only one goal.
When Douglas Luiz duly swung in one of his corner-kick party pieces moments after coming on as a substitute, 58,000 pairs of eyes might have rolled; they have seen it all before at a venue that knows false dawns like few others.
This time, though, they opened in awe as Gabriel Martinelli responded almost instantly and gave Mikel Arteta's team exactly what they deserved.
With the caveat that Arsenal will ultimately be judged on how they handle such setbacks against better opponents than a woeful Villa, there is a growing sense that this side possesses a mettle so many of its predecessors have lacked. They recovered from a similarly poor concession to beat Fulham on Saturday; repeating the trick was on one level a reminder that they have a ricket in them but, on another, evidence that they have learned how to clear their heads.
"That's the mentality we want to show as a team and the character we want to show, to react immediately," Arteta said of the winner, which came three minutes after Luiz had pegged Arsenal back and confirmed their best start since 2004. "Conceding goals is part of the game; it's about the next action."
Martinelli took his goal superbly, controlling a half-volley at the far post after Bukayo Saka had clipped a teasing cross into his path. The entire sequence spoke of the difference between these sides: the move had begun when Martinelli made ground before finding Takehiro Tomiyasu, who then passed to Saka, but Villa's defence appeared to think their work was complete once the Brazilian was out of possession. He was unmarked in applying the finish seconds later and Steven Gerrard was left to regret the squandering of a lifeline.
"We got the game [to] exactly where we want it and then we go and shoot ourselves in the foot," he said. "We have ourselves to blame for conceding so quickly. We speak about this most days and it is really frustrating that the messages don't seem to be getting through."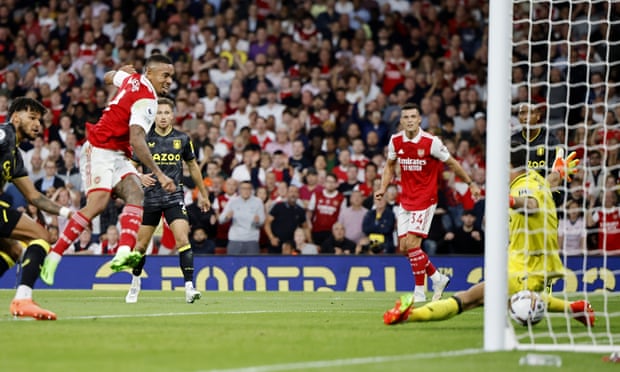 Even if they do between now and Saturday, it would take a brave onlooker to imagine Villa earning a result against a rampant Manchester City. Three points from five games is a poor start and likely to get worse; their performances are not offering succour and Gerrard admitted the pressure on his job is already mounting. "If I stood here and said I wasn't concerned you'd look at me as if I was from a different planet."
In the first half Arsenal hammered his team with football from another galaxy, aided by the fact Villa offered nothing beyond late challenges and scrappy fouls. If they had been set up to eke out a point, the number of times Arsenal exposed them made a mockery of that; if Gerrard wanted them to attack, a complete lack of cohesion meant they did not show it.
Gabriel Jesus forced the wobbly Emiliano Martínez into two saves with angled efforts and Gabriel Magalhães twice came close. Saka missed a sitter at the far post and, before the interval, Martinelli drew a flying stop from the Villa keeper. On the half-hour Jesus dispatched the loose ball after Martínez had reacted messily to Granit Xhaka's deflected cross-shot, but Arsenal should have been out of sight.
It meant Douglas Luiz's equaliser, outfoxing a boxed-in Aaron Ramsdale with an inswinger for his second such goal of the season, felt perversely inevitable as a tighter second period wore on. Ramsdale had just been tested for the first time by Leon Bailey and, despite being passengers, Villa clawed themselves into a position of relative strength.
Arsenal quickly pulled them down and Arteta hopes to sustain his side's momentum. Albert Sambi Lokonga did well in his first start since April but they are light in central midfield, with Mohamed Elneny ruled out for some time and Thomas Partey also laid low.
"If the right player is available and we can do it we will try," Arteta said of any deadline‑day additions.
In the heat of the moment, though, he could savour the prospects offered by Martinelli's decider. "When you start to get that belief and create those moments, it's not only us that believes, the crowd believes," he said. "When that connection happens, anything is possible."