Fulham v Leeds: FA Cup fifth round – live | FA Cup
Key events
39 mins: It's not a bad ball from Roca but no one is on the end of it. To be honest they didn't look that interested in meeting that whipped delivery. So Rodak collects on the bounce. I'd be annoyed by that if I was a Leeds fan.
38 mins: Free kick for Fulham in a handy position on the right after Adams is upended.
37 mins: Solomon has been impressive with every touch. He gets the ball and cuts in field before floating a ball to the inside ride of the box. A header back from Lukic is intercepted though. Fulham winning this on points now as well as goals scored.
35 mins: Strong from Tosin at the back as he fends off Gnonto. The Leeds forward cops an elbow in the jaw for his troubles, but there's no malice so play on.
34 mins: Solomon beats three defenders as he snakes from left to right. He feeds it to the flank for Wilson who himself darts infield. He's fouled twice but it;s play on. Pereira darts a cross in for Mitrovic and the Serbian is upended. They're asking for a penalty. I don't think this will be overturned by VAR. Yup, no dice.
31 mins: Leeds have responded well after the goal. Fulham seem content to sit a little deeper. When they dispossess Leeds, who have started to see more of the ball, the home side are eager to pounce. An interesting pattern emerging.
29 mins: Gnonto has the ball in the net again but it's offside, again. A great diagonal ball finds Ayling who nods back a header. Then a shot from the edge of the box is saved by Rodak who can't push it beyond Gnonto to his right. Doesn't matter. The Leeds forwards is too far forward and his tap in to an empty net won't count.
27 mins: Great from Fulham. Mitrovic comes deep to ignite a move down the right. Two quick passes has the ball in space down the left and Robinson has time to deliver. He slips just as he does so and the ball is cleared. But that is really good from Fulham who need to involve Mitrovic more.
25 mins: Free kick for Leeds beyond striking distance as Rutter takes the ball on the half turn and scampers away. He's hauled down. It's a bit too straight to deliver direct so they send it left then back in the middle then left again before having to recycle all the way back to their defenders. Ayling on the overlap on the right can't reach a long diagonal.
24 mins: That goal has sparked this game into life. Leeds now bustling into tackles. They Gnonto coming deep. I guess a goal like that would light a fire under the bum.
22 mins: Good response. Roca has a swerving shot from distance that is close enough for Rodak to parry away.
GOAL! Fulham 1-0 Leeds (Palhinha, 21)
GOLAZZO!!! What a goal! That is top drawer. Palhinha charges in and makes a tackle about 40 yards out to win the ball back. He takes one touch, then looks up and bends the ball into the top corner, curling it round Meslier who was off his line not expecting his teammates to cough up possession. Wonder strike!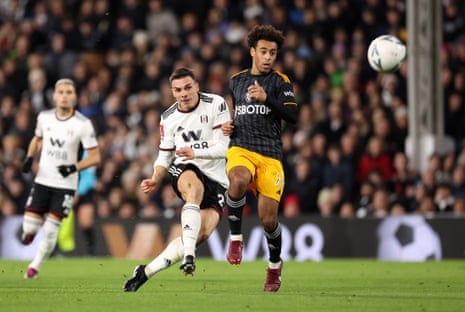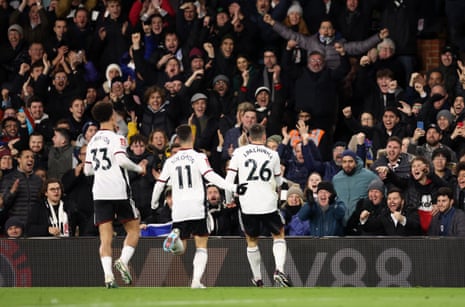 20 mins: Much better. Cedric has some room on the right and whips in a handy looking cross. It's a bit behind Mitrovic so rather than meet it with his head he has to swing a boot at it. That allows Leeds to clear but also gives the home side a blueprint on how they might work an angle.
19 mins: Kristenesen gives the ball away and Fulham break down the middle. Solomon on the left gets it and tries a Cruyff turn and is bundled over as he does so. His appeals for a free kick on the edge of the box are ignored.
17 mins: Fulham resorting to long hopeful balls. Wilson is asked to take down one from a higher stratosphere. He appeals for a corner but it's a goal kick. What happened to the 'Fulham Way'?
On the goal that wasn't, replays show that there was definitely a push from McKennie.
Leeds unquestionably the brighter of the two. Fulham ponderous.
15 mins: The ball is in the net but it's no goal! From the corner McKennie headers on goal and forces Rodak to save. The ball is popped straight to Gnonto and Leeds' record signing just has to tap in. But McKennie is deemed to have pushed a Fulham defender and it doesn't count.
14 mins: Leeds look more incisive. McKennie is put through in space on the left and Cedric has to slide in to knock the ball out for a corner.
13 mins: Summerville is back on and is stabbing a ball through. Fulham close the space quick and get on the ball again. But their interplay down the left fizzles out.
11 mins: Break in play as Summerville goes from his haunches to his backside before receiving treatment. Seems as if he landed hard on his left leg after tussling with Robinson. He's holding his knee and then his hip. Must have been jarring on the landing.
10 mins: Cedric bursts down the right for Fulham and squares it. It comes back to him a few phases later via a loopy high ball that he can't control. Fulham caught between looking to play fast and build slow. They're doing neither at present.
9 mins: Too cure from Leeds. They win possession in their own half down the left and break well. It's four on four. McKennie probably should have shot but instead tries to slide Summerville in. Rodak comes off his line to clear. McKennie had a chance to fire on goal.
8 min: Gnoto receives the ball on the left and darts in field. Fulham's defenders look jittery. He fakes a shot and then dinks a ball into the box but Summerville can't control it. Maybe a first time volley was the better option? Would have been impressive if he'd pulled that off.
7 min: Palhinha, who has seen a lot of the ball, sprays a wonderful diagonal from right to left. But it's not controlled so it goes for a throw-in.
5 min: Fulham eager to shift it wide as soon as they can. They've yet to sling in a cross to Mitrovic but they plan is clear.
A long ball down the right asks too much for Wilson who's beaten to it.
3 mins: As expected it's Fulham with the bulk of the ball. But Leeds look comfortable in possession as well. They're not only lumping it forward.
Both teams set up in a 4-2-3-1 formation. As with most games, it'll come down to who can boss the midfield and feed their big man up front. I like Fulham's width though.
1 min: Off we go! Fulham kick off
Joe Pearson set me straight just before kick off:
"Fulhamerica goes back to the early aughts, with Brian McBride and Carlos Bocanegra in the squad. By 2007, there were five US internationals taking the field for Fulham: Keller, Bocanegra, Johnson, McBride, and the Deuce himself, Clint Dempsey! Glory days!"
Fulham in their classic strip of white with black shorts. Leeds in gear that I hope no one minds me calling awful. It's a busy black number with orange piping down the shoulders and orange shorts. Not for me, Clive.
Not long now. Less than five minutes to go.
Michah Richards is now singling out two Yanks, Adams and McKennie. Their understanding in the midfield needs to click. They were good against Southampton on the weekend.
Can you feel that buzz from across the pond? Mary Waltz with her finger on the pulse:
"Yes, American football fans are over the moon about the young guns spread all over European football. In the past it maybe one or two at a time and mainly goalies. Obviously we are still well behind other football playing nations but we no longer have to be embarrassed and we can't wait till 2026"
Now it's Marco Silva's turn:
[The FA Cup] is really important for us. We have huge respect for the competition. The other players deserve some minutes to show their quality.

We will do our best to win the competition. It will be tough [tonight] against a good side.
Here'ds Javi Gracia on the Beeb:
I'm very proud of my players and delighted to be here, at this club. We've started well in the Premier League with a win. That's given us confidence. I love this competition and want to stay.

I spoke with my players [about his run to the final in 2019 – when he was manager of Watford]
Remember, there won't be a replay if they're all square after 90 minutes.
That means it could be a long ol' night as we meander through extra time and then penalties.
Because it's important to keep an eye on the wider issues in our game, why not have a quick read of Jonny Liew's biting piece on the racist abuse that Real Madrid's Vinicius Junior has to put up with. Angry? Good.
Jeff Sax doesn't believe that Manor Solomon should be starting, simply stating that he's "better off the bench".
He's made an impact every time he's come on. I reckon he's earned his chance to start.
I started my preamble with a nod to history. What do you make of this?
Fulham have lost just three games at home all season while Leeds have only won twice on the road. Does that point to a predictable triumph for Fulham?
Fulhamerica v Leeds United States. Hey, don't look at me, I didn't come up with that one.
This is apparently doing the rounds stateside, as Harriet Osborn points out:
"We have Fulhamerica vs Leeds United States here, according to stateside social media. Interested to see if all five available US internationals see the pitch tonight, or even… dare I say… start! Looking forward to an exciting match regardless; both of these teams have been a lot of fun to watch."
They are. I'm expecting goals.
But, this has got me thinking, with two teams so intrinsically linked with a foreign country, have there been similar clashes in the past? Arsenal and France, Wolves and Portugal, etc, but were there any 'Country X derbies', if you know what I mean?
Any era (or tenuous link) welcome.
"Hi Daniel," hi Matt. How are you doing? Thanks for joining us this evening.
"Worth calling out that there will be quite a few empty seats at Craven Cottage tonight. This is due to the club charging a quite outrageous 40 quid per ticket, leading to criticism from both the Leeds and Fulham supporters trusts. Quite why clubs persist with high ticketing prices when it is a fraction of total revenue is beyond me, particularly when it will so obviously impact the long term growth of a fan base. I do wish media would call out ticket prices on a more regular basis – they should be asking managers at their press conferences, if only to get the matter more attention. To add balance, Fulham have very affordable season tickets but their individual ticket policy this season has been, frankly, a disgrace."
Consider this called out, Matt.
Bamford benched and shift in backline
It looks as if Ayling will play at centre back this evening alongside Saturday's hero, Junior Firpo. Perhaps with everyone wondering what's going on at the back, Javi Gracia is hoping no one will give him a hard time about benching Bamford. Though cursory glance at Twitter suggests this may be a popular move.
Leeds: Meslier, Kristensen, Firpo, Ayling, Koch, Adams, Roca, McKennie, Summerville, Georginio, Gnonto.
Subs: Robles, Monteiro, Gyabi, Aaronson, Harrison, Gray, perkins, Joseph, Bamford.
Solomon starts and Mitrovic returns
Marco Silva is giving the people what they want! The big man returns up front and Solomon, who has been blistering from the bench, will possibly get a full 90 minutes. That means Willian and Vinicius drop to the bench from Friday night's league game against Wolves.
Fulham: Rodák, Cédric, Tosin, Ream (c), Robinson, Palhinha, Lukić, Andreas, Wilson, Mitrović, Solomon
Subs: Leno, Tete, Duffy, Diop, Reed, De Cordova-Reid, Willian, Harris, Vinicius.
Look, it's hardly grassroots football, what with this being a clash between two Premier League outfits. But compared the the schmaltz served up at the Best Fifa Awards, this feels like a kickabout during a lunch break on a coal mine.
Barney, as he so often does, finds the right words to describe that ego stroking bonanza in Paris.
How did these two get here?
Fulham started with a relatively comfortable 2-0 win at Hull in the first week of January, but needed a 94th goal from Daniel James to make it safe. They were then kept to a 1-1 draw at home to Sunderland after taking an early lead. In the 4th round replay they held on to a 3-2 at the Stadium of Light.
As for Leeds, a 93rd minute goal from Sonny Perkins rescued a 2-2 draw in Cardiff to force a 3rd round replay which they duly won 5-2 at Elland Road. Things were much more pedestrian in the next round where the walloped Accrington Stanley 3-1 in Lancashire.
Would you believe that this will be the first time that Fulham and Leeds will play each other in the world's oldest football competition? It's true. I looked it up.
Does that mean anything? Not really. They've met 71 times before this with honours just about even – Fulham winning 20 of them, Leeds with six more victories and 15 draws.
But that's ancient guff that has no bearing on this FA Cup fifth round fixture. Recent history, as in the most recent history, is on Fulham's side as they won 3-2 at Elland Road in November. That was followed by two spirited 2-1 defeats to the Manchester giants before embarking on a six game unbeaten run. Now, thanks to another string of six games without a loss, the Cottagers are sixth in the Premier League.
Leeds are down in 17th but an important 1-0 win over Southampton has nudged them out of the relegation zone. Maybe momentum is actually with the 1972 FA Cup winners.
So, which narrative thread do we use to weave together an appropriate preamble? Whichever one you like, to be honest. Use them all if you must. That's the beauty of it. None of it matters and everything is incredibly pertinent. I think both teams will fancy it so we could be in for a tasty game.
Do get in touch via email or Twitter if you fancy.
Kick off at 7:45pm.