Football is a precious space where people express emotions and build relationships | Soccer
One of the surprising and moving elements of running a football club is how regularly we hear from supporters who want to recognise and celebrate a loved one who is no longer with us. Before our first game of 2023, against Stockport County, we had a minute's celebration accompanied by a lone piper as we remembered all the supporters of the club who passed away in the previous 12 months.
There isn't a week where we don't hear from a member of our community who has lost a loved one and wants them to be remembered and commemorated on a match day. In December we said farewell to Brian Taylor with a round of applause in the 63rd minute against Salford, marking his age when he passed away, and in the past couple of weeks we lost one of our oldest supporters, Milly (95) who I met with her family at our recent game against Stevenage. A lifelong commitment to a club, as Brian and Milly demonstrated, is impressive and life-affirming because it reinforces the social significance of sport and importance of emotion, memory and place. It's a privilege and is a constant reminder to me of the importance of football clubs and their ability to open an emotional space for celebration, particularly for those who might find the expression of emotion difficult elsewhere.
As the son of an absent father, some of my earliest memories are associated with playing and attending football. Outside of sport, there weren't many positive, adult male role models growing up in Grimsby in the 70s and early 80s. Certainly not many that were 'emotionally available'. Like many places, the town was beginning the painful transition from old industrial jobs to the service economy, a fitful process and one that remains incomplete. It meant the men in our lives had worked at sea, on docks and in factories that most of us never would.
It was the world Grayson Perry brought to life in his book The Descent of Man, reflecting on the kind of masculinity shaped by the harsh working environment of fishing trawlers, mining or steel mills. The mental and physical toughness needed to endure labouring jobs spilled out into the wider environment, one where hardness always threatened to erupt into violence without notice. Physical intimidation, the ability to hold your beer and take or throw a punch were the real currencies, along with playing and watching football. In town and with three brothers, I got plenty of experience of all of them.
Over Christmas, I read Andrew O'Hagan's book Mayflies before watching the TV adaptation. Both versions really touched me. The main theme was male friendship and love over time against the aforementioned industrial decline. It made me reflect on the role football, alongside music, plays as a primary driver of memories and opportunities to forge deep connections and relationships, particularly for men.
I was struck by the physical affection of the main characters in the TV adaptation. The characters' shared experience of music replicated my experience of watching football. In my memory it was part of the only way men would be demonstrative with each other. The moments of ecstasy and abandon when a goal is scored or the final whistle declaring a result going your way. The shared experience of supporting a team through good and bad, the raising of voices together and singing in unity deeply imprints on the nature of our relationships in a way few other things can. As Professor Alan Bairner says: "Men were uncomfortable with expressing their emotions, football and its spaces providing some of the few available loci for emotional outbursts."
We are social creatures, driven by the need for attachment and relationships, which are proven to be the key drivers of happiness in people's lives. On a personal level it feels that physical displays of affection gradually started to find a place in our lives in the 90s. In part a combination of exposure to different cultures, the growing language and understanding of our psychology, and I imagine in no small way the prevalence of ecstasy around that time, that for some opened the male psyche to deeper, hitherto uncharted expressions of love and connection.
The effects of this societal narrative are becoming clearer for men my age and we are much more aware of the challenges of mental health. We have made great strides in acknowledging the daily struggles for some people. At Grimsby Town FC we have partnered with the mental health organisation Navigo to think about how football can help men talk about and improve their mental health.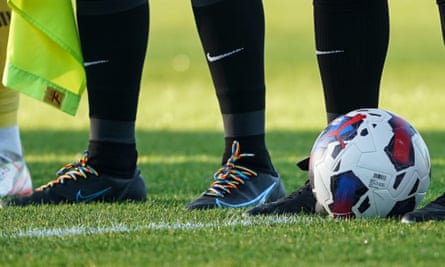 We know that men between the ages of 35-50, living alone and unemployed are at highest risk of taking their own lives. Those working in sectors such as construction and manufacturing have a higher risk and males with a Severe Mental Illness (SMI) are 2.8 to 7.1 times more likely to die before the age of 75 than males without SMI. Football clubs have a vital role to play in opening the space for deep connection. As Simon Beeton, Navigo's CEO, says: "A place to be, a place to call home, a place to feel welcome and above all socialise."
Football's toxic image of 'hypermasculinity' and outdated stereotypes have gradually been challenged and it is becoming a natural place to build positive relationships, share experiences and express ourselves. The EFL has taken steps to make the sport more inclusive, such as introducing the rainbow laces campaign which urges players and fans to show their support for the LGBTQ+ community, and since 2018 has had a partnership with Mind to create the On Your Side initiative focused on wellbeing.
In our own small way, Grimsby Town are determined to play our part in building an environment of understanding, acceptance and connection that acknowledges the powerful importance of football in creating and sustaining relationships. We owe it to the memory of our loved ones, such as Brian and Milly, to ensure that football remains a place to honour and celebrate their lifelong passion for the game. It is our hope that in doing so, we can create a space for positive experiences that will make a difference to the mental health of our community.
Jason Stockwood is the chairman of Grimsby Town
In the UK and Ireland, Samaritans can be contacted on 116 123, or email jo@samaritans.org or jo@samaritans.ie. In the US, the National Suicide Prevention Lifeline is 1-800-273-8255. In Australia, the crisis support service Lifeline is 13 11 14. Other international helplines can be found at www.befrienders.org