'Everything is possible': Nottingham Forest draw fire in fight for survival | Nottingham Forest
Shortly after the final whistle had blown on a cool Saturday afternoon at Stamford Bridge, Nottingham Forest's players walked over to their supporters and formed a mutual show of appreciation. It was also a mutual show of belief. Yes Forest could, and probably should, have won, but in that moment there was a clear, collective understanding that a point at Chelsea – even this Chelsea – is not to be sniffed at and may well prove crucial in this tightest of relegation scraps.
A 2-2 draw combined with the one at Elland Road a few hours earlier meant Forest ended the day as they had started it – 16th and three points above the bottom three. A small cushion but a cushion nevertheless and with only two games remaining this season the maths has become simple for Steve Cooper's side – one more victory all but secures safety. Hence the rousing, raucous love-in down by the Shed End and talk afterwards from Serge Aurier and Taiwo Awoniyi of Arsenal's visit on Saturday and the final‑day trip to Crystal Palace being akin to cup finals.
For Aurier it is very much a case of get the job done as quickly as possible, in other words: beat Arsenal. "They fight for the Premier League and we fight to stay in the Premier League and for us it's a big final because if we win we are [virtually] safe," said the Ivorian full-back.
"So it's really important for everyone to stay calm. We do the job here, now we rest and then we prepare for the game [against Arsenal]. If we play with the same mentality, fight and stick together then everything is possible."
That Forest find themselves in this position is somewhat remarkable given it was less than a month ago that they hit a 11-game winless run that sunk them to 19th and going nowhere except straight back to the Championship. There followed a surprise win against Brighton but that was followed immediately by defeat at Brentford via two goals conceded in the final 12 minutes of the contest. It was a devastating setback and, really, that should have been that – but instead Forest have responded superbly, following up a gutsy 4-3 victory against Southampton with the draw on Saturday.
Lined-up in a 5-2-2-1 formation, the visitors' intention was clear – defend in a crowded low block and use that as the platform for swift, incisive counterattacks. And the gameplan largely worked, with Forest having only 24% possession but finishing with a higher XG than Chelsea, 1.30 compared to 1.17, and, crucially, just as many goals.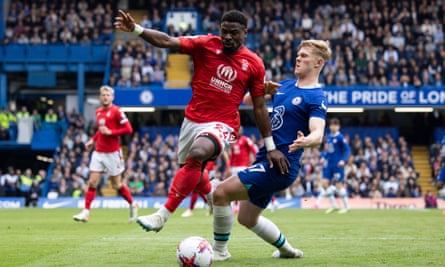 In that regard there is little denying Awoniyi was Forest's standout performer, the Nigerian scoring with two well-taken headers either side of two well‑taken strikes by Raheem Sterling to make it nine goals in all competitions this season, with four of those coming in the space of six days. The 25-year-old former Liverpool forward, signed from Union Berlin for £17m in the summer, has stood up to be counted when it has mattered most. "We missed him when he got injured [for three months with a groin strain]," said Aurier, "but now he's back and we need to keep him in the team."
Everyone in the visitors' ranks played their part at the weekend and it was, as Aurier intimated, their mentality, fight and togetherness that most significantly contributed to what was only Forest's seventh away point of the campaign. And they will need to again display those qualities in order to get something against an Arsenal side that is likely to be intent on getting back to winning ways and restoring pride following their heavy defeat to Brighton on Sunday. As Aurier put it: "We must defend together and attack together if we want to stay in the Premier League."
As good as Forest were against Chelsea, they still conceded twice for a seventh time in eight games, a level of defensive frailty that will have Bukayo Saka, Gabriel Martinelli and Gabriel Jesus in particular licking their lips. Equally, Mikel Arteta's men will have to cope with what is sure to be a rip-roaring atmosphere at the City Ground.
"We know we have amazing fans and at home we feel it even more," Aurier said just before reacting with a big grin and a hearty chuckle upon being asked what it would mean to him as a former Tottenham player to beat Arsenal, an outcome that would end their championship dreams once and for all.
The sense of anticipation is clear – Forest's next game is not only their biggest of the season, it could also be the most special.