Everton v Manchester City: Premier League – live | Premier League
Key events
36 min We're warming up now, Rodri cutting across Gueye to lash a low shot from 20 that Pickford sees early and well, saving down by his near post.
35 min Tarkowsi is so good at making first contact from corners and he heads this one down to the far post, where Holgate lurks! But with the ball skipping off the turf, he can't curl his foot around it as it races across him, spooning over the top fro, three yards.
34 min Everton fancy this now! Garner picks up a loose header from Walker and finds Calvert-Lewin, who nips inside Laporte to open a shooting lane. But as soon as he looks dangerous, Walker bustles over to redeem his error at cost of a corner.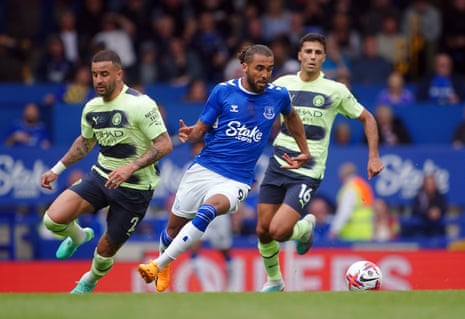 33 min Then, seconds later, Everton counter, someone – Rodri I think – sliding a fine pass into the path of Alvarez. But Gueye and McNeil do superbly to nash back and double-team him, as he too looks for assistance that doesn't exist.
32 min Everton get Calvert-Lewin running through the centre-circle but with none of his mates anywhere near him he checks, and Mahrez obliges by giving him the foul he was after.
31 min City win a corner down the right, it goes shot to Foden – we're seeing this a lot currently – but his low shot is easily blocked. City look bereft of ideas and intensity.
30 min Yup, as soon as I hit save we're shown Haaland's touch map, featuring just two dots. He will not even care a single iota.
29 min Haaland has barely had a kick yet. City have struggled to get their wingers one-on-one or in space, and they're not playing into his feet, so Everton are keeping them pretty quiet. I'd not be surprised to see changes at the break.
27 min Foden slows Patterson up then injects some pace, diddlinp him on the outside before finding for Gundogan, who wins aa corner off Tarkowski. Incredibly, the ball goes along the by-line – what kind of marking is that? – but when it's sent to Mahrez on the edge, he sweeps his shot over the top.
26 min Diaz heads a long free-kick from Garner behind, then Ederson scoops the corner downfield from under the bar. This is pretty even really.
24 min "Imagine being an actual adult man who gets on the way Mina did there?" says Samuel Campbell. "Absolutely embarrassing but no one in authority seems to want to punish players for this blatant cheating so it will keep happening. Really puts me off watching football at the top level."
Not long ago, it was a big issue in the game, but the VAR farrago means no one seems that bothered now. I guess I'm more bothered about lots of other stuff too – timewasting, timekeeping, wild fouls – but yes, Mina was very silly.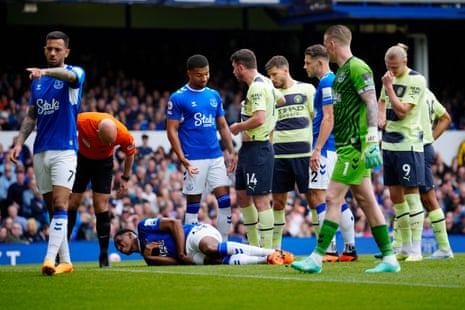 23 min I can't remember the last time I saw City do so little of note in half a half.
22 min Elsewhere, Brentford have taken the lead against West Ham through Mbuemo.
22 min …and Alvarez's cross floats over the bar.
21 min City win a corner down the left…
19 min "Ah Mary, (Waltz of Mary Waltz's Everton)" begins Colin Young. "This ex-Californian shall be a-hunkering too, on this side of the pond. For as much as this means a hell of a lot to you Evertonians, it means as much to us Gooners. I can't think of a worse way to prepare for our crunch match – if we can still call it that against Brighton than with a City thrashing of Everton."
Yup, I remember Rio Ferdinand once saying that his United team watched Chelsea win at Goodison in 2006-07 – Lampard and Drogba both scored beauties that day – and it spooked them so they lost at West Ham, to a goal scored by Nigel Reo-Coker of all people.
17 min Mahrez collects a ball that looked to be running out of play, skins McNeil on the outside and crosses beyond the back post. So City retrieve possession, Foden crossing and Akanji bumping on; for a second, it looked like Gundogan can swivel and shoot from close range. But Tarkowski is wise to the ruse and pokes in a foot to clear.
16 min Mina spends some time on the ground after a penalty-area kerfuffle, though it's not clear what hurt him; perhaps Haaland glanced at him aggressively. But he's up now and City are passing the ball, Everton narrow then shuffling across when they have to.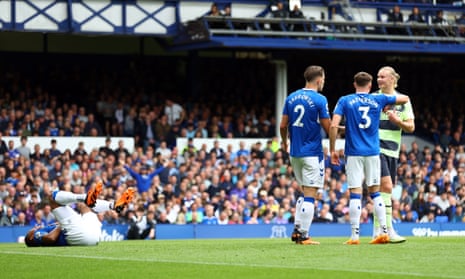 14 min "Rodri is an interesting one," says Jack Roe. "Maybe it's because of his position but he does seem the latest in a line of Pep players who, unlike their boss, seem to despise people enjoying playing football. I think Pep's understanding of the need for a complete bastard in *Our LeagueTM* often gets forgotten when people rattle off his many many (many) talents, Dias, Fernandinho, Kyle Walker etc."
Yup, he's aware that to play football, you need some anti-football too, though i do think his preference for choir-boy personalities has cost him in Europe.
13 min City haven't got their rhythm and tempo going yet, enjoying as much possession as ever but nothing telling or incisive.
12 min Activities in the Gronigen v Ajax game.
10 min "Two sides of the Premiership story this year," writes Justin Kavanagh. "For Everton it's the hope that kills; for Arsenal, it was the hype."
Ha, that's a little harsh as they've got a lot of points, but I do think overconfidence cost them in those two killing draws against Liverpool and West Ham.
9 min Foden down the left, he snaps over a decent cross seeking Haaland, and Tarkowski, who's excellent in a rearguard, heads clear. And Everton counter! Iwobi feeds Doucoure and for a second it looks like he's got time, but Walker has ludicrous recovery pace and tanks over to resolve the situation.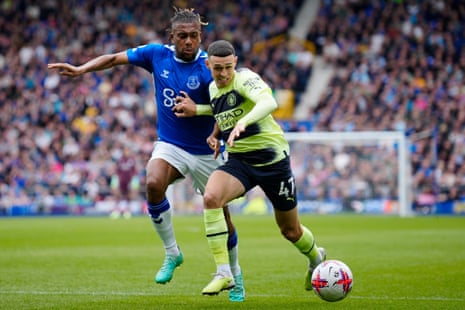 8 min City win a free-kick down the right, just outside the box, which Mahrez curls in … onto Calvert-Lewin's brow, allowing him to thunk away.
7 min They cannot, but City only hald-clear, then Rodri dithers on the ball and Iwobi steps in, Ederson botches a clearance, and though nothing comes of it, it gets the crowd going.
5 min A poor backpass from Holgate forces Tarkowski to insert body between Haaland and ball – rather him than me – but he handles the situation well. Then Doucoure drives forward, feeds McNeil outside him, and his cross is blocked behind for a corner. Can Everton make it count?
4 min City knock it around nicely, the Laporte lofts a pass in behind, to no one. Then Pickford kicks long and Doucoure wins possession in midfield, but his slide through seeking Calvert-Lewin is too strong. Everton won't mind how this has started because they've not really been threatened.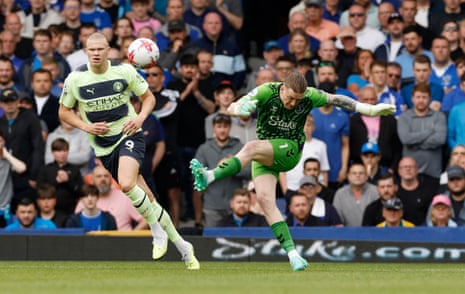 3 min Akanji is filing the Stones role, moving into midfield; Everton should target the space he leaves, if they can get enough of the ball to make things happen.
2 min Coventry v Boro has ended 0-0. Might we get a Wear-Tees final? Tasty.
1 min Immediately City are on the attack, Walker high and wide finding Mahrez … whose cross is poor and humped clear.
1 min It's Laporte at centre-back and Akanji on the left.
1 min Away we go!
"Greetings from California," says Mary Waltz of Mary Waltz's Everton. "I read Eric of Pittsburgh rosy American optimism on Everton's chances against City and smiled. But then I came back to reality. Yes we grabbed a point at the Etihad but that was long ago. City is in champions mode, they know that they have control of the title and they are not going to show an ounce of pity to my boys on blue. I am hunkering down getting ready for the onslaught."
I can see routes for Everton to hurt City, but I've not a clue how Everton avoid conceding at least twice.
"As an Arsenal fan," says Admir Pajic, "I have to clutch at every straw – as slim as it is – for City to drop five points in the last four games while we get all nine from our three games.
My hope stands on these four legs:
1) Everton have already picked up a point v City this season.
2) Chelsea are managed by the guy who took the point v City with Everton.
3) Brighton have been giant-killers over the years.
4) Brentford have already beaten Man City this season.
Then I read Sean Dyche has a draw and 14 defeats v Pep and that's it for me."
He's due!
And here they come!
The teams are tunnelled…
I remember a point in the season at which people were arguing over whether Thomas Partey or Casemiro was the best number 6 in the league. Real talk: it's neither, because Rodri is clear. I remember the first time I saw him too, for Spain against Wales, and it was clear then that he was special, a big, hard, nasty passer.
Up and running:
This should be a jazzer.
Email! "Good morning from Pittsburgh!" declares Eric Peterson. "Ironically, today would be easier without the temptation to consider the reasons Everton might get a result as being reasonably legitimate. I could feel like Lloyd Christmas in Dumb and Dumber ('So you're telling me there's a chance!') and know that I'm just having fun with the fantasy that something other than gloom, despair, and agony awaited me come full time. Today, though, there's Everton's shock win at Brighton last week, the continuing re-emergence of Dominic Calvert-Lewin as a number 9 who looks worthy of an England call-up, Man City's Champions League distractions (or is it the other way around?), and even Everton's 1-1 draw at the Etihad on New Year's Eve. Please, football gods, I know the roller coaster I signed up for, but do you really need to tease me like this?"
Allow me to oblige you: I'd be staggered if Everton got anything out of this one so please, relax and enjoy your Sunday.
A tangential thought: I wish Ryan Giggs had moved into central-midfield at his peak. Obviously he was too good out wide, but Fergie originally thought he'd become a centre-forward – he didn't because his finishing wasn't up to it – but his vision and passing were way better than seemed apparent to begin with, so it turned out he was brilliant in a deeper central role.
On Sky, they're talking about Fill Phoden, and it is a little strange how little he's played this season. It reminds me a little of Ryan Giggs, who had a couple of seasons in the mid-90s, after he broke through, where he spent a little too long trying to become the perfect football rather than focus on what he did well, but I'm certain he'll be back. I remember the first time I saw him play, at age-group level for England, and I immediately told the boys I go watch Man United with that he was big trouble.
Back to Everton, though, I'd back them to get out of it from here because I think they'll win at least one of their last two, and Leicester were dreadful at Fulham on Monday.
Pep Guardiola says Nathan Aké is much better but not quite there yet, and he's not thinking three more wins for the title, he's thinking win today. He was impressed with how Everton played at Brighton – in transition, at set-pieces and with their defensive organisation. He's not too fussed about the crowd because it's always a factor in England, and every team always has something to play for.
After today, Everton have Wolves away then Bournemouth at home, while Leeds, a point behind have West Ham away and Spurs at home, and Leicester, two behind, have Liverpool home, Newcastle away, West Ham home. So it may be that Everton have enough points already, but one more win and they're nearly there.
If I was Everton, so I guess also were Everton a person, which it isn't, I'd be concerned about the trident behind Erling Haaland of Mahrez, Alvarez and Foden. Each poses a different threat, and each knows they're playing tonight because others are likely to be picked ahead of them in midweek. So they're not only playing for the title, they're playing for places, and I'm not certain I know how Gueye and Garner will keep track of them.
Micah Richards just said that as a bloke, Jordan Pickford reminds him of Joe Hart. I wonder how he'd like that.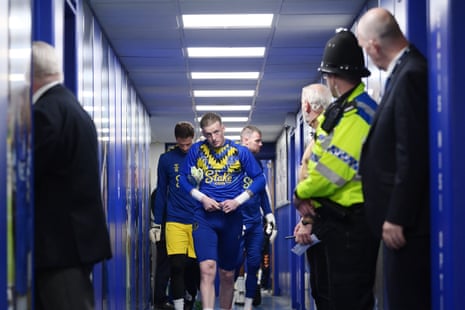 Dyche was happy with the performance against Brighton and confirms Mykolenko is injured – a slight thigh-strain acquired in training yesterday. On the difference between Brighton and City, he explains that the former play a specific style whereas City have the ability to cycle through different ones. His side need to start well then take it from there.
Tangentially, I enjoyed Nick Ames' interview with Kieran McKenna. It's funny how well Ole Gunnar Solskjaer's coaches are doing, given how a lack thereof was deemed a major reason for his ultimate failure as Man United manager.
Also going on:
That City side has obviously been selected with Wednesday in mind, and has some serious firepower on the bench. My guess is that Everton look to get at City in wide areas – whether it's Laporte or Akanji at left-back, neither is a natural in the role – and I daresay Calvert-Lewin fancies himself, in the air especially against Dias and whoever it is alongside him. James Garner delivers an excellent dead ball, and with Tarkowski, Mina and Doucoure there to attack everything, set-pieces might be important.
As for City, I imagine they'd have rested loads had Arsenal not beaten Newcastle last Sunday. But they need to keep winning, so Pep Guardiola makes four alterations to the side that drew 1-1 at the Bernabéu in midweek: out go John Stones, Bernardo Silva, Kevin de Bruyne and Jack Grealish; in come Aymeric Laporte, Riyad Mahrez, Phil Foden and Julián Álvarez.
So what does it all mean? Well, Sean Dyche makes one change to the side that so clattered Brighton, Vitalii Mykolenko replaced by Mason Holgate. Mykolenko isn't in the squad, so could well be injured.
Everton (a deep 4-2-3-1): Pickford; Patterson, Mina, Tarkowski, Holgate; Gueye, Garner; Iwobi, Doucoure, McNeil; Calvert-Lewin. Subs: Begovic, Lonergan, Keane, Onana, Gray, Maupay, Coady, Simms, Welch.
Manchester City (a 4-2-3-1 and various others things besides): Ederson; Walker, Laporte, Dias, Akanji; Gundogan, Rodri; Mahrez, Foden, Alvarez; Haaland. Subs: Ortega, Moreno, Phillips, Gomez, Palmer, Lewis, Stones, Grealish, De Bruyne, Silva.
Referee: Anthony Taylor (Wythenshawe)
The ability of sportsfolk to deliver – from day to day on the training ground, from week to week on the pitch and from season to season overall – is a frankly ridiculous state of affairs. I mean, seriously: imagine going to work and trying hard every day. Not for us, Clive.
So in a sense, we shouldn't be surprised that Manchester City seemed to ease off the gas at the start of this season. Once it became apparent that Liverpool were ailing, they could easily have concluded that there was no serious challenger to their bid for a third consecutive title, backing themselves to get at least one more point than Arsenal – whatever happened, and however many that ended up being.
With good reason. But when they failed to punish Arsenal's defeat at then-bottom Everton, losing the following day to Spurs of all teams, then followed Arsenal's late win at Villa with a draw at Forest, the suspicion was that they'd miscalculated.
Er, or not. Since then, City have won 10 league games in a row and are hitting squeaky-bum time on an Imodium and caffeine speedball, hot favourites for the title with a derby Cup final and the Champions League also theirs to lose.
A week ago, this afternoon's trip looked like an easy three points. But then in midweek, Everton – without a win in two months – went to Brighton – perhaps the side most similar in style to City – and devastated them, such that they hit the weekend in form and out of the bottom three.
Of course, the likelihood is that City turn them over nevertheless, but Everton's support played a massive part in keeping them up last season and we can be sure that the Goodison will be absolutely steaming this afternoon. If Sean Dyche's side can stay in the game, things could quickly get interesting.
Kick-off: 2pm BST