Eternal rivals Lazio and Roma dreaming of the Champions League | Serie A
The Scudetto is still heading to Naples, but for one weekend Serie A belonged to the city of Rome. On Friday, Lazio toppled the league leaders at their own stadium. On Sunday, Roma beat the Juventus side who would be second if it weren't for the 15-point penalty given to them at the start of this year.
Both games followed a similar pattern in being settled by a second-half goal. Lazio's reward was to finish the weekend third in the table. Roma are one point behind them in joint-fourth.
Where the title race has become a procession, the scrap for Champions League places is as intense as it has been for years. Inter, in second place, are one win ahead of Roma and Milan. Atalanta have slipped lately, but remain within touching distance and Juventus could leapfrog all of them should their deduction be overturned on appeal.
Among the many potential outcomes, both Rome clubs qualifying together stands out simply because it is so rare. Not since 2007 have Lazio and Roma played in the same edition of Europe's top club competition. Different times, back when Goran Pandev and Tommaso Rocchi were top-scoring for the Biancocelesti, while Francesco Totti and Daniele De Rossi sparkled in red and gold.
The biggest names of the current teams may be the managers. José Mourinho got his own mural when he joined Roma in the summer of 2021, riding a scooter with a logo to remind us he was still the "Special One". Lazio supporters updated it with an image of Maurizio Sarri blowing cigarette smoke in his face.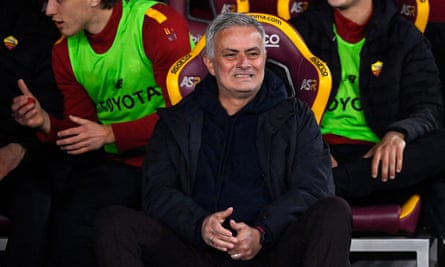 There is something about each of them that just seems to fit, resonating with the specific culture of their team's fanbase. Roma's supporters have embraced Mourinho's demand for total commitment, providing sell-out crowds every week at the Stadio Olimpico. Lazio supporters see in Sarri a fellow outsider, a man of substance over style who skewers the hypocrisies of modern football with his blunt and unrefined persona.
He delighted them again on Friday when invited to compare Luciano Spalletti's Napoli with the side that fell just short of the title under his management in 2018. "There are different kinds of beauty you know," he said. "If you like blondes and a brunette walks by you don't say that they're ugly."
The main difference, he said, was that this season's Napoli are going to win and for that he "envies Luciano to death." For one evening, though, he had outmanoeuvred his counterpart, deploying Lazio in a compact 4-3-3 with the distance from centre-backs to centre-forward kept to a minimum. His team mostly left the ball to their opponents, but starved Khvicha Kvaratskhelia and Hirving Lozano of space to run into and swamped Stanislav Lobotka in the middle.
Lazio's goal arrived from an unlikely source, Matías Vecino drilling home from outside the box on his team's third shot of the game with less than 25 minutes left to play. But you could not say it came out of nowhere. The 90 seconds preceding were pure Sarri-ball, Lazio enjoying their most sustained period of possession as they worked quick passing triangles through midfield.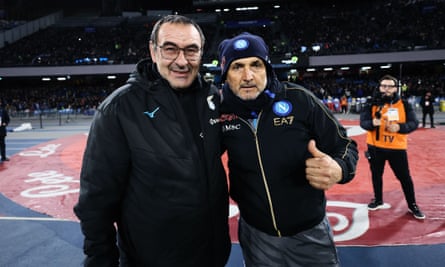 They rode their luck at the end when Victor Osimhen's header from a corner came back off the bar, but what team escapes the Stadio Diego Armando Maradona without giving up at least one chance to the best centre-forward in the league? Lazio had stolen nothing. Vecino had almost scored an earlier goal in the fifth minute and their whole team defended as one, from Ciro Immobile up front to Alessio Romagnoli at centre-back.
It was a similar story for Roma. Mourinho showed his handf, omitting Tammy Abraham and Andrea Belotti from his starting XI and deploying Georginio Wijnaldum as a notional trequartista behind Paulo Dybala up front. It looked less like the usual 3-4-2-1 and more like 5-5-0.
Just like Lazio, Roma let their opponents have the ball, but rarely in dangerous positions. Just like Lazio, they broke the deadlock with a second-half shot from outside the box. The source was even more improbable, centre-back Gianluca Mancini rifling home his first league goal since 2021.
Juventus hit the woodwork at the end of the first half and would do so twice more, Juan Cuadrado clipping the post from a free-kick and Mancini deflecting against it at a corner. But Roma kept cool heads where their opponents couldn't. Moise Kean entered the game as a 90th-minute substitute for Juventus and was sent off for kicking Mancini 40 seconds later.
Mourinho, for once, kept his own emotions in check. He had been suspended for this game after a red card during Tuesday's 2-1 defeat to Cremonese, but that verdict was stayed so the sporting justice could consider fresh evidence from Roma's appeal. Mourinho was dismissed for words spoken to the fourth official, Marco Serra, but Serra has been accused of acting in an unprofessional manner.
It remains a curious detail that Mourinho has seen red three times this season, while none of his players have been sent off. Roma have been quietly excellent in their defending – with the lowest expected goals against of any team in Europe's' top five leagues, according to Understat – and despite attempting the fifth-most tackles in the division, they commit the fifth-fewest fouls.
The knock against Roma before Mourinho arrived, and continuing through his first year there, was that they rarely beat the big teams. In this campaign they have taken four points off Juventus – making this the first season since 2003-04 they have avoided defeat – and the same from their two games against Inter and Milan.
It is consistency that eludes them. Even after this win, Mourinho could not stop referring back to his team's loss to Cremonese, who sit bottom and had not won a league game all season, but who knocked Roma out of the Coppa Italia. "I'm still bitter about it," he said. "Maybe it's in the DNA of the club to have these highs and lows, that's the most difficult thing to change."
Wins like this one can help to shift a narrative. Corriere della Sera noted in a piece beforehand that not a single player in Roma's first-team squad could boast a winning record against Juventus. Now, a handful can. Belotti, a second-half substitute, could at least enjoy the feeling of beating them for the first time at the 17th attempt.
Small steps on the path back to Champions League football? Time will tell. Roma face Lazio in two weeks' time and they have more than each other to worry about. This was just one weekend in a season of twists and turns. It was a good one, though, for both halves of the city of Rome.