England v Iran: World Cup 2022 – live | World Cup 2022
Key events
HALF TIME: England 3-0 Iran
England have positively flown out of the blocks at the 2022 World Cup. Iran, remember, are renowned for their defensive nous. But now look! Gary Naylor suggests how to make a great half for England even more productive: "Kane can come out with the armband for the second half, take the yellow card and carry the Fifa-bothering cloth aloft as Callum Wilson comes on as a substitute."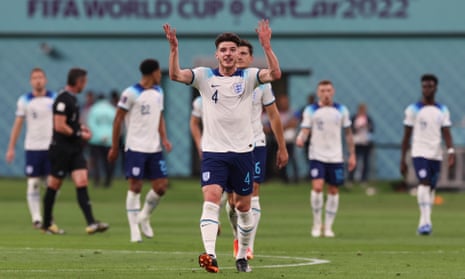 45 min +14: A free kick for England 30 yards out, a little left of centre. Shaw hoicks it in. Maguire isn't expecting it to get through to him on the right-hand corner of the six-yard box. He can't control. Neither can Stones. Iran clear.
45 min +12: The England band are playing Jingle Bells. At a World Cup.
45 min +11: Pickford still hasn't had anything to do. But he should have. Trippier and Rice get careless in the centre circle, and that allows Iran to break three on two. Hajsafi finds space down the left, and crosses long for Jahanbakhsh, all alone on the penalty spot. He has time to take a touch, but goes for the spectacular volley instead. The ball flies many yards above the bar.
45 min +10: Jordan Pickford has had absolutely nothing to do.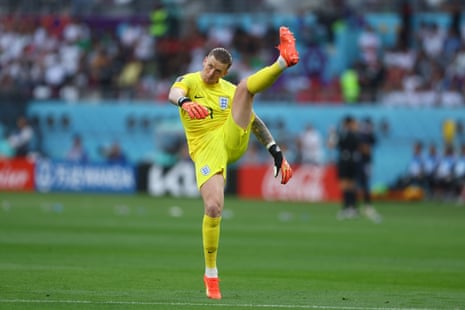 45 min +8: Stones tries to release Sterling with a long pass. Not quite. "The short amount of time teams had to prepare for the tournament must be playing its part here," argues Kári Tulinius. "Iran do not look like a team that have had much time being drilled defensively by Carlos Queiroz. He must be ripping chunks of his hair out on the sidelines."
45 min +6: England stroke the ball around the back in the casual style. Their fans, more of them now in situ, are making the sort of noise that goes with a three-goal lead.
45 min +4: Trippier's persistence wins a corner down the right. Nothing comes of the corner, though the ball nearly drops to Saka. He can't control, but Hajsafi had nibbled at him from behind, and had he gone down, the referee would have had a penalty decision to make. Saka too honest?
45 min +3: That goal came in the first of 14 added minutes. Iran have been totally ripped to shreds here. England, after a slow start, have been sensational.
GOAL! England 3-0 Iran (Sterling 45+1)
There's going to be a lot of added time, and the half-time whistle can't come soon enough for Iran! Bellingham latches onto a loose ball in the middle of the park and suddenly launches a three-on-two attack! Bellingham slips a pass down the right for Kane, who initially looks to have gone down a cul-de-sac, but digs out a low cross. Sterling meets at the near post, ten yards out, and forces into the bottom right!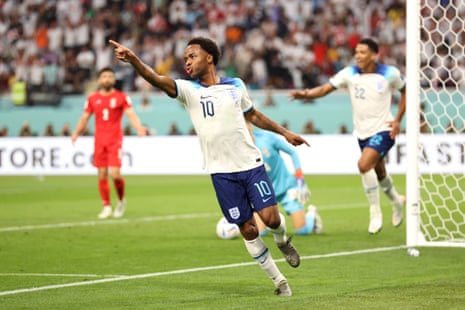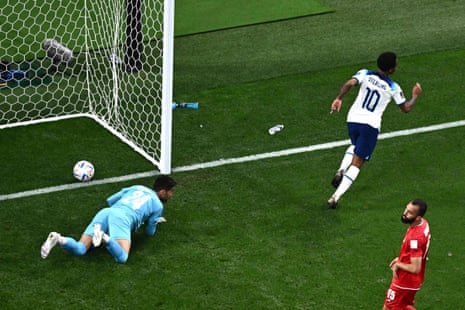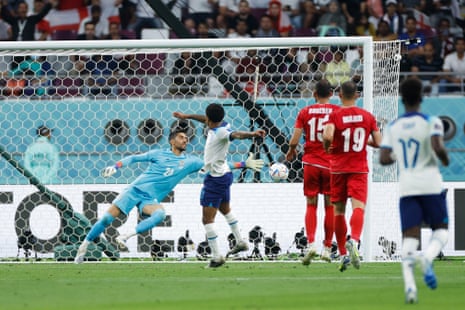 44 min: Iran are incensed, claiming Maguire had piggybacked on Cheshmi and Jahanbakhsh when winning his header. But there was nothing in it. Good goal!
GOAL! England 2-0 Iran (Saka 43)
This is an absolute peach! Mount and Sterling combine down the left to earn a corner. Shaw sends in a long outswinger. Maguire heads down for Saka, who meets the bouncing ball and creams a looper into the top-right corner!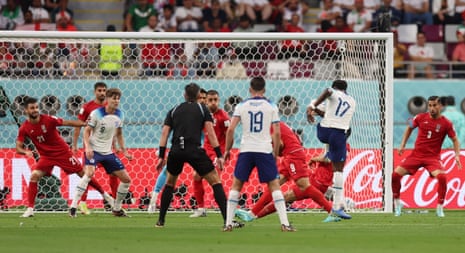 42 min: A few discordant horns in the crowd. Think the England band featuring Ornette Coleman on vuvuzela.
40 min: … so having said that, Mohrrami makes good down the right only for his low cross, intended for Taremi, to be intercepted in the box by the telescopic leg of Rice.
39 min: No discernible change in Iran's defence-first tactics yet.
37 min: That was Bellingham's first goal for England. It won't be his last. Tell you what, it was one hell of a cross by Shaw, too. A simple but very aesthetically pleasant goal.
36 min: Iran are reeling at the concession of the goal, and Kane should slip Mount clear into the box down the inside-left channel. But he clanks an uncharacteristically dismal pass out for a goal kick.
GOAL! England 1-0 Iran (Bellingham 35)
Yep, that had been coming … for the last five minutes. Shaw gets into some space down the left. He crosses. Bellingham rises highest, and guides an unstoppable header into the top right from eight yards. Nothing to do with pace; all precision. Exclusive breaking news: this lad's not bad at all!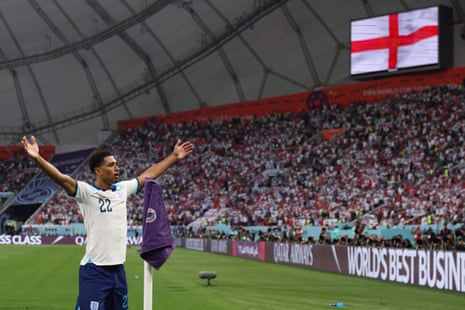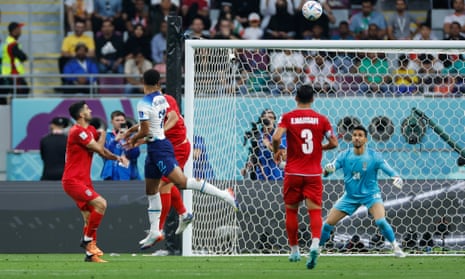 34 min: England have picked it up in the last few minutes. It's still attack versus defence, but now attack looks a little more likely to break through.
32 min: Trippier floats the corner into the mixer. Maguire, who knows a thing or two about scoring at World Cups, wins the header and steers it towards the top-left corner. It's a gorgeous header, but it clanks off the underside of the bar and away. So close to the opening goal!
31 min: Sterling nutmegs Majid Hosseini down the right, lovely skill that leads to an England corner. Trippier to take.
30 min: England finally put something together. Saka and Sterling combine cutely down the right, the former cutting a ball back, then running onto the return pass. He crosses towards Mount, rushing in at the near post. Mount swishes into the side netting. Hossein Hosseini had it covered.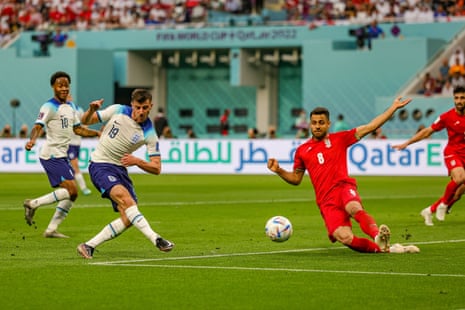 28 min: Saka cuts in from the right and sends a soft low curler into the arms of Hossein Hosseini. Warm applause for the substitute keeper as he makes the easy claim, his first act since coming on for Beiranvand.
27 min: England have enjoyed 73 percent of possession so far. Not sure this "In Contest" thing (14 percent to Iran's 13, for the record) will catch on. Which probably means it almost certainly will. You can bore anyone prove anything with stats.
25 min: Jahanbakhsh goes into the book for standing on Shaw's foot. Late and clumsy more than aggressive, but Shaw will have felt that nonetheless.
24 min: Beiranvand's substitution falls under concussion protocols, incidentally. So Iran can still make five changes. Not sure Beiranvand will be available for any more of Iran's group games, though, even if he does recover in time.
23 min: Jahanbakhsh hoicks in from the left. Trippier clips clear. Everyone's understandably all over the place at the minute, no surprise in the wake of that long, long, long stoppage.
22 min: Iran restart the quicker. Bellingham carelessly runs into the back of Hajsafi out on the Iranian left, and this is a free kick in a dangerous position.
20 min: This outcome was obvious to everyone but Iran from the get-go. Beiranvand tipped away from Sterling brilliantly and bravely, only to accidentally smack into his team-mate Majid Hosseini at full pelt. The keeper is replaced by Hossein Hosseini.
18 min: On comes the stretcher. This should have happened the best part of ten minutes ago!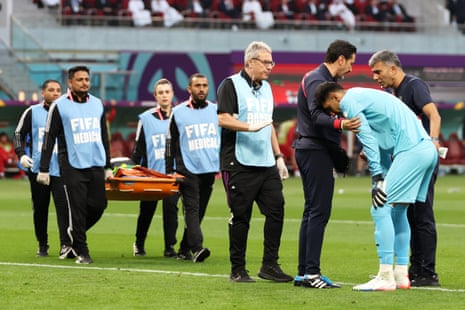 17 min: Beiranvand performs the internationally recognised hand-jive mime for Substitute Me. He lies back down on the turf, and now Hajsafi does the hand-jive too.
16 min: Beiranvand takes the goal kick. It'll be interesting to see how much longer he lasts.
15 min: Beiranvand, having taken off his gloves in order to depart, changes his shirt, then puts the mitts back on! Concussion protocols and all that … this doesn't look a wise move by Iran on more than one level. Beiranvand looks extremely groggy as he prepares to restart the game by taking a goal kick.
14 min: Beiranvand is about to be led off … when his captain Hajsafi flings the contents of his water bottle in the keeper's face. He doesn't want Beiranvand to leave. He's trying to revive his team-mate and buy some time.
12 min: Beiranvand is sitting up now, but … hold on, scrub that, he's lying down again. Surely he'll not be able to continue? They're desperately trying to stem the flow of blood from his nose.
11 min: Hosseini is back up soon enough, but poor Beiranvand looks extremely groggy. Lucky he's wearing a red shirt, for reasons that won't need explaining. The magic sponge is applied, but the keeper needs a quick lie down. Not sure he'll be able to continue.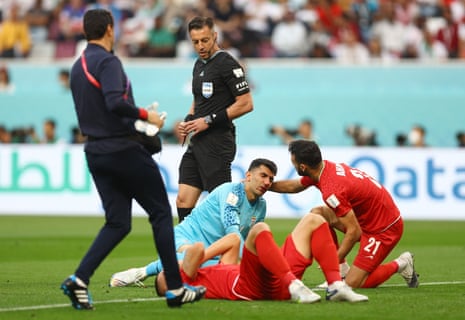 9 min: That was a lovely cross from Kane, and some fine goalkeeping. Brave, too, because Beiranvand takes a whack full in the face from his own man Hosseini. Ooyah, ow, oof, that was flush in the coupon, at full speed too. Both players go down.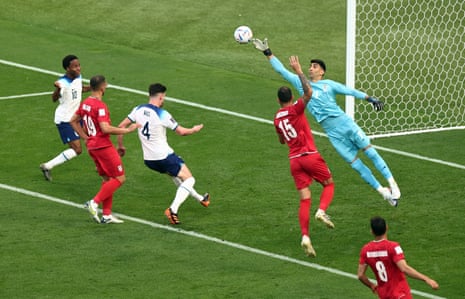 8 min: Saka dribbles with pace and purpose down the inside-right channel. He's fouled a couple of times. The free kick's sent down the right by Trippier, who finds Kane. The captain whips a fine cross into the middle. Beiranvand fingertips away from danger, with Sterling lurking to head home, and Maguire trundles the ball out at the far post. Fair enough, he had no time to react.
6 min: The pattern of this game appears to have been set early. Iran sitting back. England seeing a lot of the ball. Shaw hooks in from the left but there are a lot of red shirts in that box and one of them easily clears.
4 min: VAR takes a look at the Cheshmi bear-hug, but concludes there's nothing in it. Meanwhile here's John Swan: "The whole point of a protest is that by its nature you're saying something against a prevailing attitude or culture, which means you're likely to get pushback. If you then immediately fold and go, oh well fair enough, we won't say anything, then I have one word for you – pffffffft."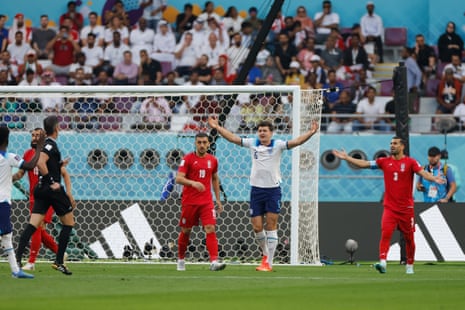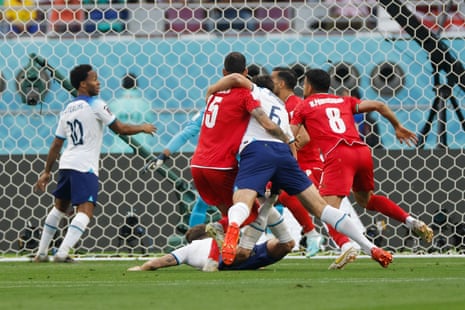 3 min: Mount's presence down the left earns England the first corner of the match. For Queen and country. Trippier comes over to take it … and sends it straight over everyone's head and out for a goal kick. Maguire goes over, mid-hug with Cheshmi. England want a penalty but they're not getting one. You've seen them given for less.
2 min: Iran ship possession and quickly assume their low block. Trippier swings one in from the right but there's nobody in white gambling. Iran clear. "In solidarity with the LGBT community we are not watching the matches in our household," writes Katie Jones. "We are following the Guardian MBM instead. This is our form of boycott to get the viewing figures down. Looking forward to the MBM. We do expect to see goals in the 6pm news :)"
… and finally some football … although it only begins after England take the knee. Iran get the ball rolling.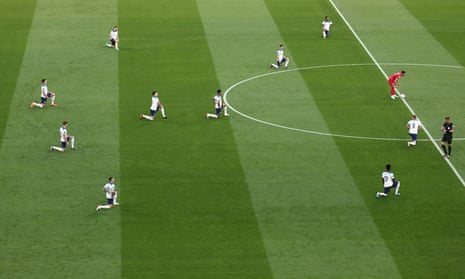 Fifa's official response.
… though the stadium's still not full. On that subject, Sean Ingle reports: "Fifa has acknowledged ticketing issues for fans trying to enter the stadium. It says some supporters are experiencing a problem with accessing their tickets via the Fifa ticketing app and that those affected need to access their email for further instructions or go to the stadium's ticket resolution point for support. Fifa said it was trying to resolve the issue. With the players coming out if appears the game will start on time."
The teams are out! England in white, Iran in red. The anthems. Mason Mount with a loyal rendition of "God Save the Queen". Hey, some habits die hard. Iran's supporters meanwhile give their own anthem the bird. We'll be off in a couple of minutes.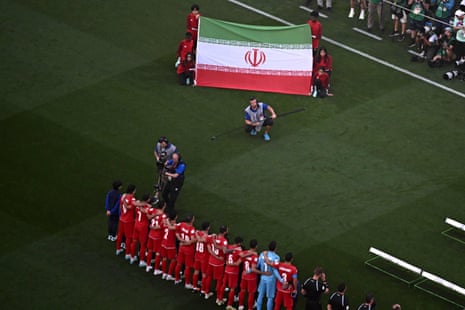 There's more of your reaction to the armband fiasco, too. "It's hard not to compare Ehsan Hajsafi's risking his personal safety and freedom to criticize the situation in Iran with the European FA's unwillingness to get a yellow card" – Zach Neeley.
"The only armbands needed today are those of the various Football Association's performativity swimming around the shallow end of protest" – Jaz Evans.
"There are five substitutes allowed. Send on a squad player as 'captain' with the One Love armband, then sub them off after 30 seconds. Double the focus as the quickest substitution in World Cup history is made; and surely England don't need to use all five substitutes in a 90-minute game against Iran? Just a thought, if the commitment is really there" – Iain Pearson.
More from Jacob. "It's pretty cool inside. Not too hot outside either. It was way hotter at England v Croatia in London."
As if this World Cup wasn't already farcical enough, there are reports of ticketing problems at the Khalifa International Stadium. With kick-off fast approaching, the stadium is far from full, and some England fans have been queuing for over two hours to get in. Our man on the ground, Jacob Steinberg, reports that "the website has crashed, which means you can't access e-tickets, so they are trying to give people paper tickets." Shades of this year's Champions League final with ticketing chaos outside. Jacob also adds: "I can confirm me and Barney Ronay have had to put headphones in as the sound system at this stadium is so loud. The woman with the mic is screaming into it, as if she doesn't know how microphones work."
The Iran team are playing with a backdrop of civil unrest back home. Their captain Ehsan Hajsafi has told a press conference: "My condolences to all the mourning families in Iran … we stand with them and share their pain … we must accept that conditions in our country are not right and our people are not happy … my people are sad and our presence here does not mean that we cannot be a voice for them or should not respect them … we owe our lives to our people and we are here to work hard, fight, show our best performance and score goals, and present them to the bereaved Iranian people … I hope that things will improve and everyone will be happy."
The BBC's Alex Scott is pitchside, discussing the 30-degree-centigrade conditions, but more pertinently wearing the aforementioned One Love rainbow armband in marvellously conspicuous style. On that subject, Gerry from Queens, New York City writes: "With all due respect to the captains/teams, I think it shows a lucklustre commitment to their activism to back down on the rainbow armbands. If you are really committed to bringing attention to this injustice, take the sanction: it would allow Fifa themselves to increase focus on politics of this issue if the refs show a card (or whatever else), and this discussion would be amplified many times over. Instead, players show us that at the end of the day fighting injustice is less important to them than sport: exactly the point Fifa was hoping we's all take from this World Cup."
Gareth Southgate speaks to the BBC. "We've maximised the time. We've spent the first part of the week exciting people about being involved in the World Cup, and the latter part, since we got here, on the training pitch. And I'm really pleased with the way the players have approached everything. We feel this is a strong team, a strong way to start, and great depth to come in. We want to be positive and play on the front foot."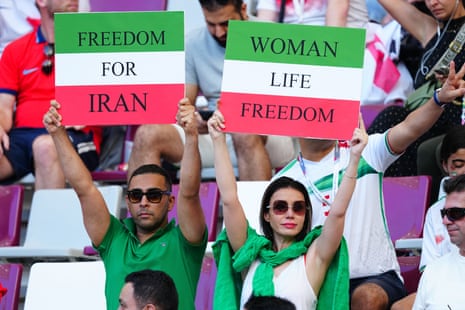 … and as for the One Love armband brouhaha … "A lot of discussion has been going on without me involved, because I've been focused on the game. We're wearing the Fifa armband that was decided on by the collected federations overnight, I believe. We are in the middle of that and are just trying to focus on the game, frankly."
Harry Maguire gets the nod despite being a spare part at Manchester United these days. Raheem Sterling meanwhile is preferred to Phil Foden up front. A positive 4-3-3. James Maddison is out nursing his sore knee.
Iran's star forward Sardar Azmoun begins his World Cup on the bench. The Bayer Leverkusen striker hasn't played since injuring his calf at the start of October. Mehdi Taremi of Porto leads the line.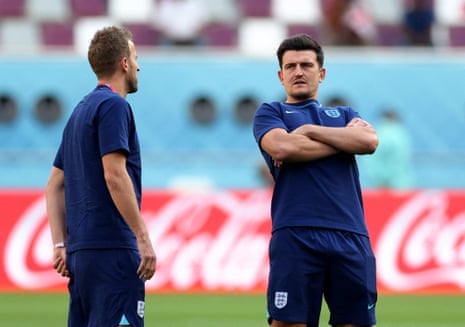 England: Pickford, Trippier, Stones, Maguire, Shaw, Bellingham, Rice, Saka, Mount, Sterling, Kane.
Subs: Walker, Grealish, Henderson, Rashford, Pope, Phillips, Dier, Coady,
Alexander-Arnold, Foden, White, Ramsdale, Wilson, Maddison, Gallagher.
Iran: Beiranvand, Moharrami, Pouraliganji, Cheshmi, Majid Hosseini, Mohammadi, Noorollahi, Karimi, Hajsafi, Jahanbakhsh, Taremi.
Subs: Khalilzadeh, Ezatolahi, Ansarifard, Amiri, Niazmand, Kanaani, Ghoddos, Torabi, Gholizadeh, Azmoun, Abedzadeh, Rezaeian, Seyed Hosseini, Jalali.
Fifa are a shower (pt XXXVIII in an ongoing series). Shame all the associations didn't stand their ground.
Let's warm up for the big one by going through our cognitive-dissonance drills. Everyone ready? Here we go, then. To cover isn't to condone; to watch, listen and read implies no approval; to feel a pang of That Old World Cup Fever obligates nobody to feel any guilt or shame. This is Fifa's burden to carry: enjoy the football, and don't let them foist a single scrap of their terrible karmic load onto you.
But of course the enjoyment of football is a very nebulous concept, especially when you're watching your team trying their best at a World Cup. And right on cue, here come England! Gareth Southgate's side came fourth in 2018 and were a penalty competition away from becoming champions of Europe last year. On the other hand, they haven't won in six, a sequence which includes their biggest home defeat for 94 years. They're about to either make the final step to glory, then, or signal the end of a goldish era that promised pretty things and nearly delivered some of them.
They should be too good for Iran. But then everyone said the same about Scotland in 1978 and the USA two decades later. At the last two World Cups, Iran gave Argentina, Spain and Portugal a game. More pertinently, Carlos Queiroz's 2022 version have recently beaten hipster-dark-horses Uruguay and African champions Senegal. They don't concede too many, so given England's recent net-finding travails – plus the Three Lions' habit of starting World Cups slowly ­– Iran may fancy their chances of opening Group B by springing a surprise. Kick off is at 1pm GMT, 4pm at the Khalifa International Stadium in Doha. انه يحدث! It's on!