Enciso rocket halts Manchester City and confirms Brighton's Europa League spot | Premier League
Manchester City had already sewn up the Premier League title, their fifth in six seasons; a three-peat complete. They have a couple of finals coming up that you might have heard about. So what was their motivation here?
Brighton had confirmed their place in next season's Europa League – unless you believed that a 17-goal swing in two defeats against City here and at Aston Villa on Sunday was plausible. They had an outside chance of overhauling Liverpool for fifth place, although that would not have brought any tangible reward. Same question. What was their motivation?
The answer for City, perhaps, was to showcase their winning mentality, to maintain momentum for the historic challenge ahead. But, really, it boiled down to professional pride. Just as it did for Brighton, the desire to put on a show – even after all of the shows that both clubs have staged during seasons they would each describe as epic.
What a game this was, especially in the first half when Julio Enciso's firecracker cancelled out Phil Foden's opener for City. There was a moment in the 72nd minute when Pep Guardiola came onto the pitch to return the ball for a City free-kick with a sweeping left-footed pass, the years rolled back.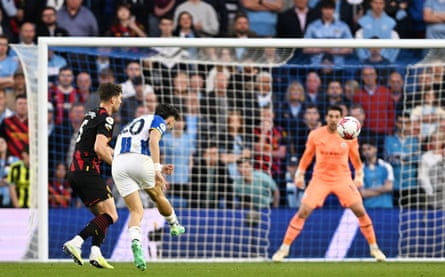 Guardiola was all smiles then. It would be a different story on 79 minutes when Erling Haaland had a goal chalked off by the VAR for a shirt tug on Levi Colwill. When the replay was shown on the big screen, Guardiola would rage at the fourth official. He ended up with a yellow card. Guardiola is not used to results slipping from him.
Mutual respect was a theme, caught by the love-in between Roberto De Zerbi and Guardiola, the latter having described the former on Tuesday as "one of the most influential managers in the last 20 years." Wow. De Zerbi has tremendous admiration for Guardiola, calling him the best coach of the last 30 years.
What Guardiola likes about De Zerbi is his fearlessness, how his team risk the ball at the back to spring forward, their possession, their chance creation. It was easy to imagine him agonising over how to play this game, thinking it through and then thinking it some more.
What Guardiola came up with was Rodri in central defence alongside John Stones – to counter Brighton's non-typical No 9s, Danny Welbeck and Enciso – and Rico Lewis at left-back, with the licence, of course, to step up and inside. Guardiola wanted comfort on the ball and superior numbers in a flexible midfield set-up.
Brighton did what they normally do – quick, choreographed movements; all highly technical – and it was a fascinating, frenetic watch, the chances flowing from the outset.
Foden was a blur of silky left-footed touches and sharp turns, although it was with his unfavoured right foot that he found the breakthrough after Riyad Mahrez had released Erling Haaland.
Haaland had previously blown two chances that he would have expected to score – a header from a Foden cross and a one-on-one, also from Foden, Jason Steele blocking bravely. Now Haaland went left to Foden, who danced inside and shot, a little scruffily. Jan Paul van Hecke might have cleared on the line. Instead he diverted the ball in.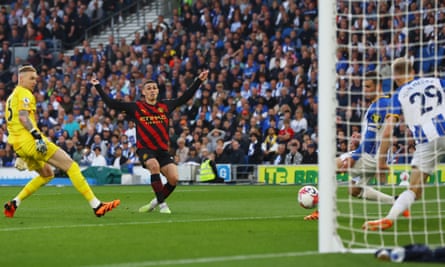 By then, the excellent Welbeck had bent a free-kick onto the crossbar with Stefan Ortega well beaten, which was not alone along Brighton's early efforts. They kept on coming, from all angles and at speed.
Kaoru Mitoma handled as he bundled a ball over the line; Facundo Buonanotte exploded past two City challenges to work Ortega. Enter Enciso. Picking up possession in between the lines, he looked up and unloaded from 25 yards, sending the ball with geometric precision into the far, top corner.
Enciso could not have placed the ball more perfectly had he stood underneath the crossbar and used his hands. The technique was astonishing. He cut across it with his right boot; there was dip and swerve but overall just purity. Welbeck had the ball in the net on 44 minutes only to be flagged offside and Foden then headed inches off target at the other end. It was breathless stuff.
Another day, another guard of honour. City had enjoyed the gesture from Chelsea on Sunday – the occasion of their title coronation – and they filed on to the pitch before kick-off here in between two lines of applauding Brighton players and management staff.
Nothing at stake? No chance. Never mind De Zerbi versus Guardiola, every player appeared hellbent on showing what he could do and that extended to some of the moves, the touches. It was such a pity that Foden was forced off early in the second half; he was in the mood. Van Hecke had pulled off an outrageous trick inside his own area under pressure early on while Pascal Gross seemed to want to perfect his Cruyff turn.
The second half began in slightly more measured fashion, although you could not take your eyes off it. Ilkay Gündogan lashed past the far post; Foden's replacement, Cole Palmer, blasted at Steele. At the other end, Mitoma volleyed high while he was also denied at close quarters by Ortega.
Pervis Estupiñán would zing a shot just wide and then there was Haaland, smiling in celebration – yet again – after a Palmer cross. It would quickly fade.