Eamonn Bannon on Dundee United's class of 83: 'The shame is it will never be repeated' | Dundee United
On 15 May 1983, Eamonn Bannon should have been part of Dundee United's squad at a civic reception. This extraordinary team under an extraordinary manager, Jim McLean, had won the Scottish Premier Division a day earlier. Bannon scored United's second goal in a 2-1 win at the home of Dundee, United's great rivals. "The real shame is it will never be repeated," Bannon says. "Unless Dundee United are bought by a Middle Eastern country."
Bannon was honouring a prior commitment. "I had agreed to play in a testimonial for Jim McArthur, the Hibs goalkeeper," he explains. "I drove to Edinburgh that Sunday, rain coming down like stair rods. Hungover."
Bannon was to come up against the former Hibs and Newcastle defender, John Brownlie. "I'm left-wing, he is right-back," Bannon says. "Two minutes into the game, he sticks me up in the air. That was it, game on. Suddenly I'm going crazy. It was only at half-time I asked myself why I was having a running battle with this guy. Twenty-four hours earlier, we won the league."
Bannon was again a notable absentee as United's class of 83 took to the field at a recent Tannadice fixture to mark the 40th anniversary of the only top-fight title in the club's history. Where was the man who scored a rebound from his own saved penalty to send United two up at Dens Park?
"I said to the guy: 'I think it's time to draw a curtain over it,'" says Bannon of his response to being invited back. "I think it casts a bit of a shadow over players who are at the club. When I was a player, they used to drag old players who had won the cup out and I thought: 'God help me if I ever end up like that.' I'd love to meet up with the boys, a private thing, just for old times' sake, but something the club organise and going on to the pitch? Nah, it wasn't for me."
Bannon always was an original thinker. He probably never received the credit he deserved for his elegant while hugely effective playing style. Hearts pleaded with him to move to Chelsea in 1979 – the Tynecastle club were desperate for cash – but Bannon's time at Stamford Bridge was doomed after Danny Blanchflower was replaced by Geoff Hurst. "I don't think he was very keen on Scottish people," says Bannon of England's 1966 World Cup hero. "He probably spent half his life getting abuse from Scotsmen."
As was a typical policy of United's manager, McLean stepped in when Bannon was seeking a route back north. United sold Ray Stewart to West Ham for £440,000 and spent £165,000 on Bannon, making him by far the dearest recruit in the title-winning squad.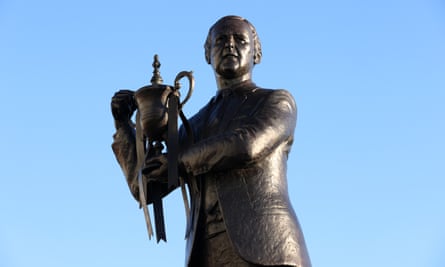 Bannon's salary dropped from £440 a week at Chelsea to £125, plus £100 per appearance and win bonuses. Stories circulated that the low basic salaries of United players caused them problems when pursuing mortgages. "Bank managers were very sympathetic to footballers," Bannon recalls. "Boys could show over the previous year they earned more than £125 a week. I got a mortgage at Chelsea that I should never have got but the manager was a Chelsea supporter. I could have had double if I wanted."
United profited on the pitch. The team – including Hamish McAlpine, Paul Hegarty, Maurice Malpas, Richard Gough, David Narey, Paul Sturrock and Ralph Milne – still rolls off the tongue. They were a force in Europe, as were Alex Ferguson's Aberdeen, who won the Cup Winners' Cup days before United triumphed at Dens.
"We were very similar, so close," Bannon says. "Fergie was clever, he would speak about the Old Firm and all the advantages they had. From 80-81, when the season began you thought you could win the league. No set of players outside of Celtic and Rangers can think that now."
McLean, who died in 2020, was wildly superstitious. This was one of many quirks from a coach regarded as a genius but a flawed one. Bannon's relationship with the temperamental McLean was not so much complex as nonexistent.
"Jim McLean would charm the socks off anybody away from a football ground," Bannon says. "He was a bit like a clever politician, he could say all the right things. The man gave his life to Dundee United, you can't fault him there. It was 24/7. But he just started to go crazy. The trouble was, we were successful so he got worse and worse."
Bannon's view is not held in isolation. There has always been a fascinating split between those who laud McLean and those who even decades later slightly resent a manager who went on to take United to the 1984 European Cup semi-finals, the 1987 Uefa Cup final and three Scottish Cup finals. "We were a good bunch of players and he assembled us," says Bannon. "That's the key thing. That's what wins games. Bad players would have lost games. We trained hard, we all got on well, we were together for years. All these things helped.
"The players got the fun from each other. You took the fact we were good for granted. Everyone just played. All the wives got on well with each other. I really had a good time there.
"Managers now pat you on the back and give you cuddles. He was the exact opposite. After games when he came in bawling and shouting, it just turned into white noise. You switched off.
"My way of dealing with it was just to not interact with him at all. I never told him any problems or asked for any advice because he would use it against you. I never spoke a word to him for the last four years I was there. 'Good morning, goodnight …' That was about it. It was sad but that was my way of dealing with it. I was contracted, I didn't agree with a lot he did but I was there."
Bannon was in fact integral to a success story for the ages.