Do football teams with nothing to play for really end up 'on the beach'? | Soccer
You may have noticed that Napoli swept to their first Scudetto in 33 years this month with five matches remaining. You may not have noticed that the newly crowned champions lost 2-0 at promoted Monza last weekend. With the title secured, no European campaign to worry about and no record points tally to chase or international manager to impress for this summer, could Napoli's players (and staff) be accused of being "on the beach"?
Defined loosely as downing tools, the theory is not confined to football – as any teacher with a VHS in their hand at the end of term will attest – but with a few vital and not-so-vital matches left of the season, this is the area of most interest.
Despite the arguments of some fans grumbling on the way to this week's penultimate round of Premier League fixtures, the reality is that being on the beach is a myth. There is simply too much to be gained, or lost, from a player's motivation not being what it should be.
Data is king and, with all the performance gadgets and dozens of cameras homed in on every turn and sprint, it becomes patently obvious if a player is not giving his all. The transfer market is ruthless and managers can bump an underwhelming player out of the team quicker than you can say Pierre-Emerick Aubameyang. Contracts and even goal bonuses are too lucrative for somebody not to give a monkey's.
Harry Redknapp's career as a player and a manager stretches back to the mid-60s, and he will be in the dugout again on Saturday for a charity match at Loftus Road for the Kiyan Prince Foundation. Whether it's been his side or his opponents, he's been in plenty of situations where a team could be said to be on the beach Redknapp feels this is a nonsense.
"Premier League players are fully focused," the 76-year-old says. "They train hard, 99% are not drinkers, they look after themselves. There's too much at stake and the crowd are not going to stand for it. When you've got 40,000 people screaming at you, giving you abuse if you don't put a shift in, how can you go out and not try? Quite often, they play better in games where there's nothing to play for, because there's no pressure. I remember when I was at Southampton in 2004-05, in a relegation battle with Norwich, and they got beat 6-0 by Fulham, who were mid-table."
There are countless examples to disprove the rule of being on the beach and Redknapp was involved in one of the most notable. On the final day of the 1994-95 season, Manchester United needed a win at Redknapp's mid-table West Ham to have any hope of the title. With rivals Blackburn drawing at Liverpool the door opened for Manchester United. All they needed was a win at the Hammers, but a sensational defensive display denied Sir Alex Ferguson's side, even though Harry's son Jamie scored a fine free-kick to beat Blackburn 2-1.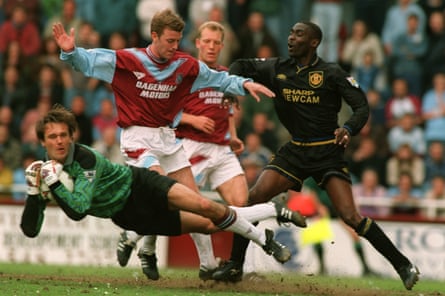 "That was some day," Redknapp says. "A great day for football. I brought another centre-back on, with 15 minutes to go, and Fergie got the hump with me. I strung five across the back, and we were keeping them out at all costs. We worked our socks off that day. Ludek Miklosko was great, wasn't he?
"We were delighted. You don't think about Man United. You're not there to help Man United – we weren't bothered if they won the league or not. You're there to get a result for West Ham give the fans a good last day of the season."
He adds: "Here's another one. Tottenham won at [Manchester] City to qualify for the Champions League in 2009-10. A few days later, we went to Burnley, went 2-0 up but got beat 4-2. I gave them the biggest bollocking they've ever had in their life. We had nothing to play for, but you want to win."
Standards have risen in the Premier League because the players' lifestyles have become sanitised. It's true that players live relatively boring lives. Players go to bed on time, hire private chefs, don't go out. Professionalism reigns. Slogans such as "FAIL TO PREPARE, PREPARE TO FAIL" are tattooed on to arms, or inscribed on walls at the training ground. Anyone who doesn't adhere to the strict guidelines is run out of town.
There can, however, be external factors. At this stage of the season, teams can easily be weakened by injuries or managers choosing to rest players for a cup tie. Often at this stage a few players are worried about picking up a knock before a European Championship or World Cup. Lots of things can affect a player's commitment, but it is a more random, sporadic set of reasons than a broad trend of players not trying.
"A lot of it is the luck of the draw," Redknapp says. "You may play a team that is involved in a cup competition. David Moyes had a semi-final in Europe this week so he rested most of his West Ham team at Brentford, and they got beat. So you can certainly strike lucky on the run-in. I'd rather play a team that is a distracted than one that has nothing to play for."
Fans of Manchester City and Brighton may be pleased their teams are facing Chelsea (who can't finish higher than 10th) and Southampton (already relegated) respectively on Sunday. But City and Brighton will likely win not because their opponents are on the beach. It's probably more to do with the fact Chelsea and Saints are just not very good.