Davis Cup Players Were 'getting Paid Too Much For Not A Lot', Claims Dan Evans | Davis Cup
Dan Evans would like to see Davis Cup ties revert to the old home-and-away format, and suggested players were "getting paid a little too much" following the collapse of the International Tennis Federation's deal with Gerard Piqué's Kosmos group.
"It is disappointing that they can't keep filling our pockets," said the British No 2 with typical candour. "It was a matter of time, wasn't it? We were getting paid a little too much for not a lot, I guess."
"We changed it when I don't think it necessarily needed the whole format changing, Evans added. "Davis Cup is about the fans. It's not about the players, in my opinion. If you've got home and away, I think you're still getting a good crowd. [Low crowds] don't look good for the tournament."
The ITF controversially partnered with the former Barcelona and Spain footballer in 2018 to revamp the historic competition, with Kosmos promising to invest $3bn in the sport over 25 years.
Kosmos largely scrapped the old format in favour of a World Cup-style event, with 18 teams contesting the inaugural finals week in Madrid in 2019. It seemed hugely unlikely at the time that the competition would generate the sort of income to support such an investment, and so it has proved.
The format has been tweaked over the past two years after the 2020 edition was postponed because of the Covid-19 pandemic, with this year's tournament featuring a group stage held across four cities, including Glasgow in September, before a final eight showdown in Málaga in November.
The ITF has committed to keeping the same format for this year, but the future direction of the competition is now clouded in uncertainty. The qualifying round does still feature home-and-away ties and Evans is set to be part of the British team that heads to Bogotá to take on Colombia immediately after the Australian Open.
Evans had previously indicated he would not play in future ties after criticising the team captain, Leon Smith, for not picking him for doubles in Glasgow. But he has had a change of heart and insisted there was no need for clear-the-air talks with Smith.
"Playing with the Union Jack on your chest doesn't happen very often and sooner or later you won't be good enough to be in the team," the 32-year-old said. So I think every chance I get now I'll put myself forward to play. [Leon] asked me if I would play and I said yeah. That was it.
Evans has also called for Tim Henman, who earned plaudits for his captaincy at the recent United Cup, to be brought more into the British tennis fold. "These guys, the ex-players, need to be kept in the game, the very good ones anyway. He was popular, he was great, he really helped."
Evans, who hopes he has put a recent illness behind him, will play Facundo Bagnis in the first round of the Australian Open in Melbourne on Tuesday.
Norrie into Auckland final but Draper is beaten
Cameron Norrie defeated Jenson Brooksby 6-3, 6-4 to reach his 12th ATP Tour final in Auckland, but Jack Draper lost to South Korea's Kwon Soon-woo in a gruelling semi-final in Adelaide.
The British No 1 eased to victory and a place in the final against Richard Gasquet, and will then head to Melbourne to face Luca Van Assche in the first round of the Australian Open on Monday.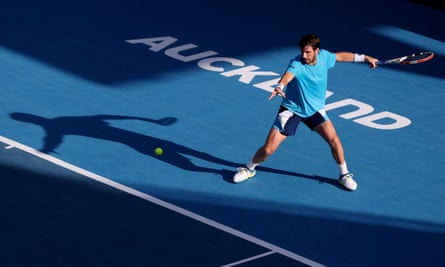 Norrie lost only one point on serve in the first set and quickly recovered from a blip at the start of the second when he was broken to claim victory in an hour and 38 minutes. Gasquet reached the final without having to take to the court after his compatriot Constant Lestienne withdrew ahead of their clash.
"Jenson's a young up-and-coming player. He's played a few big matches but I've played a few more than him," Norrie said afterwards. "I'm just a little bit better at everything than him, so I just wanted to back my legs today and I was able to serve a bit better and hold my service games a lot easier than he did."
Draper was the favourite against Kwon but fell to a 6-7 (6), 7-6 (2), 6-3 loss in a contest that lasted two hours and 45 minutes. The 21-year-old will now begin preparations for a daunting Melbourne Park opener against the defending champion, Rafael Nadal.
Henman, who will be part of Eurosport's coverage of the Australian Open, is one of a growing number of pundits who believe Draper could spring a surprise. "I think it's fair to say that Nadal is a little bit vulnerable," Henman said.
"He hasn't won a lot of matches recently. He lost both his matches at the United Cup … and Jack is obviously playing well. I think if you're going to come up against one of the world's very best players, the first round is the time … so I definitely think Jack has nothing to lose and a lot to gain."