David Moyes still has credit with fans but West Ham approach is outdated | West Ham United
West Ham fans had another adventure on Thursday night. They were in Cyprus, watching their team play AEK Larnaca in the last 16 of the Europa Conference League, and it went well. A rare clean sheet, a couple of fine goals for Michail Antonio, Kurt Zouma getting some miles into his legs – plenty of positives for David Moyes to take back to London before Sunday afternoon's visit from Aston Villa.
"It's a big game for us," Moyes said. "It feels like every home game in recent weeks has been a big game." No wonder. West Ham have taken only six points on their travels this season – their only away win in the league came at Villa Park last August – and are bruised after last weekend's 4-0 defeat by Brighton.
Relegation felt increasingly likely after that performance. It was further proof that West Ham are not too good to go down and while they are still standing by Moyes it is bound to be a tense affair against a Villa side who have flourished on the road since appointing Unai Emery.
At least a ninth straight win in Europe has acted as a salve. It was a reminder of why Moyes still has credit in the bank. Supporters have not forgotten that it was the Scot who sent them on trips to the continent. Those memories of beating Sevilla and Lyon last season remain fresh, even if West Ham's hopes of winning the Europa League were eventually dashed by Eintracht Frankfurt. The prospect of this troubled campaign ending in European glory for the first time since 1965 continues to sustain Moyes.
But the question is whether nostalgia alone is enough to stave off change in the dugout. This has been a poor season and it could get worse. West Ham have grown stale under Moyes, who has been unable to respond despite spending about £160m on players last summer.
This is not a sudden decline. West Ham have won 13 league games since the start of 2022. They have scored 23 goals in 25 league games and attempts to shift them away from a counterattacking style have not worked. West Ham have averaged 42.8% possession in the league this season and that caution has bred discontent in the dressing room and with the fans, who barracked Moyes during the second half against Brighton.
"All I can say about is we played that badly," Moyes said. "I couldn't have any complaints with anybody for what they've done. I've had a chance to watch the game back and it backed up what everybody thought."
The honesty was welcome. Moyes will gain nothing from starting a war with supporters. He has time to salvage the situation and has taken heart from West Ham's home form. Since the turn of the year they have won a crunch game with Everton, held Chelsea and turned on the style in a 4-0 demolition of Nottingham Forest. "If we perform to the levels we did against Forest we'll give ourselves a chance," Moyes said.
West Ham need unity. Friday marked the five-year anniversary of supporters protesting against the board during a 3-0 defeat by Burnley at the London Stadium. The mood is calmer now. Moyes has offered stability. It was hard to complain about the board when the team were chasing Champions League qualification.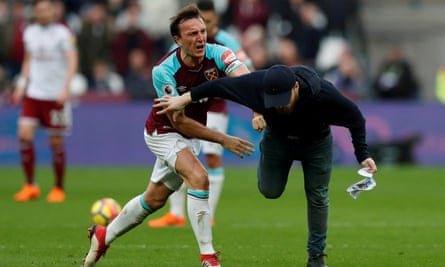 But this season's struggles have turned the spotlight back on to West Ham's structural issues. The backing of Moyes can be seen as an admirable refusal to panic. It also shows a lack of foresight. One of the reasons West Ham have not acted is because they see no alternatives. They are not like Brighton, who responded to losing Graham Potter by taking the daring choice to appoint Roberto De Zerbi.
West Ham are more predictable. The repeated argument is that it would be a gamble to replace Moyes with someone who does not know English football. Doing so would require imagination. Mark Noble, newly appointed as sporting director, needs to identify the next De Zerbi. The recruitment team must become sharper in the transfer market.
The club have money but their approach is outdated. It is why many fans are still pining for change at the top. This is the month when a punitive clause relating to West Ham's move to the London Stadium in 2016 no longer applies. The agreement made David Sullivan and David Gold, the co-owner who died in January, liable to a financial penalty if the club had been sold for more than £300m. Its expiration has naturally led to speculation that a takeover from Daniel Kretinsky, the Czech billionaire who bought a 27% stake in November 2021, is imminent.
But the situation is messy. Sullivan could regain majority ownership by buying Gold's shares, which will lie in probate for at least six months. He could step aside by selling his 38.8% stake to Kretinsky. He could let the Czech take Gold's shares. Or both men could simply wait.
The possibility of relegation means that neither Sullivan nor Kretinsky can contemplate an ownership change before a summer that is almost certain to see Declan Rice leave West Ham. The England midfielder is determined to compete at a higher level and is likely to join Arsenal.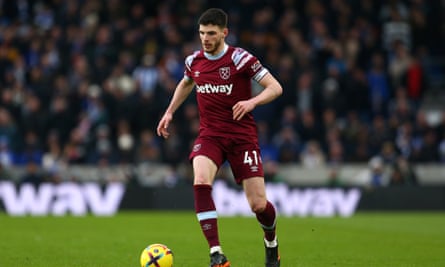 West Ham have not convinced Rice that they were progressing. Last summer's investment has not worked – Gianluca Scamacca, the £35.5m Italy striker, has not adapted and Lucas Paquetá, the £50m Brazil midfielder, remains inconsistent – and some players have been questioning Moyes since the end of last season.
Eyebrows were raised when he picked an extremely defensive side against Tottenham last month. The players doubted that they had enough to win and their fears were borne out by a timid 2-0 defeat.
However, the players are still prepared to fight for Moyes. They should be good enough to save themselves. For Moyes, the hope will be that Zouma stays fit and forms a solid partnership in defence with Nayef Aguerd. He needs Rice to dominate midfield and Jarrod Bowen to threaten from the right flank. He needs a team capable of creating chances for Danny Ings.
West Ham were not planning for the future when they signed Ings from Villa in January. The striker is 30, his injury record is worrying and he is not particularly effective as a lone forward. What he does have, though, is nous. West Ham saw it when Ings grabbed two scruffy goals against Forest and they will need him to be up for it against his former side. All that matters now is finding a way to win.