Danny Ings' quick-fire double sparks West Ham's rout of Nottingham Forest | Premier League
On afternoons like these, seasons turn. Fifteen frantic second-half minutes and suddenly a weight lifts, the mood of a whole club changes.
Danny Ings at the three-minute double. Dreamland. David Moyes was still punching the air joyously when his captain, Declan Rice, added a sumptuous third.
Just like that a must-win game was won. West Ham move outside the Premier League's bottom three – and two points behind Nottingham Forest in 13th. Thirty years since Bobby Moore's passing was celebrated with a clean sheet.
"How long have I been waiting for that?" Moyes said after a huge sigh. "Look, I'm not coming in here with a bottle of champagne, thinking everything is hunky dory. But I'm thrilled that I've won 4-0 today. And I'm going to enjoy a glass of wine tonight and why not: I've had enough bad nights."
Moyes is right to take the credit. The criticism he faced for his conservative setup against Tottenham last Sunday was stinging. Some of it was internal, with Rice suggesting that what was, essentially, an octet of blockers, left the forward-thinkers isolated.
But six days later a rebrand, and everything Moyes touched worked. Substitutions included: Michail Antonio added a headed late fourth with his first touch. The provider was Pablo Fornals who had arrived with him. Mutiny averted then, at least for now. "The important thing is that I've got incredible backing," Moyes said. "There's been a lot of [outside] noise but behind the scenes there has been no noise."
The win brought up Moyes's 250th in the division, putting him in the illustrious company of Sir Alex Ferguson and Arsène Wenger. "Not bad," he noted, grinning. "They're all important. If you don't win your first, you might not get your second. If you don't win your 250th, you might not get your 251st."
Strangely, for what must have seemed aeons, it felt like an afternoon of frustration. As Keylor Navas clawed away corner after corner, locals exchanged worried glances.
Lucas Paquetá tried his utmost. Moyes tried harder still, shifting between the holy triptych of hand positions; arms-folded; eagle-wings; wild-clapping. All while pushing the boundaries of what is a very generous technical area.
True, Navas had to watchfully tip Jarrod Bowen's inswinger over, with the subsequent corner eventually pinging first off Felipe and then the post. And Ings, on his full debut, should have opened the scoring later in the half. Instead, he made a hash of a header before throwing an accusing glance at Tomas Soucek for running in his line of sight. "I thought my goodness, is this going to be another day we're not going to score a goal," Moyes admitted.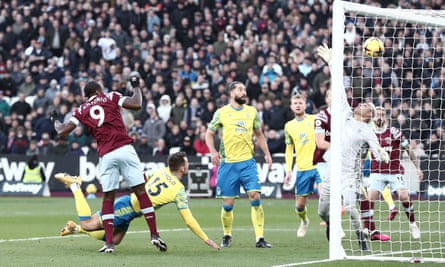 When the interval came there was a ripple of boos. But most barely bothered. It took Bowen to hit the post's base for the ground to stir. It flattened again when Lukasz Fabianski and Felipe collided. It was nothing vicious but the former was dazed and forcibly removed.
Had Forest ridden the wave? Categorically, no. Ings started the move for the first with a raking pass to Bowen. And while his teammate weaved into the area, Ings galloped forward.
Soon after poking home, Ings bundled in Saïd Benrahma's centre. "Those are the goals we want to see from centre-forwards sometimes," Moyes added of Ings. "We needed somebody who knows the art."
Already crestfallen, Nottingham Forest could barely believe it when first Rice and then Antonio added gloss. It was a surreal afternoon for them and Steve Cooper.
For a long time they defended resolutely, Navas even daring to catch a corner. But then it unravelled. Spectacularly.
They will regret a lack of intent when there was a wound to be pushed at. "You could feel the tension in the stadium," Cooper said. "We talked about that and were trying to get it to turn into our favour."
But while they grew into the game, they struggled to create. Felipe's early header from a Jonjo Shelvey free-kick required Fabianksi's hand, while Harry Toffolo tested Alphonse Areola in injury-time. There was little else of note.
Cooper definitely minded this performance, and though they are 13th in the table they are only four points clear of the bottom three. "What happened between the first and the third goal is difficult to comprehend," he admitted. "It's unacceptable in so many ways. We blame no one but ourselves."