Coventry's Ben Wilson: 'A rollercoaster? I've never been at the top to come back down' | Coventry City
Wherever Coventry's incredible season goes from here, the moment the goalkeeper Ben Wilson scored a 95th-minute equaliser to salvage a draw at Blackburn in April is unlikely to be forgotten any time soon. If Coventry do clinch promotion to the Premier League, they may look back on that trip as the decisive game – and point – that helped them qualify for the playoffs.
"The worst thing was there were about 40 seconds left after I scored," Wilson says. "I was thinking: 'If this ball comes anywhere near me – and it doesn't matter if it's rolling at 1 mph – I'm going to be struggling to pick it up,' because my emotions were all over the place."
A down-to-earth and chatty character, Wilson is warm company as he discusses everything from coming through the ranks at Sunderland alongside Jordan Pickford, the Shakespeare play Cymbeline, getting stopped in the street by fans after gaining his newfound fame and awaiting the arrival of the Championship golden glove award after recording a league-high 20 clean sheets. "I have been Googling what it looks like this week, so I'm looking forward to it," he says.
Coventry's journey has been a nomadic one to within three games of the Premier League. "I would say it's a rollercoaster but I've never really been at the top to come back down," says Wilson, who had 11 clubs between leaving Sunderland in 2013 and joining Coventry on a free in 2019. There were seven loans, the last to Telford, who were 23rd in National League North, the sixth tier, when he signed in January 2018. They won 14 of the next 17 games and finished 13th.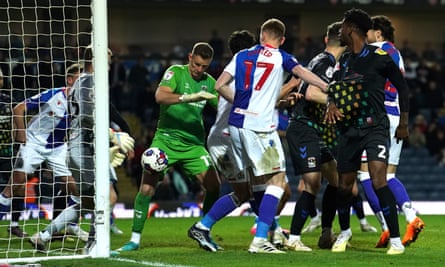 "It was an amazing time, just to feel that I could win a game of football again. I was on the verge of dropping out of football, really, because at the end of that season I didn't have a club."
Until a couple of years ago, when Wilson had a run of games for Coventry, he was resigned to being a backup goalkeeper. "I was a number two or three. I got into that mindset of thinking: 'That's where I'm at now.'" There was a demoralising loan to Rochdale that culminated in the then manager, Keith Hill, making his feelings plain. "The gaffer took us into a meeting room and on the wall was a picture with a percentage next to our names. It was 0% next to mine. The gaffer was like: 'I pride myself on win percentages.' Seeing that my confidence was shattered.
"It was horrible that year. That was one of my lowest points. I was thinking to myself: 'That's me, that's how people are going to see me.' To get out of that zone I was in was hard. I went on loan to Oldham, who ended up getting relegated. I was the only goalkeeper at the time in training and in the squad on match days. We lost the first eight games of the season, so it continued. I was in and out of teams, on the bench, third choice, I never really felt at home anywhere."
A two-leg semi-final against Middlesbrough, which starts at Coventry on Sunday, is reward at the end of a remarkable campaign. The season was more than two months old when Coventry tasted their first win, against Boro, and they were bottom in October, after 10 matches.
Three league games were postponed because three straight days of Commonwealth Games rugby sevens rendered the Coventry Building Society Arena surface unsafe. Coventry lost five of their first six matches in all competitions, to teams who would finish below them. One of those, a 4-1 defeat by Bristol City, was moved to Burton's stadium after a failed pitch inspection.
Mark Robins, who returned to Coventry in 2017, kept his players focused on reaching the playoffs, their aim at the outset. Under Robins, Coventry have improved season on season. They won promotion from League Two in his first full campaign and two years later lifted the League One title. They have since finished 16th, 12th and now fifth in the second tier, after playing out a draw at the Riverside Stadium last Monday, the first of three games against Boro in 10 days.
Joining Coventry reinvigorated Wilson, though he started this season playing second fiddle to Simon Moore. "People here have shown so much belief in me and allowed me to be myself," he says. "I've come out of my shell more. If it wasn't for the lads letting me do that, I'd probably still be the shy little Ben sitting in the corner."
He moved to Stratford-upon-Avon upon joining Coventry and soon struck up a bond with his then neighbour, Alan, who is 82. The pair go for coffee every weekday afternoon. "On Sundays he sees his son … I'm pushed aside on Sundays," Wilson says, laughing. "I've been adopted. I think his children call me their adopted brother."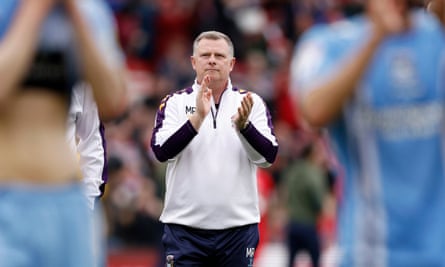 The pair have spent time on Stratford's ferris wheel, at the theatre watching Shakespeare plays and even went shopping together when Wilson needed to get kitted out for Coventry's end-of-season awards last year.
"He was telling me which shirt I should buy and everything. I bought some cufflinks in the shop there and then and when I got home he said: 'Wait a minute, I've got a gift for you.' He gave me some Christian Dior cufflinks … I feel very posh in them."
Perhaps Alan's next outing of note could be watching Wilson at Wembley for the playoff final? "I suppose it's the least I owe him after all the coffees he's bought me," the 30-year-old says. "He is an amazing guy. He has been a godsend."