Chelsea's Emma Hayes praises Sam Kerr for way she takes 'responsibility' | Chelsea Women
Emma Hayes hailed Sam Kerr and the way she "is willing to take responsibility at the top of the pitch" after the Australian's second-half goal was enough as Chelsea beat Manchester United 1-0 in front of a record crowd to lift a third successive FA Cup.
It was Kerr's 10th goal in seven domestic cup finals, her sixth in consecutive games and fifth in four appearances at Wembley, lifting a trophy each time. "I've never coached a player like [Sam Kerr]," Hayes said. "A player that has such conviction, confidence and courage with the way she attacks everything. But what I love about Sam is that she's willing to take responsibility at the top of the pitch."
Kerr's goal was the difference – her eighth in eight games against United – but the match turned with the introduction of the forward Pernille Harder, who provided the assist, in the 57th minute. "It's important to mention Pernille Harder because without her she wouldn't have got that goal," Hayes said. "She did everything we asked."
United dominated the first half, in front of the biggest crowd for a domestic women's game in world football, and their manager, Marc Skinner, said: "The reality is we switched off for a second … a throw‑in goes into midfield and they play behind your line and that's really all Chelsea do. They do set pieces and play behind you and they're very, very good at it, probably one of the best teams in the world at it so that's not disrespectful, they've won the game on it. So, we have to be better at that."
Hayes countered: "Sometimes we sneer and look down at winning football matches the way we do. There's sometimes a sense that everything has to be perfect. But I think any winning manager will tell you through the course of time that there's such a mixture of performances that go on over the course of the season.
"We played extraordinarily well the last two games, we started the game today and [the general manager] Paul Green said that was the worst first half of FA Cup we've ever had, and he's not wrong. So finding ways to win when you're not at your best, for me that is always the marker of a great team.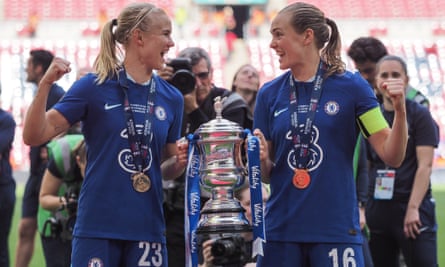 "Our team has been in transition. We had six different players in the starting lineup to last year's final. That for me is a sign of real progress. My big thing is: 'How can we keep winning while transitioning?' To win knowing we're in that stage, this is far and away my most memorable FA Cup final."
Hayes dedicated her team's FA Cup final win to Chelsea fans that have "suffered this year" on and off the pitch. "I'm a football fan and I've watched my club suffer this season through ownership changes and the men's team hasn't been brilliant – Chelsea fans, this is for you," she said.