Chelsea v Manchester United: Women's FA Cup final – live | Women's FA Cup
Key events
52 min: That was such a wasted chance from United. Galton got herself in a great position in the box but didn't pass quickly, it comes back to Ladd but her shot is easily saved. Chelsea get it up the other end and Reiten crosses in again but there are no blue shirts in the box.
51 min: Eriksson sends a long ball in and Reiten crosses it, initially there isn't anyone there but Kerr eventually gets a head to it but United block. United then counter and Russo rockets a long range shot which Berger deals with well.
49 min: When Chelsea get the ball in a game usually, a lot of people feel the danger and a sense they will score. This game it's more expectant for them to pass a loose ball, their form needs to be found quickly. Also Sarina Wiegman is in the house!
47 min: It's been a slow start to the second half, especially compared to how the first began! Chelsea finding their feet, a lot of talk with the pundits on how Chelsea will come out and bite United but the Reds are capable of continuing their domination.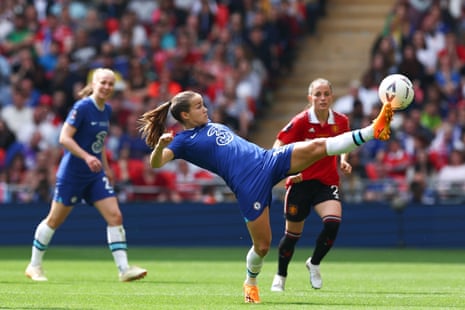 Back underway! Chelsea 0-0 Manchester United
There has never been a Women's FA Cup final that has ended 0-0, will this be the first one? We will find out soon!
Look who is at Wembley to support Chelsea:
If you are confused as to why Parris wasn't given a penalty, the officials ruled it a free kick as the contact from Charles started outside of the box.
Our women's football newsletter, Moving the Goalposts, is free to subscribe to and provides you with weekly news and interviews. You can subscribe here:
Half-time: Chelsea 0-0 Manchester United
Nothing separates them on the scoreboard but United are in control of this match. One goal ruled out for United, will they make history in the second 45?
45 + 2 min: Zelem pops it in and Turner gets a head to it but it goes over.
45 + 2 min: Parris wins a free kick but she thinks she should have a penalty! To be honest I wouldn't be shocked if it were given so I can see why she is annoyed there. VAR has looked at it and it remains a free kick.
45 + 2 min: Chelsea had a chance to shoot but they almost trip over their own feet and can't unleash it. Fleming gets the ball in again but it doesn't make contact with Kerr's head.
45 min: There will be three minutes added.
44 min: Kerr is up for this as she runs after the ball with Earps in possession but she unlocks United's attack and they can easily thread it through the team. That is the difference between the two so far, United's speed on the ball. Their latest attack ends in an offside call though. Simon has got involved in the snack chat and is coming for my skittles: "I'm afraid I can't agree with you about the skittles. They can't hold a candle to a mint matchmaker, or even a Love Heart. But savoury is where it's at anyway in the snack department. Give me some peanuts or pretzels anyday."
42 min: Save from Earps! What a save! Chelsea work it up into the box and James gets a head to the ball, Turner's head deflects it in another direction though and Earps has to run across goal and she scoops it away from goal.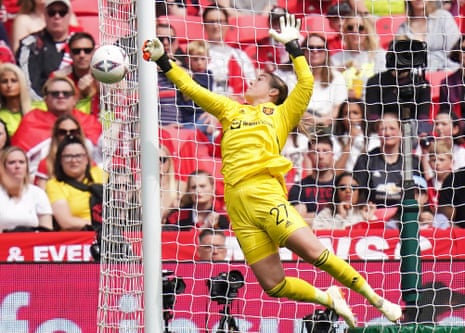 39 min: Chelsea feel like a jack in the box at the moment, their supporters are winding the handle around but they haven't popped out of the box yet. Chelsea have a free kick which Berger is taking as it's s0 high up the pitch. Possession exchanges hands as a result but Chelsea get into the box with amazing defence from Batlle to silence Reiten.
37 min: The Blundell and James battle is getting a bit tasty, the players having a few words for each other after tackles. Charles does well under pressure to clear the ball but United are on the attack quickly. Russo crosses into the box and Galton has a shot but it's an awkward angle and it's over the top.
35 min: Berger is back to her feet and she is okay to continue. Tor has got in touch from Wembley and said: "Just wanted to call attention to how well United are managing Lauren James on Chelsea's right wing. Anytime she gets even a sniff of a ball Blundell and Galton are alert and smothering her, Blundell to dispossess with Galton there to intercept. Chelsea will need to find another route through if they want to make an impact. United (my team, naturally) are looking more and more likely to score – it seems like just a matter of time". You're right about James, apart from where she drew the free kick she has been handled really well. I can still see the game going either way!
34 min: Berger is now down with injury, I don't see how she has injured and so this could be one of the tactical ones where Hayes can speak to her team. She is speaking to her team, as is Skinner.
33 min: Zelem is fouled and United have a free kick, midway in Chelsea's half so a good opportunity. Zelem takes it and it's a great kick into the area. It's scrambled with players hitting the deck but Turner gets a shot away, it takes a great save from Berger to keep it out! Great save from the keeper.
31 min: Multiple throw ins from both sides ends with a Chelsea one going to United. Parris forms an attack and United are patient in their build-up. Parris pops it into the box but it doesn't reach Toone, Chelsea can't clear cleanly and United still have possession. A ball comes in for Parris but it has too much on it and it's out for a goal kick.
29 min: Russo's pass is cut out by James, both have each other's number at the moment. Every attack is still tinged with nerves for the supporters but the players seems quite composed as things stand. James crosses in a good position but it's straight out, poor from the Chelsea player there.
27 min: Another long ball comes in for Kerr but it has too much on it and Earps collects. Chelsea obviously see it's easier to unleash an attack by bypassing a long build-up and going for a long pass.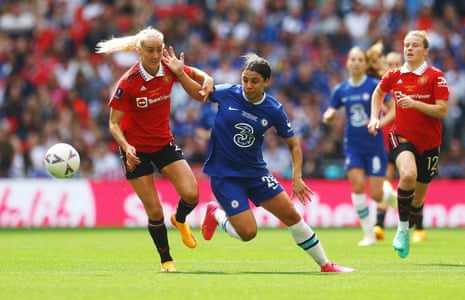 25 min: Joe has got in touch with some snack chat and he said: "I'm enjoying the match with some dried pineapple and a cup of coffee on this somewhat gloomy midwest morning." It's lovely and sunny here, hopefully it comes out for you later in the day! Back to the sunny Wembley and a shot came from United but Berger easily collected. Chelsea have settled into this one but there are moments where United are allowed to run riot.
24 min: Eriksson does well to cut out a Parris run but it is not long until United have it back once more. Batlle making a storming run and she crosses it in but Mjelde blocks well to dispel the danger. Chelsea wanted to counter with a long ball trying to release James but Blundell gets there ahead of her to halt any threat.
22 min: Le Tissier puts in a long ball but Parris is offside. The game has broken up a bit now, a lot more stop and start. United need it to be more free flowing to unlock Chelsea.
20 min: Perisset sends it in, Mjelde has a head to it but it's way off target. A wasted opportunity there, their first real chance of a goal. Eriksson with a beautiful long ball but Batlle does well to deal with it.
18 min: James' footwork is unbelievable, she was sending Blundell left and right like it was nothing! She then fouls her and Chelsea have a free kick on the edge of the box.
17 min: Chelsea are a shadow of themselves at the moment, United completely dominating them so far. There's been no clear cut chance for the holders, Earps not had to deal with a lot.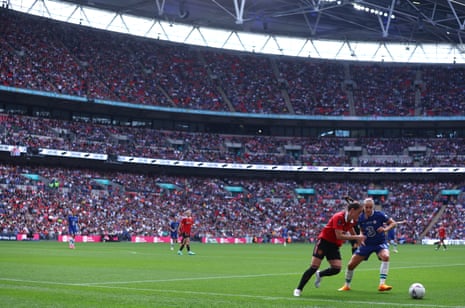 15 min: Possession is exchanging hands so quickly at the moment! United attack and Chelsea do well to close down Toone in the box, if she had a shot there I think she would have scored. She can't get a shot away, lays it off to Parris and her shot goes directly to Berger.
14 min: The pace in the opening five minutes has slowed and United will want that injected back in. The ball comes into the box and Berger smothers it, she launches a Chelsea attack and ti ends in Reiten winning a throw in. United win it back easily though.
12 min: Earps' distribution has been excellent so far, also not feeling any pressure from the Chelsea players hunting her down. James does really well to not touch the ball and prevent a United player taking it as she thought her teammate could collect with no flag up but eventually it is raised.
10 min: Both teams have used the break to chat with their managers, Leupolz is back to her feet and she is okay to continue.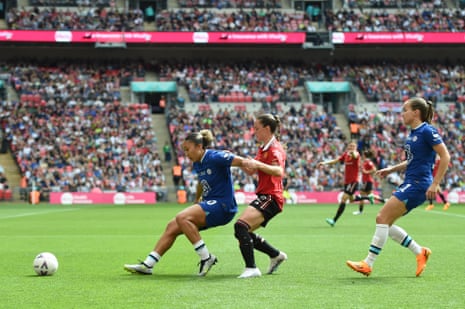 9 min: United players are being allowed so much space, Chelsea slightly napping with Toone and Ladd having acres to play in. Leupolz is currently down with injury and so there is a break in play, Chelsea's squad has had to deal with a lot of injuries this season.
7 min: Toone with a beautiful pass to Galton, stunning backheel flick. They run it through the team and Parris has it on the edge of the box. Zelem crosses in but Berger punches away, the ball hits a United player and its a goal kick. The defence from Chelsea seems rocked from that early chance from Galton.
6 min: Eriksson threads a long ball to Kerr but she was offside. United definitely with the better start in this one, it may be their first major final but they are composed. Fleming makes an error with Ladd pressuring her, the Reds are on fire.
4 min: The United fans' heartrate must be through the roof! If VAR was not in operation for the first time in this fixture that goal could have stood. Chelsea have taken the speed out of the game, they are running the ball between their defenders, getting settled.
2 min: I was so convinced it was a goal I was changing the scoreline on the blog! Wow, Chelsea shell shocked. Can they keep their heads or will United keep up this impressive start?
2 min: Well, well, well, goal check already! Galton think she has scored but she could be offside. And it is. Remember, VAR is in operation for the first time.
1 min: Strange, the kick-off went ahead but then we were pulled back for another kick-off. We are underway now though.
Kick-off! Chelsea 0-0 Manchester United
Here we go, will Chelsea become only the second club to win the trophy three times in a row? Or can United make history and win their first major trophy? Whatever happens this is going to be a tasty match!
Prince William has met the players and managers, the anthem has been played and so what's left? Ah yes, the tense and thrilling 90 minutes we have ahead. This could also go to extra-time and penalties if they are all square at full-time.
Do you want to re-live every goal both of these teams have scored in the Women's FA Cup so far this season? Well you are in luck as the competition has put a compilation together!
The players are walking out to a sold-out Wembley! Moments from kick-off, the crowd is electric. The stage the game deserves.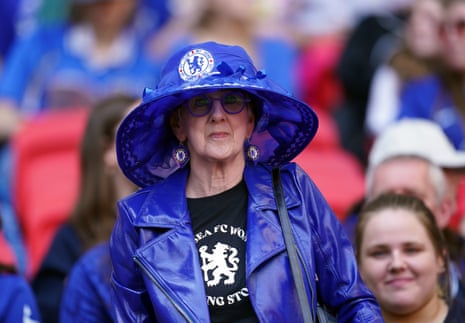 Have you been reading our weekly women's football newsletter, Moving the Goalposts? It's free to subscribe to and brings you news and exclusive interviews. This week Firdose Moonda spoke to Janine van Wyk, you can have a read of the piece here:
Can Chelsea's experience win them their third straight Women's FA Cup trophy this afternoon? Suzy Wrack has written about it, give it a read:
Chelsea's Sam Kerr says Wembley is her favourite stadium to play in – because she has never lost there. "Every time I go there it's for a trophy," she said per Goal. "I never have to visit otherwise. I think that's exactly it. It's a big-game stadium. You don't go there to play any other game other than for a trophy. I've never been there and not won a trophy. Fingers crossed this weekend is the same."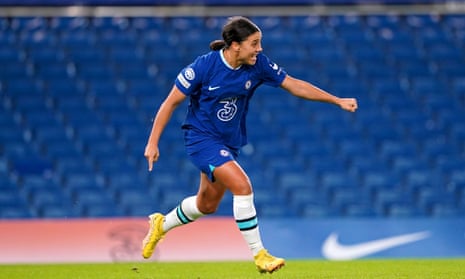 Chelsea manager Emma Hayes has said: "Previous success is not indicative of future success. We're playing an outstanding team who have led the way in the league this year. They're deserving to be in the cup final. Being there in the past gives you the luxury of understanding what it's like but it's no advantage whatsoever. This year our team has been written off quite easily but we're always favourites in our eyes."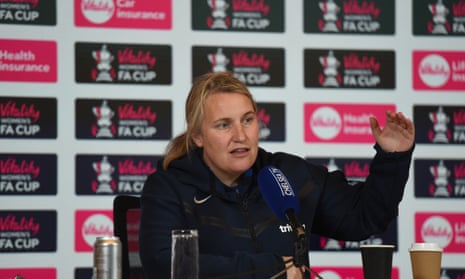 Brom has got in touch to get in on the snack chat and said: "I raise your Skittles a packet of dry roasted broad beans and a Stonewall beer. Cheers from the Netherlands and come on United!" I cannot say I have ever heard of anyone snacking on dry roasted broad beans, I want to try them now!
Last season just below 41,000 supporters attended Wembley to watch Chelsea lift the trophy and now 90,000 will be attending. Here's a piece on how the crowd more than doubled in the space of a season:
Speaking of Casey Stoney, the former United manager has tweeted support for her former club:
Marc Skinner took over at Manchester United from Casey Stoney in 2021 and he has continued the club's progress, all the way to Wembley. But do you know him? Have a read of the piece below to get to know the boss better:
United may never have beaten Chelsea but manager Marc Skinner has belief his side will lift the trophy this afternoon: "We know we can beat Chelsea, but we know how difficult that is," he said. "There's no doubt in my mind that if you want to pick a favourite, then Chelsea should be put on that mantle because of the fact they have been here before and done this before. But the reality is we have a team of rebels that want to make sure that won't be the fact."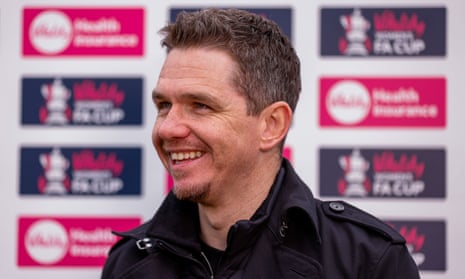 I do love a bit of snack chat on my blogs, today I have some skittles. A classic and, in my opinion, under-rated sweet. What have you got to nervously nibble on throughout the final? Let me know via Twitter or email.
A fun fact for you: As VAR is not in operation in the WSL or Conti Cup, today will be the first time Manchester United play with the technology in use.
The team news is here! Chelsea have made three changes from the side that thrashed Leicester City. Fleming, Mjelde and Kerr come back into the side. Kirby and Bright remain out with long-term injuries.
Chelsea: Berger, Leupolz, James, Reiten, Perisset, Eriksson, Fleming, Mjelde, Kerr, Charles, Cuthbert
United, meanwhile, have only made one change to their starting line-up from their win over Tottenham last weekend. Captain Katie Zelem is back in the team after she was suspended.
United: Earps, Batlle, Blundell, Toone, Zelem, Galton, Ladd, Le Tissier, Turner, Parris, Russo
History will be made today even before the players walk out onto the pitch for the Women's FA Cup final. Defending champions Chelsea take on Manchester United in front of a sell-out Wembley, the first time the competition has sold-out the home of English football.
It is also the first time United have made the final and there's more history with VAR in operation for the first time in the women's competition. More history could be made once the whistle is blown as if United get the win it will be the first time they have defeated Chelsea.
The teams have played each other nine times with Chelsea winning eight and the other a draw. United are in amazing form, still reigning supreme in the Women's Super League table, but Chelsea have scored 13 goals in their last two games. It will be a tense battle and it should be a delight of a match.
The team news for both clubs will be dropping shortly so stay tuned for all the updates ahead of kick-off at 2.30pm BST.