Cameron Norrie Brushes Aside João Sousa To Join Dan Evans In Third Round | US Open Tennis 2022
Cameron Norrie and Dan Evans both comfortably moved into the third round of the US Open on Thursday afternoon, marking the first time in the Open era that four British men have reached the third round. They joined Andy Murray and Jack Draper, who advanced on Wednesday.
Early on Thursday, Evans continued his rich run of form during the North American hard court swing as he returned to the third round in New York by defeating Australia's James Duckworth 6-3, 6-2, 4-6, 6-4. He was directly followed by Norrie, still in the form of his life, who reached the third round with a 6-4, 6-4, 7-6 (4) win over João Sousa.
"It's great we are all feeding off each other," said Norrie, the British No 1. "We have got a good team leading into the Davis Cup. We are all in form, playing well and enjoying our tennis, so it is really nice for us to show that all the hard work, and all the work that the LTA is doing at the NTC [National Tennis Centre] and around the country, is paying off."
Evans initially cruised to a two-set lead courtesy of a clean, disciplined performance against the world No 83 but he dropped the third set and suddenly found himself 3-1 down in the fourth, with an unwanted fifth set possibly on the horizon. Under considerable pressure Evans retrieved the break and rolled through five of the last six games to reach the third round, where he will face the No 15 seed, Marin Cilic. Norrie, meanwhile, will face the 19-year-old Holger Rune of Denmark.
"I was in control and then I thought he played very well to get back in," Evans said. "I was just happy to get off, really. It was nice to win to get to the third round. It's a match which I'm on paper supposed to win. It was my goal to get to where I needed to get to in the seeding spots, do my job, and then go from there."
Having arrived in North America ranked 40th after a poor run of form that included a first-round loss at Wimbledon, Evans has risen back to 23rd in the ATP rankings, just below his career-high ranking of 22. Early last month in Montreal, Evans reached his second career Masters 1000 semi-final, beating the top 15 players Andrey Rublev and Taylor Fritz en route.
The US Open is Evans's best grand slam tournament by a considerable distance and the 32-year-old said he much prefers the vibe in New York to Wimbledon. "I spend a lot of time from after Wimbledon out here, and prepare very well. It's the longest swing we get, and I think that helps get comfortable. A lot of the conditions are similar. Australia you don't get such [a] long time out there, and obviously Wimbledon you don't."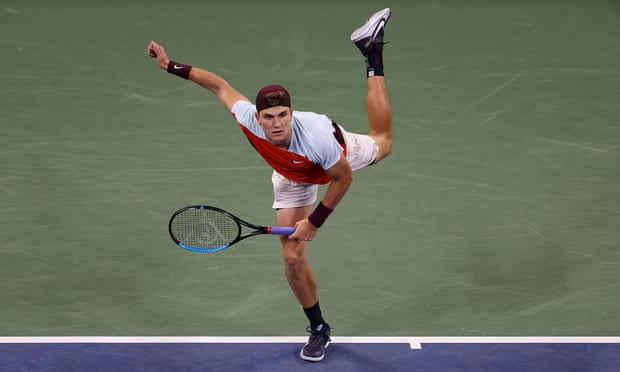 The British success and the team depth is extremely encouraging for the Davis Cup team, which will play the group stages in Glasgow this month. Norrie, Evans, Murray and Joe Salisbury, the No 1 men's doubles player, have been selected, with one spot remaining for Leon Smith, the captain, to select. It is likely to be decided between Draper and Ken Skupski, who could leapfrog Salisbury in the rankings after the US Open.
Evans says there has been plenty of discussion among the British players about the team. "It's obviously changing every day, I would say," he said. "It's going to be difficult, one person is going to get left out. There's probably seven guys, maybe two people are going to get left out, but seven guys with a realistic chance. And, yeah, it's going to be difficult. But that's why Leon is paid the big bucks."
In the early hours of Thursday morning, Draper was still digesting his own success after pulling off the biggest win of his career so far, defeating Félix Auger-Aliassime, the sixth seed, 6-4, 6-4, 6-4 to reach the third round of a grand slam for the first time.
The victory continues a breakthrough year for the 20-year-old Draper, which started with him being ranked 262nd. He will likely break into the top 50 for the first time in his career after the tournament.
"I think I've known my tennis ability has been good for a long time now. I've obviously had the privilege to hit with Andy, Cam, Dan at the NTC," he said.
"They're very much top players in their own right. I know I could hold my own a while back with them. It's more been about how am I going to cope mentally and physically at this level and do it consistently."
Draper will next face Karen Khachanov, the Russian 27th seed, with more opportunities ahead.