'Be extremely cautious': expert fears for European finals after night of violence | Uefa
One of the authors of the independent report into the 2022 Champions League final has said the violence that followed AZ Alkmaar's defeat by West Ham on Thursday shows Uefa has failed to learn lessons from the near-tragedy of Paris and warned English fans to be "extremely cautious" should they travel to next month's finals in Istanbul and Prague.
Prof Clifford Stott said the storming by AZ ultras of a stand containing relatives of West Ham players was "exactly the kind of circumstances where people die" and that Uefa should have taken control of policing and stewarding plans after unrest in the Dutch city earlier that day.
"It's Uefa's event," Stott said. "That they should be overseeing the exchange of information between stakeholders is one of the primary conclusions of our inquiry. While we accept that it's a major challenge to deal with every single Uefa event in those ways, this is a semi-final, this is a major showcase event for Uefa and what we're seeing is a situation where their oversight has not resulted in an effective interoperability between the various stakeholders."
Uefa has not commented on the post-match violence but is expected to conduct an investigation. The governing body is understood to argue it is directly responsible only for matches it stages at neutral grounds, most commonly finals. This month, after the review's recommendations, it announced plans to "enhance the existing safeguards for fans attending its club and national team competition finals", which will come into effect in the coming weeks. Uefa deploys safety and security officers to other fixtures and monitors events at matches remotely.
One of the key recommendations in the independent review panel's report into the Paris final, where Liverpool fans were assaulted, detained and crowded into contained areas by French police, then blamed by authorities, was that Uefa should take greater responsibility for the safety of fans at all matches in its competitions.
Recommendation 21 of the report, which was commissioned by Uefa, says "evidence suggests that similar problems, particularly regarding policing and access for disabled supporters, are regularly experienced, though to a lesser scale, by supporters attending other Uefa governed fixtures … We recommend that Uefa looks closely at their capacity to apply [some] recommendations more generically to avoid similar dangers developing beyond the remit of the [Champions League final] alone."
Stott believes that incidents in Paris and Alkmaar should be a warning to West Ham fans going to the Europa Conference League final in Prague and Manchester City supporters heading to Istanbul for the Champions League final.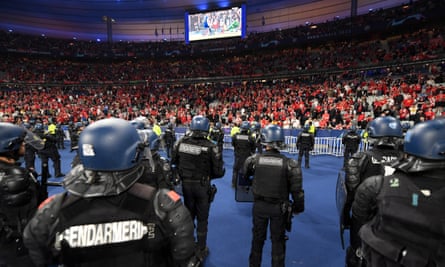 "Being an English fan travelling to international football competitions in mainland Europe is a dangerous occupation," he said. "It has been for decades and it remains so, as we saw last night. How can that inspire confidence in anybody that they will be safe in either Istanbul or Prague? My recommendation is to everybody going to that event: be extremely cautious."
West Ham do not expect any of their players to face punishment from Uefa for rushing to defend their friends and families from being attacked. Club officials, sponsors and former players were also in that section. The squad halted their celebrations when they saw it being invaded.
Michail Antonio, Saïd Benrahma, Aaron Cresswell, Flynn Downes and Lucas Paquetá were among the West Ham players who confronted the AZ fans. But any fears of them being suspended for the final against Fiorentina are likely to be quashed. A Uefa spokesperson did not comment but West Ham expect the governing body to look at the context and accept that the players were protecting their loved ones.
The likelihood is that AZ will be punished by Uefa over their security arrangements. Home ultras moved towards the area before the final whistle and video footage appears to suggest they encountered little resistance when they stormed a barrier. Footage on social media showed one West Ham fan fighting off AZ supporters.
On Friday AZ described the semi-final as a "jet black evening" and said it was clear that safety and security processes "need to be improved". In a statement, they said: "AZ is a civilised club where sportsmanship and norms and values are paramount. The club will do everything possible, together with the authorities involved, to identify these persons and to take appropriate measures."
Dutch police are looking at footage to identify individuals suspected of causing trouble. Police said their aim on the night was to disperse the crowd and restore order as quickly as possible.