Bayern Munich v PSG: Champions League last 16, second leg – live | Champions League
Key events
Half-time analysis.
HALF TIME: Bayern Munich 0-0 PSG (agg: 1-0)
A thrilling half of top-drawer football.
45 min: Davies goes haring down the left but Hakimi brushes him off the ball. The board goes up for two added minutes. A blessed relief it's not any more: both of these teams could do with the half-time whistle and some beneficial advice with a view to raising their game.
43 min: De Ligt miskicks in the centre circle, allowing Messi to ping a speculative long pass down the middle. It only just evades Mbappe on the edge of the box.
42 min: Ramos ships possession, allowing Davies to slither this way and that, into the PSG box from the left. Davies shoots low and hard. The ball's turned around the post for a corner, from which nothing comes. Chances at both ends, albeit not as a result of quality football.
40 min: A slight suggestion that Sommer impeded Vitinha just before the shot went in on goal, but there wasn't enough contact for either referee or VAR to be interested. To be fair, PSG didn't exactly complain too much.
38 min: De Ligt gets his goalkeeper out of a huge hole! Sommer attempts to dribble out of his box when a pass upfield – or better still, a blooter away from danger – was the wise play. Hakimi, on his shoulder, pressures him into gifting the ball to Vitinha, who rolls past the keeper towards the unguarded goal. What a farce! But De Ligt slides in at the last to hook clear off the line. What a clearance! What a brain fade by Sommer!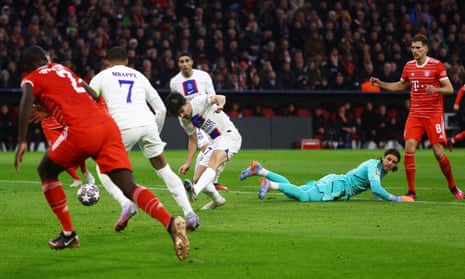 37 min: Hakimi one-twos with Verratti down the right. A bit of space for Hakimi, but the resulting cross is aimless and easily cleared by the hosts.
36 min: Marquinhos is replaced by Nordi Mukiele. He departs holding his left hip and grimacing.
35 min: Marquinhos is down on his knees. It doesn't look as though he's going to be able to continue. A pained look on the PSG captain's face, with plenty of activity on the bench.
34 min: Instead of swinging a high free kick into the mixer, Kimmich tries to catch Donnarumma out with a surprising low drive towards the bottom right. The keeper claims. Still, a decent idea, not least because any nick on the way through could have easily deflected past the PSG keeper.
33 min: Kimmich takes. Danilo heads clear. But Bayern come again, through Coman on the right. He drops a shoulder then goes over the hanging leg of Mendes. A free kick and a chance for Bayern to load the box.
32 min: Davies dribbles dangerously in from the left. He enters the box before slipping a cute ball down the channel for Musiala, who batters a low shot goalwards from a tight angle. Donnarumma gets down to save well, at the expense of a corner.
30 min: Bayern ping it around patiently before releasing Musiala down the right. There are options in red in the middle, but Musiala shanks an awful crossfield pass, intended for Davies out on the left, out of play. Groans from the home supporters. Their heroes aren't on their game at the moment.
28 min: PSG have enjoyed 56 percent of possession, and made four attempts at goal to Bayern's one.
26 min: Mendes crosses into the Bayern box from the left. Messi slips, six yards out, but bounces back up and attempts to fire home from a tight angle. Sommer stands firm to block and gather. Bayern counter through Coman down the right. Coman gets a yard on Ramos before whipping a cross into the mixer. There's only Choupo-Moting there, though, and Donnarumma intercepts.
24 min: Davies tiptoes along the left touchline, past a couple of challenges, and has Musiala in space ahead of him. But the whistle inexplicably goes for a throw-in, even though some of the ball was clearly still in play. Frustrating for Bayern.
22 min: Muller fires a pass down the inside-right channel for Choupo-Moting, who fails to control. Had he trapped a simple pass and turned, he'd have been able to send Musiala free down the middle. A few opportunities are beginning to open up, but nobody's created a chance with one of them yet.
20 min: Davies has the opportunity to release Choupo-Moting down the inside left but hesitates and loses possession. PSG counter at speed, Messi barging his way down the middle and riding a couple of hard challenges before forcing the ball through to Mbappe, who briefly looks like tearing clear … but takes a heavy touch to the right, pushing himself way wide. He still manages to slam a shot from a tight angle into the side netting, but Sommer had it covered.
18 min: Hakimi knocks the ball past De Ligt on the right and wins the footrace. Davies comes across to cover at the expense of a corner. Messi takes it long, and Sommer plucks it from the sky without too much fuss. This game hasn't quite got going yet.
16 min: Kimmich takes up possession 30 yards from goal and slips a pass right for Goretzka, who whistles a low drive towards the bottom right. He gives it a good pelt, and the grass is greasy with the rain, but Donnarumma gets down and handles well.
14 min: Mbappe has the ball in the Bayern net, but it's not going to be allowed. A long punt down the middle nearly finds the PSG striker on the edge of the box. But he clanks into Sommer and skittles him to the floor, before rounding the keeper and rolling home. The whistle had already gone for a foul.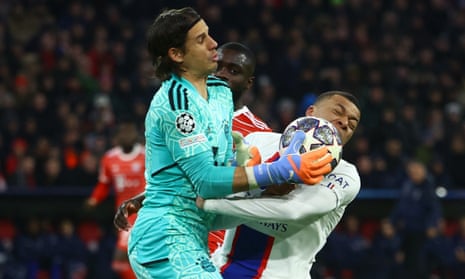 13 min: Choupo-Moting dribbles down the inside-left channel before gliding infield and into traffic. Bayern have achieved nothing of note in the PSG final third yet, those aforementioned crosses from Davies and Coman apart.
11 min: Verratti spins smoothly into space down the middle and sets PSG off on the attack. Messi slips a pass wide right for Hakimi, who crosses deep. Too deep. Goal kick. A better cross, and Bayern could have been in a spot of bother there.
9 min: Mbappe drops a shoulder and turns on the jets in an attempt to get past Upamecano down the left. The big Bayern defender holds his line firmly, though, and Mbappe runs the ball out for a goal kick. "If you've not been watching Bayern much, keep an eye on Upemecano," writes Julian Menz. "He's feisty to say the least, always good for a rash challenge and a card. His name is reminiscent of a child's toy, and sometimes it's apt."
7 min: PSG stroke it around the middle of the park for 30 seconds or so, then drop deeper and stroke it around the back awhile. They're seeing more of the ball during these opening exchanges.
5 min: Mendes comes sliding in on Coman out on the Bayern right. He catches the top of the ball first, then nearly crumps his studs into his opponent's ankle. Fortunately for both, not much by way of connection is made.
3 min: Davies crosses from the left. Coman swings one in from the right. Bayern looking dangerous down both flanks. Not in the centre yet, though.
2 min: Some respectful early probing. The finding of feet. Then suddenly Mbappe flicks to Ruiz down the left. Mbappe keeps going on the outside and gets the ball back. He enters the box and takes the first shot in anger, but it's straight at Sommer by the near post. An easy claim.
Bayern Munich v PSG (agg: 1-0)
Thomas Müller and Marquinhos exchange pennants, toss coins and clasp hands, then PSG get the ball rolling. A fine atmosphere in the Fußball Arena München.
The teams are out! Bayern wear their red shirts, while PSG sport their third-choice white with broad blue stripe running down the middle. Think the classic 1970s Birmingham City effort, but in reverse. Zadok the Priest (Version) blasts out of the speakers. Rain pours from the Munich heavens. We'll be off in a couple of minutes!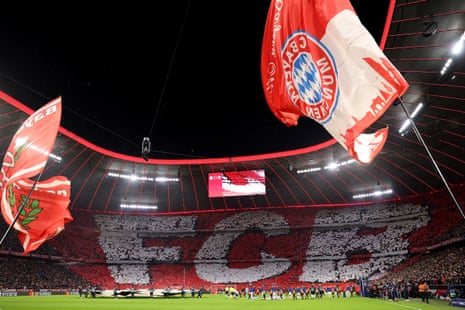 Politics corner. "Shout out to Gary Lineker. Well done" – Jeff Sax.
Meanwhile over in Munich, local fans wave a banner picturing Bayern legend (and bratwurst manufacturer) Uli Hoeness metaphorically chopping off "the long arm of Qatar", whose state airline appears to be one of the club's less popular business partners.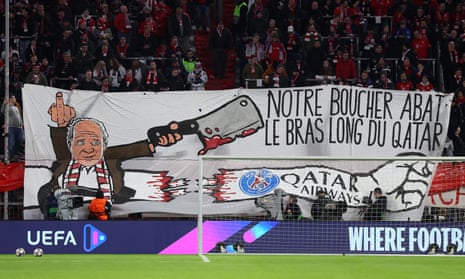 Bayern Munich are coming off the back of a 2-1 win at Stuttgart last Saturday, their 16th win in 20 matches, and as ever they're currently top of the Bundesliga. But they've not quite been at their dominant best this season, and having drawn seven and lost two of their 23 league games, are only ahead of Borussia Dortmund on goal difference. Admittedly that difference is a whopping 25 goals, but the point stands: the title race in Germany is closer than usual.
PSG meanwhile beat Nantes 4-2 at the Parc des Princes last weekend. Their story in Ligue 1 is a little bit more predictable – they're eight points clear of Marseille at the top – though they too aren't quite their usual relentless selves this season, as illustrated by three consecutive defeats at the start of last month in the Coupe de France, Ligue 1 and the Champions League, by Marseille, Monaco and Bayern respectively.
If history teaches us anything, Bayern Munich are as good as through already. That's because they've lost just one of the 27 European ties in which they've won away in the first leg. That outlier: Internazionale doing for them at this stage of the 2010-11 Champions League, winning 3-2 in Germany after Bayern won 1-0 at San Siro. Conversely, PSG have lost the first leg at home on six previous occasions and have gone on to lose every single tie. Bof. Previous results only carry so much weight, though, so the MBM's not going to shut up shop yet. You never know.
Four players, two from each side, are walking the disciplinary tightrope tonight. Bayern duo Joshua Kimmich and Noussair Mazraoui, and PSG's Marco Verratti and, surprise surprise, Sergio Ramos, are one booking away from a one-match European ban. Should any of them see yellow tonight, they'll not play in the first leg of the quarter-final should their team make it through.
Bayern make three changes to the side selected to start their 1-0 win in Paris. Alphonso Davies, Josip Stanišić and captain Thomas Müller replace Leroy Sané and João Cancelo, who drop to the bench, and Benjamin Pavard, suspended as a result of crashing into Lionel Messi at the Parc des Princes.
PSG also make three changes to the starting XI they picked that night three weeks ago. Kylian Mbappé, Fabián Ruiz and Vitinha come in for Carlos Soler and Warren Zaïre-Emery, who drop to the bench, and the injured Neymar.
Bayern Munich: Sommer, Stanisic, Upamecano, De Ligt, Davies, Kimmich, Goretzka, Coman, Muller, Musiala, Choupo-Moting.
Subs: Ulreich, Gnabry, Sane, Wanner, Mane, Sarr, Cancelo, Blind, Gravenberch, Tel, Mazrqoui, Ibrahimovic.
Paris Saint-Germain: Donnarumma, Hakimi, Marquinhos, Ramos, Danilo, Nuno Mendes, Verratti, Vitinha, Fabian, Messi, Mbappe.
Subs: Letellier, Rico, Bernat, Sanches, Mukiele, Soler, Pembele, Bitshiabu, Zaïre-Emery, Gharbi, Ekitike.
Referee: Daniele Orsato (Italy).
Three weeks ago this happened …
… and PSG are in their annual Champions League pickle. Will the biggest prize in club football remain tantalisingly out of their reach for yet another year? Or can they stun the six-time champions in their own back yard to turn this tie around and reach the quarters? Kick off is at 8pm GMT, 9pm in Munich. It's on!