Australian Open: Novak Djokovic Blasts Past De Minaur And Into Quarter-finals | Australian Open 2023
In the moments before Novak Djokovic stepped out onto Rod Laver Arena on Monday night, as he went through his final warm-up exercises in the tunnel underneath the stadium, the eyes of all onlookers rested firmly on his left thigh. It remained to be seen exactly how his hamstring, still wrapped in layers of tape, would hold up under the strain of three more sets.
Just two hours later, the level that Djokovic exhibited in his domination of home favourite Alex de Minaur made it clear that he remains the heavy favourite to win his 10th Australian Open title. The fourth seed returned to the quarter-finals after a clean, ruthless performance, completely dismantling his opponent, the 22nd seed, 6-2, 6-1, 6-2.
De Minaur had arrived on Rod Laver Arena against arguably the best player in the world with ideal preparation. He had started the year with his first win over a member of the big three, beating Rafael Nadal in the United Cup, and he had followed up last year's first foray to the Australian Open second week with an identical run.
It was not enough. Early on, De Minaur attempted to impose himself in the exchanges, incessantly taking the ball on the rise and trying to dictate. But the contrast between their weight of shot was immediately stark. Even as he threw his entire bodyweight behind forehands and furiously tried to stay on top of the baseline, De Minaur simply could not push his opponent back.
After absorbing some pressure in the early game, Djokovic stepped inside the baseline and took full control. He served extremely well, he struck the ball exceptionally off both wings, scything through De Minaur's defence with ease, and his movement became increasingly fluid.
De Minaur is an admirable player with many assets. He is one of the fastest in the world, he looks to take the ball on the rise, and he fights until the death. But the nine-time champion exposed his underpowered game, outserving and overpowered him while allowing the Australian just nine winners in three sets.
After his previous straight sets win against Grigor Dimitrov, Djokovic spoke at length about his injury issues. He described his previous matches as "rollercoasters", with pills and hot cream just about helping him through. This time, however, there were no issues. The more he warmed into the match, the more freely he moved, the more he dominated. "I didn't feel anything today," he said.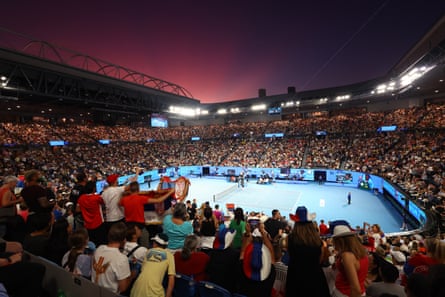 Djokovic will next face Andrey Rublev, the fifth seed, who outlasted ninth seed Holger Rune in a chaotic, manic five set match. Despite playing poorly for much of the fifth set, Rublev was completely sharp in the moments that mattered.
He recovered from a 2-5 deficit in the final set, then at 5-6, 15-40 he saved two match points with an unreturned serve and winning forehand before closing the game with consecutive aces. In the absurd tiebreak that followed, he trailed 0-5 and 4-7 before dragging himself back into the match against an extremely passive Rune. On his second match point, Rublev clinched the victory on a dramatic dead net cord directly from his backhand return.
Afterwards, Rublev was asked by the on-court interviewer about the section of the draw he had inherited. He responded without hesitation. "No one wants to face Novak. I prefer to be in any other part of the draw, but not Novak," he said, not even acknowledging the match that Djokovic had to first play another match. Shortly after, Djokovic's performance provided a full explanation of why, after so long, he remains feared by even the best players in the world.
Elsewhere, 18-year-old Ben Shelton of the United States reached his first grand-slam quarter-final with a 6-7 (5), 6-2, 6-7 (4), 7-6 (4), 6-2 win over his compatriot JJ Wolf. Shelton, who was an amateur college tennis player until last summer, had never even left the United States until he travelled to Australia to begin his first season on tour. He will face another compatriot, Tommy Paul, in the quarter-finals.