Arsenal, the Premier League title race and charges of 'bottling' | Soccer
GUN AND DUSTED
No sooner had Roberto De Zerbi wiped the grass stains from his knees following Brighton's not entirely surprising humbling of Arsenal than Social Media Abomination Twitter and the airwaves were humming with accusations that Arsenal had, in some way, "bottled" the title. Indeed, even some of their own fans had streamed out of the Emirates well before the final whistle, assuming that the jig was up not only against the Seagulls but against Manchester City too. On a run of 11 consecutive league wins, Pep Guardiola's side might not even need another from their last three games to take a fifth title in six years, but will probably get it anyway in their final home game against Chelsea, despite the managerial savvy of the man in the away team's technical area.
As the dejected players of Arsenal lay or hunkered down on the turf after being schooled by Sunday's visitors, your Ødegaards, your Ramsdales, your Xhakas and your Sakas could have been forgiven for pondering what might have been during an April horribilis, in which they squandered two-goal leads against Liverpool and West Ham, before allowing Southampton to go goal crazy in what would prove their body's final twitch before relegation as the worst team in the division. "I hate the feeling of letting people down when they are expecting something," seethed Mikel Arteta, who has clearly never been tasked with dispatching a funny [ahem? – Football Daily Ed] and vaguely informative daily football email to a large audience. "That's the biggest regret and I have to apologise for that. Second position is secure and that is not going to change but this result is going to take me a few days to digest."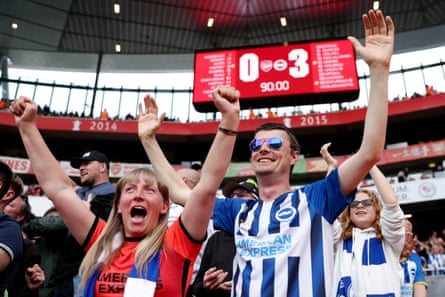 Despite the charges of "bottling" while looking on course to claim a championship nobody in their right mind expected them to win nine months ago, it could be argued that Arteta and his players are being too hard on themselves for a number of reasons. The most obvious, regularly overlooked one, is that Manchester City are demonstrably better at football than they are and have a far greater number of excellent players at their disposal. They are a relentless winning machine, engineered in a bespoke laboratory at eye-watering expense to the detailed specifications of an elite manager who, with the possible exception of Tony Mowbray, is almost certainly the best in his field and possesses a preposterous strength in depth that is the envy of all his rivals.
In short, City are so good that even if Arsenal hadn't slipped up in those games against Liverpool, West Ham and Southampton, there is zero guarantee the extra six points they'd have accumulated would have been enough to see them over the line and crowned champions. That's what they and everyone else are up against, even before one's gaze is directed towards that herd of 100 or more elephants in the room that many broadcasters, pundits and reporters have been studiously avoiding any mention of since they first started trumpeting three months ago. While the prevailing wisdom seems to be that Arsenal will learn from this season's experience, strengthen and kick on, there is little to say the exact same thing won't happen with City's imperious team of serial winners.
LIVE ON BIG WEBSITE
Join Tim de Lisle from 8pm BST for hot Premier League MBM coverage of Leicester 1-3 Liverpool.
QUOTE OF THE DAY
"I have told them to stop inside because I think it is enough. The celebration is normal, but it was respectful to go to the booth because we were not at home. I am rational. But emotions are difficult to control. We celebrated it not because we were in Espanyol's camp but for the title … we haven't provoked anyone. We were celebrating a league that is very important to us" – Xavi tries to cool things down after Barcelona's championship party was just that little too on the nose for relegation-threatened foes Espanyol, whose fans chased them off the pitch.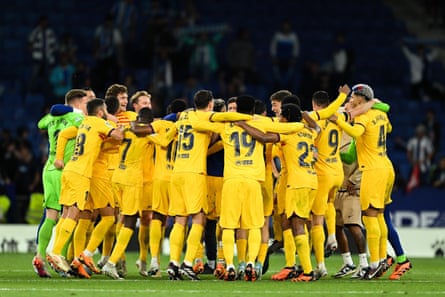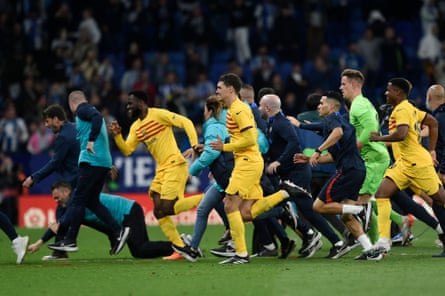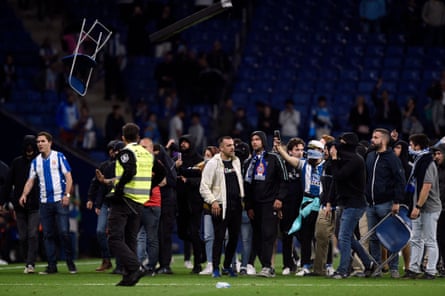 It's been a totally wild season at Leeds, as we've all seen. So it was interesting to see Sam Allardyce invoking the spirit of El Loco in their quest to avoid Championship footie next season. A simpler solution might have been to not get rid of him in such a hurry in the first place and spare us the skinny jeans, humiliating defeats and now the sight of Big Sam in the dugout/technical area effing and jeffing his way to another seven-figure payday regardless of the outcome. In a perfect world, Bielsa would have sacked the board. Now that would have been wild, but probably less chaotic" – Jeremy Boyce.
What a bottle job, talk about choking the league. No, not Arsenal. I mean 'us'. The 'us' in question being Sheffield Wednesday. We were top of League One, four points above second and with two games in hand, plus we had beaten Newcastle in the FA Cup. We subsequently collapsed like a soufflé taken out of the oven too early, finished third, went into the playoffs and then got hammered 4-0 in the first leg on Friday by a team that finished 19 points behind us. A slow hand clap all round and another season of League One …" – Noble Francis.
Send your letters to the.boss@theguardian.com. Today's winner of our letter o' the day is … Jeremy Boyce, who also lands a copy of Nige Tassell's new book, Field of Dreams: 100 Years of Wembley in 100 Matches. We've got more to give away all week, so get typing.